An award-winning queer filmmaker is producing a series of short documentary-style films that examine the dynamics surrounding modern day gay culture, particularly in terms of online dating and dating apps.
From filmmaker Tim Marshall comes "TORSO," a new international film experiment exploring the world behind the online gay community -- one torso at a time. Through the documentation of brave and honest interviews, Marshall wants to shed light on the lives of these men beyond their dating profiles and break down body image stereotypes.
"TORSO" started in Sydney, Australia in 2013 and continued shooting throughout 2014 in Reykjavik, Iceland and, recently, Los Angeles. The Sydney series is available for viewing online and the Los Angeles series will premiere as an interactive installation in July as part of Outfest Los Angeles.
In order to better understand "TORSO" and the filmmaker's goals with this project, the Huffington Post chatted with Marshall this past week about his work.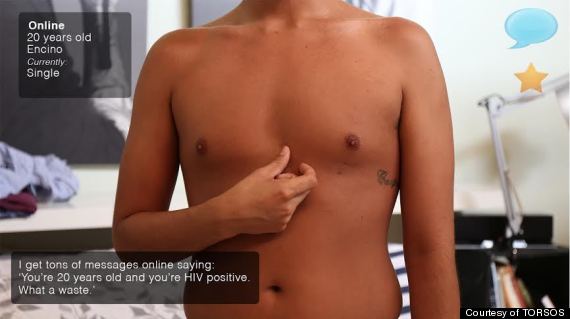 The Huffington Post: What inspired this project? Tim Marshall: Whilst living in Australia and using online gay dating apps, I would constantly find myself feeling inadequate. I do not have "the perfect body," and being on these apps began to bring out insecurities about that. I would think, maybe I do need to get a personal trainer and start guzzling protein drinks so I can have a body that is stereotypically "desirable" to gay men.
The other thing that I noticed was starting to set in with my constant use of these apps was a tendency to make quick judgements and assumptions about people. I know a lot of guys who are guilty of sharing around people's less than perfect Grindr profile photos with their friends and joking and laughing about it together.
I realized, with the immediacy and nonchalance of the new types of connection now available to us, maybe we are becoming disconnected from the human behind the pixels in a profile picture. If you can't sell yourself in the space of a small pixelated square, you may end up feeling a lot of rejection.
I wanted to explore this new world of gay dating and sex culture and look at both its personal implications and universal experiences. I also wanted to address the diversity of physicality within the gay community and celebrate that.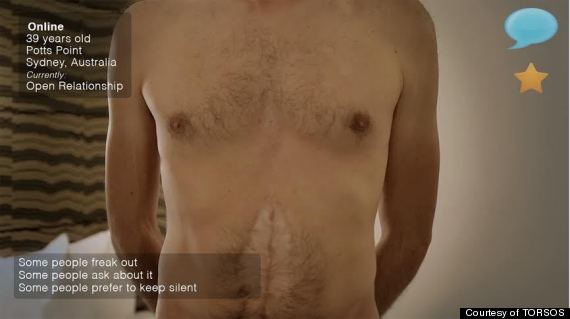 What did you learn from doing this project? I lost so much of my bitterness towards these apps by undertaking this project. By exploring the humanity within these apps, I made some wonderful connections and had the privilege of hearing many incredible stories. Although some people recounted having lots of negative experiences in online/app-based dating, there was also, conversely, so much positivity. These new communication technologies have facilitated life-long friendships, have created easy ways for individuals to connect with and find support within their communities, and have also helped people start to feel confident about themselves where they may have been judging themselves harshly, and were surprised to find they attracted people who they were convinced were "out of their league."
I also learned that nearly everyone has been tricked by someone on a gay dating app at some point -- for instance, having a guy show up at their house who looks nothing like their picture (or is significantly older). One guy even had someone tell him he was 19 online, only to confess that he was 45 right before they were going to meet. You're obviously thinking, How did he think he would get away with it? Multiple people told me that when a person shows up at their house looking nothing like their picture, they feel so awkward about confronting them about it that instead of risking a confrontation, they just go through with having sex with him, letting him get away with the lie! Of course there are also plenty of guys out there who have no problem telling someone to leave if they feel deceived.
What was the most surprising thing you discovered throughout the course of production? I was pleasantly surprised by the honesty of the individuals I interviewed. People were willing to be so candid with me about their experiences. I think the anonymity of the project helped with this. Quite often at the end of the interview, I would have the guy tell me if they felt empowered by this experience. I ask everyone I interview to tell me about their torso. The answer I almost always get is "it needs more work" or "I'm trying to get a better torso." When I show them the footage, the response is often, "Oh I actually look pretty good!" Not surprisingly, we are our own biggest judge.
Something else that surprised me was the difficulty I had finding men with extremely muscular and "gym fit" torsos to be involved. Many other individuals were eager to have their say about the gay world online -- how it perpetuated or shattered stereotypes about body image, and how it personally affected them. Although, to be fair, to all the really muscular guys who ignored me, I should be clear that I am only finding participants to be involved in the project by contacting them on these online gay dating apps, and many people find it strange that instead of asking for a "dick pic" I was asking to come around to their house and film them with their shirt off (and NO it's not porn, much to the disappointment of some men).
I'd also like to comment on the upcoming premiere of the Los Angeles TORSO series. The series will premiere as an interactive transmedia installation. Audiences will engage with the series through an app that simulates the Grindr experience on iPads in a cinema foyer. Watching these interviews is a personal one-on-one experience, similar to using the gay dating apps. I want to comment on and get the audience thinking about the casual aesthetic choices and judgments we make, and I love the idea that people may choose what interview to watch on the app based solely on the appearance of a person's torso. I also want this series to begin to document an important and fascinating time in digital interaction. I expect everyone will be surprised by the stories they encounter.
TORSO Los Angeles will be free to view in the REDCAT foyer July 18 and 19. Check out one of the TORSO series' videos above and then for more info and to watch other clips, head here.