It's just another ordinary afternoon for Sheldon the tortoise and Dolly the pit bull, who are in the yard playing their usual game of chase.
"And, yes, Sheldon is surprisingly fast!" says veterinarian Cynthia Jones, who is the adoptive mom to the pair.
Dolly is a 3-year-old pit who was taken from her previous owners in a cruelty seizure. Jones and her husband, Ray, a law enforcement officer, adopted her about a year ago out of the Humane Society of North Texas, where Jones works.
Sheldon, an 8-year-old, 50-some pound tortoise, is a more recent addition to the family -- which also includes another dog, named Daisy, a mini horse and two mini donkeys.
He came home about eight months ago, after he was brought to the Humane Society from another shelter. "[N]o one there knew what to do with him," Jones says.
Everyone pretty much knows the ropes these days. For example, Dolly has taken to toting around a favorite red ball, among other things.
"She has an old dog bed that she loves. She drags it all over the house, making sure it is wherever she decides to take a nap," says Jones.
Sheldon, for his part, now spends much of his time roaming around in the backyard, both with and without his doggy pal.
"He follows my husband and me around when we are working in the yard and loves eating strawberries and rose petals. He is very curious and has an attachment to one of our donkeys, also," Jones says.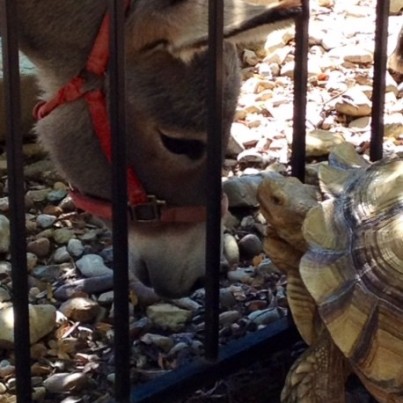 Just a couple of buddies, is what we have here. Photo credit: Cynthia Jones
Animal advocates hope their story will help others like them -- well, it might be hard to find a pair exactly like them -- get adopted.
"We hope that their amazing story of friendship will inspire people to bring rescue pets of all shapes and sizes into their homes," Humane Society of North Texas spokeswoman Whitney Hanson says. "Sheldon and Dolly are wonderful examples of just how fantastic shelter pets are, no matter what their past was like."
Hanson is especially pleased to show a side of pit bulls -- the side that really enjoys frolicking with tortoises, that is -- that might even surprise this type of dog's biggest fans.
Jones says her sweeties, unsurprisingly, "have many fans in the neighborhood. People are often amazed at all of the animal interactions at our house."
Not that everyone is completely satisfied with the state of things.
Little Miss Dolly, for example, enjoys her regular rumbles with Sheldon -- but she also wants more.
"Dolly tries to get him to play with her red ball, but so far he just isn't interested it that idea," Jones says.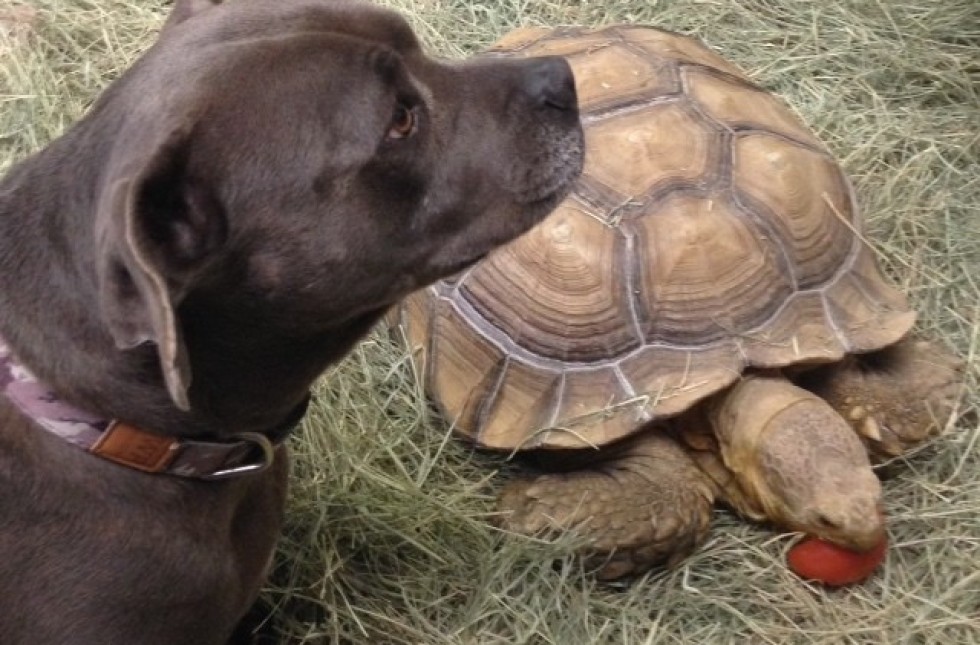 Sheldon and Dolly, friends for life. Photo credit: Cynthia Jones
Get in touch at arin.greenwood@huffingtonpost.com if you have an animal story to share.

Related