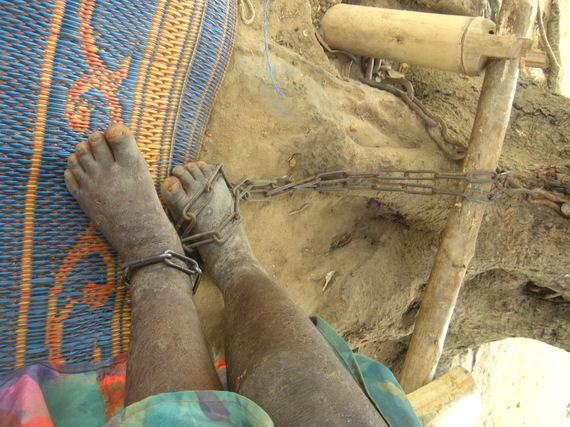 Victoria is a 10-year-old girl with a mental disability who was put in Jesus Divine Temple (Nyakumasi) Prayer Camp, where she was chained to a tree all day and slept on a mat in an open compound. She had no relative present at the camp at the time Human Rights Watch visited. Victoria had a skin infection that had affected her whole body, but she was not given access to medical treatment for this disorder. (© 2012 Shantha Rau Barriga/Human Rights Watch)
If I hadn't seen it with my own eyes, I wouldn't have believed that such inhumanity was possible.
I was visiting a so-called prayer camp -- or spiritual healing center -- about a four-hour drive from Accra, Ghana. People in Ghana go to prayer camps to pray, to heal, to rest. But in some cases, people with real or perceived mental health conditions are taken there against their will, based on widespread beliefs that mental health problems are a result of evil spirits or jealousy.
When speaking to the head of one of these camps (who calls himself a "prophet"), I heard a little girl crying. As the mother of two young children myself, I asked the prophet about her.
"Oh, she's a witch," he said.
"Can I go meet her?" I asked.
Grumbling under his breath, he took me to the base of an enormous tree, where there stood a petite, young girl -- 5 years old -- her skinny, bruised leg in stark contrast to the heavy, metal chain lying on the ground next to her.
This little girl had been chained to that tree for the previous three days -- with no food, no water. She slept there, bathed there, defecated there. She was freed the morning I met her. It was unclear whether this young girl had a disability or was merely labeled as "possessed by the devil" and brought here.
The prophet summoned another dozen girls -- the oldest was 12 -- and, pointing his finger in their faces, proudly declared, "She's a witch. She's a witch. She's a witch."
I was overwhelmed with shock, anger, sadness, disbelief. How could these children -- and adults I also saw there -- be put in shackles, deprived of food and water, and essentially treated worse than animals? And why was there no government oversight of these camps?
We visited eight prayer camps and saw similar scenes of people being "treated" for a mental disability detained in Ghana's many unregulated prayer camps. We spoke with a 10-year-old girl who was chained 24 hours a day by her legs to a tree in an open-air compound. She appeared to be malnourished and had a serious skin condition that affected her whole body but had received no medication to treat this condition. Her parents apparently relinquished her to the camp's care, where she remained unattended for extended periods of time.
We met an 18-year-old woman staring blankly off into space, repeating whatever she was asked. She was dressed in a green gingham school uniform. According to the prophet, "She was a schoolgirl doing well when the devil struck." She was brought to the camp by her parents after she started wandering around aimlessly and not sleeping.
In another camp, we met a man with an alleged psychosocial disability who was almost naked, with only a dirty mosquito net wrapped around his private parts. He told us he had been shackled to the same tree for five years and forced to fast for days at a time. He had received neither a diagnosis nor any treatment.
Sadly, the practice of shackling people with real or perceived mental health conditions is not isolated to Ghana. There are documented cases in Nigeria, Indonesia, China, the Philippines and elsewhere.
The UN expert on torture went to Ghana in November 2013 to take a look. "Women and children were shackled to the walls or floors of their cells," he wrote in a report. "The building holding adult males contained 16 concrete cells laid out like cattle stalls." He went so far as to call the shackling, denial of food and medicine, inadequate shelter and involuntary treatment what it was: torture.
The UN expert echoed our calls for government monitoring of the camps, and days later the government set up its first Mental Health Authority charged with this task.
The Committee on the Rights of the Child, the UN expert body monitoring how governments implement the treaty on children's rights, called on Ghana's government last month to prohibit the admission and treatment of children with disabilities in prayer camps, and to investigate and prosecute anyone responsible for inhumane treatment of these children.
Nothing much has changed. At least not yet.
When I visited Accra in April, the senior leadership of the Mental Health Authority assured me they were taking steps to end these abuses by training prayer camp leaders and mental health staff on the basic rights of people with disabilities, and by setting up a monitoring team to visit the camps regularly. They acknowledged that chaining was a serious human rights abuse and made a commitment to get people with disabilities unchained. The key was finding alternatives that were based on the human rights principles of informed consent, dignity and freedom from arbitrary detention.
The government of Ghana has the opportunity to lead by example. To start, it needs to invest in community-based care instead of building detention cells for the people chained in open prayer camps. It needs to create a public awareness campaign to change the discriminatory attitudes toward people with disabilities. Other governments that fund mental health programs -- the United Kingdom in Ghana's case -- also have an opportunity to lead, by ensuring that no funds are invested in the ongoing arbitrary detention and inhumane treatment of people with disabilities.
June is Torture Awareness Month, and as I often do, I have been thinking of that little girl in the camp and the countless others shackled because of their disabilities -- real or perceived -- whose stories have not been told. By sharing their stories, we are letting them know that the abuses they have endured can no longer be ignored and hidden away. And we are letting governments know that they need to act promptly to end these abuses.
Popular in the Community