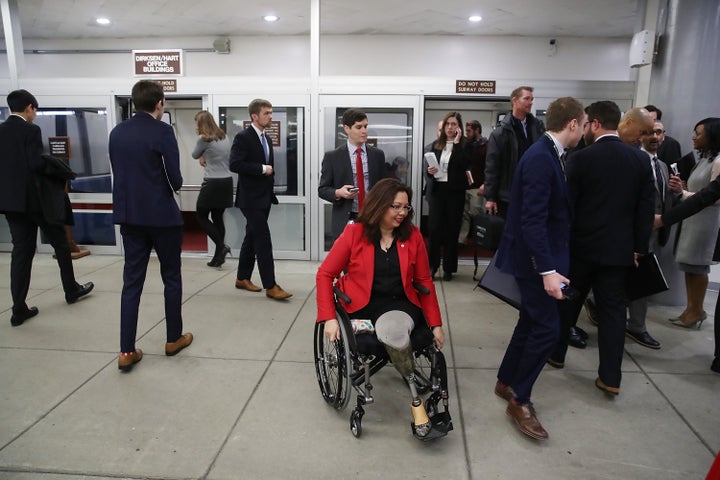 WASHINGTON ― When Sen. Tammy Duckworth (D-Ill.) thinks about one of the authors of the Bush-era "torture memos" joining the Trump administration, her mind goes back to when she was flying missions to Abu Ghraib prison at the time that photos emerged of U.S. military personnel torturing prisoners.
"When those pictures came out, pretty much almost universal reaction among my fellow soldiers and myself was utter disgust," Duckworth said in an interview with HuffPost. "Our reaction, and pardon my language, was those fuckers just made it more dangerous for the rest of us to do our jobs."
Duckworth is a Purple Heart recipient who lost both her legs after the helicopter she was co-piloting was shot down in Iraq in 2004. Now, as she represents Illinois in the U.S. Senate, she said her experience in the military drives her opposition to President Donald Trump's nomination of Steven Bradbury to an administration post.
"Our reaction, and pardon my language, was those fuckers just made it more dangerous for the rest of us to do our jobs.""
Bradbury was one of the Justice Department lawyers who signed off on methods of torture during the Bush administration. Bradbury authored four memos, one of which authorized the use of techniques like "dietary manipulation," nudity, "walling," "cramped confinement," sleep deprivation of more than 48 hours and waterboarding. In another memo, Bradbury said detainees could be put in diapers so long as those diapers were "checked regularly and changed as necessary." The Justice Department's ethics office had "serious concerns" about parts of Bradbury's analysis, though DOJ ethics attorneys did not conclude that Bradbury committed professional misconduct.
HuffPost was the first to report back in March that Bradbury was in the running for a nomination. Trump nominated him to the position of general counsel of the Transportation Department in June. Duckworth had placed a hold on Bradbury's nomination, but Republicans on the Senate Commerce, Science and Transportation Committee voted last week to advance Bradbury's nomination. Duckworth joined her Democratic colleagues in opposing his nomination. Bradbury's nomination still must be confirmed by the Senate as a whole.
Duckworth told HuffPost that, just like the U.S. soldiers who mistreated prisoners at Abu Ghraib, Bradbury's actions at the Justice Department "made it more dangerous and harder" for members of the military to do their jobs.
"It wasn't just me, bleeding heart liberal, it was me in combat with my guys flying helicopters behind enemy lines thinking, 'OK, now we don't have the moral high ground,'" Duckworth said.
Duckworth said she was "incredulous" that the Trump administration would nominate someone who previously failed to gain confirmation in 2008.
"I could not believe that they would actually try to bring him up again," Duckworth said.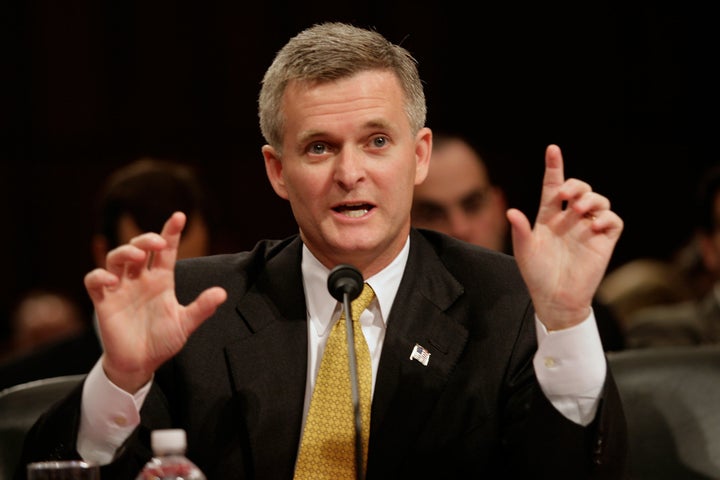 "I'm frankly disappointed in people who I thought were more reasonable, I guess. I just feel like President Trump and his administration have sunk to such new lows," Duckworth said.
Duckworth isn't comforted by the fact that Bradbury, if confirmed, won't be dealing with issues of torture in the Transportation Department. She says she doesn't believe he's "fit to serve in any capacity in government" and has shown he's "willing to put loyalty to a single individual over loyalty to his nation."
"One of the things that people really have not touched on is that once he's been confirmed and he's in the DOT, it is relatively easy to move him over to Justice. This may be a backdoor way to get him into Justice later on if they ever wanted to do it," Duckworth said. "I don't know that they do, but once he's confirmed it's easier to lateral him because he's already had confirmation."
Duckworth recalled her survival, escape, evasion and rescue training, and the importance of treating the enemy humanely.
"Our humane treatment of our enemy, of our captured enemy, impacts how they treat our people if they were to capture our people," she said. "That's a fundamental tenet of military training, and that torture memo and the acts that it condoned put our men and women who wore the uniform of our country and those who were most likely to be captured behind enemy lines ― which in the kinetic type of warfare that we have now is just about everybody who wears the uniform ― it puts them in danger and in greater chance of them being tortured."
Sign up for the HuffPost Must Reads newsletter. Each Sunday, we will bring you the best original reporting, long form writing and breaking news from The Huffington Post and around the web, plus behind-the-scenes looks at how it's all made. Click here to sign up!
Popular in the Community