WASHINGTON -- Dennis Johnson remembers a Melville House staff meeting on a Tuesday morning last winter, smack in the middle of the publishing industry's busy holiday season. It was Dec. 9, and a few hours south of the publishing house's Brooklyn office, Sen. Dianne Feinstein (D-Calif.) was having a triumphant moment. After years of uphill battles, she was finally publicly releasing part of the Senate Intelligence Committee's grueling interrogation report, an extended, often stomach-churning look at the CIA's post-9/11 torture program.
It was a long-awaited publication, a culminating moment in a yearslong political battle and a sobering day of reckoning for the American public. Except no one outside the Government Printing Office wanted to touch it.
"We were having a staff meeting, we said hell, nobody's publishing this one," Johnson recalls. "Why aren't the usual people who publish these doing it?"
"This is the most controversial of it all, it was really hot, it was maybe too hot," he said. "This is difficult publishing, particularly for a little house like us."
Nearly a year later, the debate about whether to publish the study is a distant memory for Johnson and Melville House, a small, self-described "activist" publishing shop run out of a Brooklyn warehouse. Johnson started Melville House with his wife, Valerie, after 9/11. ("We were trying to figure out what could we do to make George Bush not be the president anymore?" he says.)
The small company, where words matter more than dollar signs, was the first to stick its neck out and publish the torture study's 500-page executive summary. Melville House's version -- which completely reformatted the Intelligence Committee's clunky PDF release into searchable, more digestible text -- has helped bring the report to thousands of citizens, libraries and overseas readers.
"We really thought long and hard about whether to do this," Johnson says now. "But in the end, I think we made the right choice."
It's a choice many of his much larger counterparts weren't willing to make. Previous government studies, like the 9/11 Commission Report or the Financial Crisis Inquiry Report, have found homes with much larger publishing houses, which have found it lucrative to print the reports. But when the executive summary of the torture report -- the largest congressional investigation in history -- was finally released? Crickets.
"In this instance, anybody could've published it," Johnson said. "Nobody wanted to make the investment."
With pressing holiday deadlines and limited resources, Melville House had to decide quickly whether it would take on the "crash book," publishing lingo for a project that's neither in your budget nor on your schedule.
"It was a significant investment, this kind of thing that could really cripple a company like us," Johnson said. "But we were mission-driven and the staff was on fire with it."
The work was painstaking. All staff had to work off of was the PDF posted by the intelligence panel, a dense, footnote-heavy document that was clunky and difficult to read. And the biggest obstacle was one that the lawmakers on the Senate Intelligence Committee knew all too well: the CIA's dogged efforts to limit what information would be publicly released in the study.
"The principal problem was the redactions that the CIA put in," Johnson recalled. "The text setting doesn't have a redaction bar. We had to literally print out the PDF and use a ruler, and measure what those redaction marks equalled in character spaces and replicate them."
The effort struck a chord with the publishing community -- even among Melville House's competitors -- during the industry's busiest season. Johnson said his distributor agreed to send the book out despite the short notice if Melville House could compile it in time. Copy editors volunteered from newsrooms in town to read through hundreds of pages, copied by Melville House's staff from the Senate committee's PDF document. The printer agreed to let the company cut the crowded holiday line to get copies out the door. People started sending the staff food; a Chicago bookshop sent a case of beer.
It took about five days of round-the-clock work to get the edition out the door. By Dec. 30 -- just three weeks after the fiercely guarded document was released to the public -- it was published.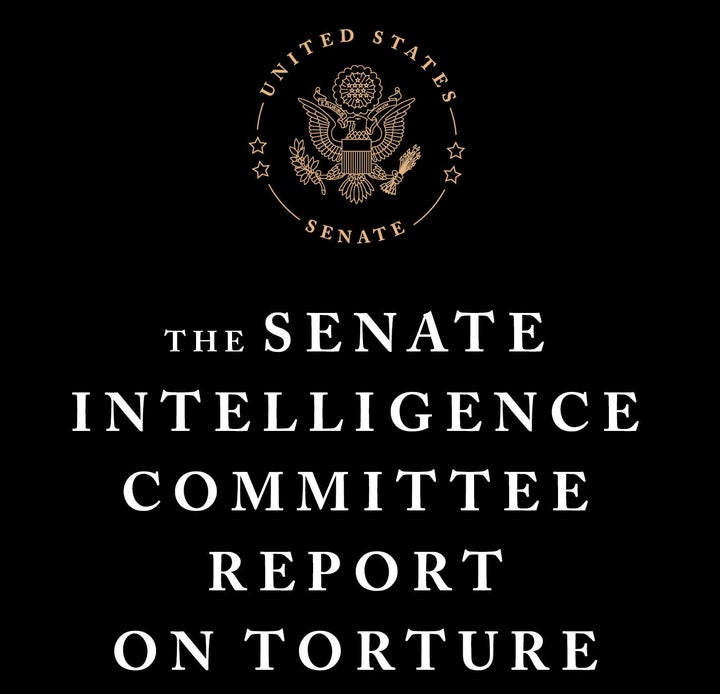 Melville's marathon printing process produced a more approachable read on a heavy topic, one that the public could understand and that researchers, activists and reporters could comb through easily.
"The Senate Intelligence Committee's report is tremendously important – it's a meticulously researched account of how the country's most senior officials came to endorse the brutal maltreatment of prisoners," said Jameel Jaffer, deputy legal director for the American Civil Liberties Union. "It's an account that every American should know, and Melville House has done great work getting the report into the hands of ordinary people."
One other publishing company, SkyHorse, eventually put out a version of the report, though the process didn't seem to make as much an impact on SkyHorse as it did on Melville House. "No one seems to remember the details," said Tony Lyons, SkyHorse's publisher.
And Melville House didn't just stop at publishing the book. Johnson said they've sent copies out to several congressional offices, and
this summer
, they sent boxes of copies to each 2016 presidential candidate's campaign headquarters.
"We believe that the American people deserve to know where their leaders stand on vital issues, and that we know too little about our presidential candidates' stance on torture,"
a press release explained
at the time. "So to educate our leaders – and ourselves – we'll be sending a box of copies of
The Senate Intelligence Committee Report on Torture
(each box contains five books) to each candidate's campaign headquarters (even, sigh, Donald Trump)."
At first, finding traction was difficult for Johnson and his staff. After all, as he put it, "it's Christmastime. You want to get your loved one a book about torture?" But in the months since, Melville House says it has seen a steady, albeit not overwhelming, demand; after a first run of 50,000 copies, the shop is on its second printing.
The report did all right in the retail market, Johnson says. But the bulk of its success was due to libraries, academic orders and overseas buyers. Making a ballpark estimate, he guesses that roughly 35,000 of the 50,000 original copies have been sold, though he can't say for sure since all of the unsold copies are still out on shelves.
And Melville House got its share of help along the way -- HBO's John Oliver gave sales a bump this summer when he used the publisher's copy in a
segment
on the report that aired in the midst of a congressional battle over the use of torture. Oliver had actress Helen Mirren read some of the study's more gruesome passages.
"I still get calls weekly asking when the Helen Mirren audiobook comes out," Johnson laughed.
One Minnesota library chain bought nearly 20 copies, the largest number of any library system listed in government procurement databases. The government depository library, located in Hennepin County, Minnesota, which collects official documents for preservation, decided to grab copies after seeing Melville House had run with it.
"We keep an eye out for any government titles that an independent publisher picks up," said Gail Mueller Schultz, a collections manager for the library system. "The original request came from our government documents librarian. She said, 'Hey, there might be interest in this.'"
"We want to get documents put out by the government, all departments, that might be of interest to the citizens of our country," Schultz added.
Independent publishers have taken notice of a number of federal documents in recent years. "The Starr commission really kicked all that in," Johnson said, referring to the investigation, led by Kenneth Starr, that probed then-President Bill Clinton's relationship with Monica Lewinsky. When publishers play it the right way, the decision can be profitable -- the 9/11 Commission Report, published by Norton, has sold more than one million copies and was a finalist for the National Book Award.
The torture study hasn't paid the same kind of dividends. But for Melville House, it wasn't about the profit.
"It's never the first thing on my mind," Johnson says. "At the end of the day, it was a considerable risk for us. It didn't pay out very fast, but it will pay out over time ... that's really responsible publishing, that's why you get in the business. "
Popular in the Community