September 13th, 2011 - New York Fashion Week Spring 2012
Today is the day -- our first runway show during New York Fashion Week and the opening party for our new flagship store at 797 Madison Avenue....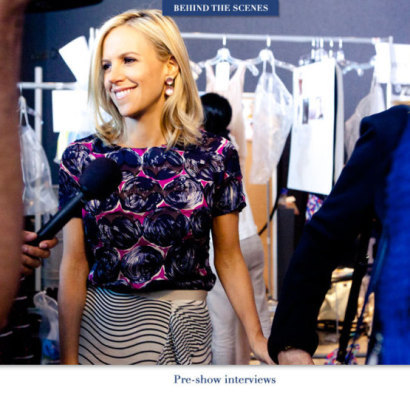 6.15am
Wakeup--not that I slept...too many last-minute details to think about before our first runway show.
6.30am
Breakfast with the boys. For them, it's school. For me, it's makeup in the car on our way to Alice Tully Hall at Lincoln Center.
8am
Tucking and untucking blouses, bunching sleeves, fixing hair, pinning, hemming. Love look #11 on Fei Fei. It epitomizes the Twenties-Deauville spirit of the collection.
8.10am
Model run-through, getting their timings down.
8.35am
My mother just arrived. She's my good luck charm.
9am
Official start time. What's that saying about being late in fashion? (Don't be.)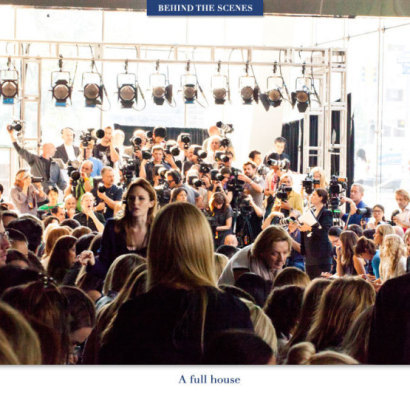 9.28am
Cue music. First song? Camille's "Tout dit."
9.29am
There goes Look 1.
9.39am
The final parade. Can't believe 10 minutes can fly by so quickly.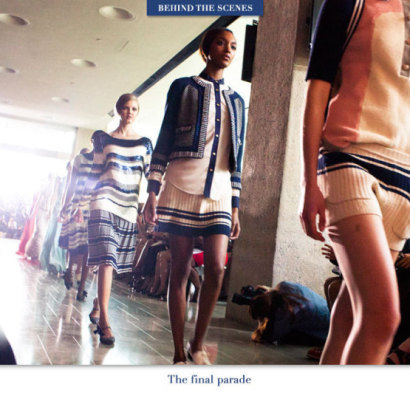 9.50am
Traditional backstage photograph with my mother and brothers.
10amTK
Leaving Lincoln Center. Waiting for reviews to post -- the one time I'm not very patient.
10.30am
In the office. We actually have a quick meeting to go over fabric for Fall 2012.
12pm
With design team for lunch at the Dutch. There's champagne.
1.30-4pm
Going over last minute details for tonight's party to celebrate the opening of our Madison Avenue flagship. It was the perfect collaboration with my dear friend Daniel Romualdez, architect and interior designer.
6pm
Home to see the boys. Even though it's a school night, I'm letting them come with me to the Madison party for a little while. The whole family will be there.
9pm
Arrive at 797 Madison Avenue. This space holds so many great memories for me. I remember when the Gardenia restaurant, a low-key neighborhood institution, was here years ago...always the best cup of coffee.
9.15pm
797 Madison windows--animated illustrations we did with street artist James De La Vega. The artwork translates perfectly to foundation product--100% of the profits will benefit the Tory Burch Foundation.
10pm
Many of my friends liked the pictures of my family that are hung throughout the boutique.
11.15pm
Home. Tired. Happy. Oh wait, those reviews....