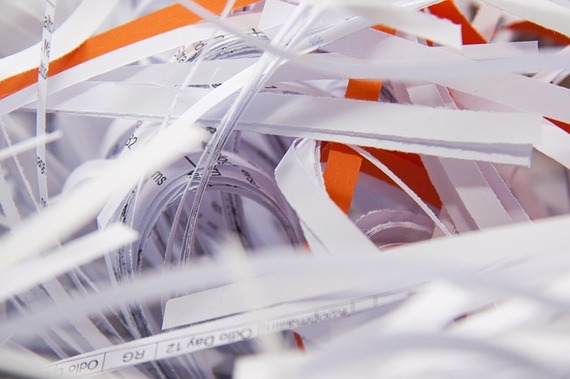 We are heading into the last quarter of 2016. I have begun clearing my file cabinets and desk drawers to start 2017 fresh. Many of you or your managers and supervisors may be doing the same--congratulations on getting a jump-start on the New Year. But wait! How many of those pesky pieces of paper or electronic files can you really discard or delete? In your quest to keep a clean, organized desk or office, you might run the risk of getting rid of documents you must keep under the law. If you destroy the wrong document, you could destroy your business. And if you keep everything, you may be violating federal rules on the "reasonable" disposal of sensitive documents.
Besides the fact that records take up physical and electronic space and organizational effort, the more you keep, the more likely it is that--sensitive information could fall into the wrong hands. By purging old records, you can reduce the risk of redundant or outdated records being seen in the wrong light and used against you. But getting rid of records too soon could land you in legal hot water. Federal or state statutes typically dictate record-retention requirements.
Major Records and Retention Periods. Important: While you or your managers may not be responsible for the each of the records listed below, it doesn't hurt to know the required retention periods of those documents you may turn to during the course of business. To help you with your efforts, we're providing some record-keeping guidelines for you. Here are some of the documents you should probably retain with the required retention periods for the ones you're most likely to reference.
Accommodation requests: one year after record is made
Applications for employment: one year from date of submission
Basic employee information: four years after record is made
Basic payroll information: three years after record is made
Dates Family and Medical Leave Act (FMLA) leave is taken: three years from end of leave
Demotion records: one year from date of action
Form I-9: three years from date of hire or one year after termination, whichever is later
Job advertisements: one year after record is made
Job descriptions: two years after record is made
Job evaluations: two years after record is made
Layoff, reduction-in-force, recall records: one year from time of request
Merit, incentive, seniority system records: two years from the date record is made
OSHA Forms 300, 300A, 301: five years following the end of calendar year records cover
Pre-employment tests: one year from date of test
Promotion records: one year from date of action
Records relating to discrimination charges: until final disposition of charges
References: one year after record is made
Résumés: one year after submission
Termination records: one year after termination
Time cards/sheets: two years after record is made
Transfer records: one year from date of action
Compliance with retention laws. Failure to comply with state and federal laws on record retention may have unwanted consequences, such as penalties for destroying records before the end of the required retention period. And, if your business is sued by an employee for discrimination, records to assist in defending the claim may not be available and may weaken the defense, and may appear as intentional destruction to cover the alleged discrimination.
Careful and timely destruction of documents. Records should never be destroyed without first reviewing record retention and destruction requirements and checking to ensure that litigation is not pending. Any paper records containing confidential, personal or financial information should be completely shredded to protect employee privacy and to comply with applicable laws. Disposing of electronic information must be done carefully so that it can't be read or reconstructed.
Consistent policy implementation and periodic reviews. Record retention rules and procedures must be consistently applied and followed to ensure legal compliance. Those charged with record retention requirements should periodically review the policy and actual practice to ensure that internal requirements are current and are being followed correctly.
Proper record-keeping is the law. Non-compliance can lead to a hefty fine. Worse, it could mean defeat in the case of a legal dispute. And if your records are improper or incomplete, or your system is dicey, you look guilty.
Next Steps. A third-party HR assessment/audit can pinpoint the good and bad in your current process for records maintenance, and give you the basis for a better system that is effective, efficient, relevant, compliant, and keeps you out of court.
Margaret Jacoby, SPHR, is the founder and president of MJ Management Solutions, a human resources consulting firm that provides small businesses with a wide range of virtual and onsite HR solutions to meet their immediate and long-term needs. From ensuring legal compliance to writing customized employee handbooks to conducting sexual harassment training, businesses depend on our expertise and cost-effective human resources services to help them thrive. This article first appeared on the MJ Management Solutions blog.
Popular in the Community