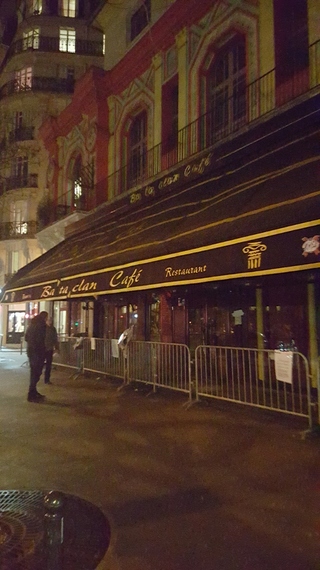 Bataclan
"That's Bataclan," noted my Parisian Uber driver, Charles, as we passed the popular nightclub on a bitter cold Sunday night in January. I made the request to stop the car. The venue is closed indefinitely. I got out of the vehicle, took a picture and read a notice posted in front of the club from the sanitation department thanking everyone for their solidarity and support and indicating that the memorial of flowers, cards, candles and signs has been moved to another location.
It was the second week of 2016 and I found myself vacationing in Paris for the very first time. I am a 39-year-old American tourist who had always wanted to visit The City of Light and I had the unique opportunity to cross this off my bucket list before I turned 40.
"Bataclan was a bad thing for us," continued Charles as I jumped back into the car. I was with a group of American expat women who have lived in Paris for years. We all asked, "Why?" We knew the obvious reason. Bataclan was the site of the worst terrorist attack ever in Paris; 89 people were slain on Nov. 13, 2015 at an Eagles of Death Metal concert. The driver responded that the mass shooting has been bad for business. We also learned from him that tourists who planned to visit Paris for the holidays couldn't cancel their vacations after the attacks, but the month of January had been strikingly slow for business, and has led to economic hardship for those who depend on tourism for their livelihood.
I'm told that normally Paris in the winter is just as popular in the summertime; that streets are crowded and overrun with tourists; that there are usually long lines to popular tourist attractions such as the Louvre and the Louis Vuitton store. "You mean, you didn't have to fight your way through to see the Mona Lisa?" asked one of my Facebook friends who saw a nice, close-up photo I posted of the famous painting on my page. "No, I was able to walk right up to it and take my picture--no problem, at all."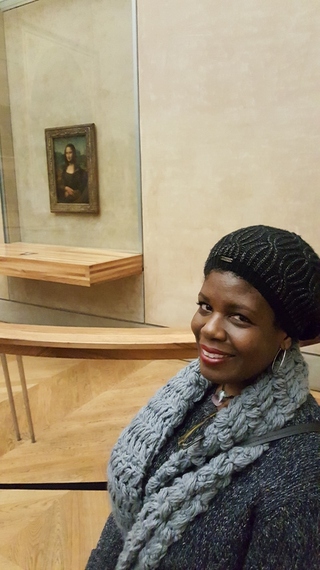 Me and the Mona Lisa
I happened to be in Paris during the time of the government-mandated, semi-annual sales or soldes, when merchandise in almost every store is offered at a discount. Tommy, a sales clerk at an optical store in the city's trendy Marais district, informed me that many Parisians are choosing not to shop and, instead, are spending more time with family and friends.
I can't help but to wonder how the citizens of Paris are mourning and how they are coping. I was in New York City on Sept. 11, 2001. I lost friends and attended funerals. That day I took a very long walk home from work because the train system had completely shut down. As I headed to work the following Monday on the subway, it felt like the entire city was attending a massive funeral that morning. There was an eerie silence on the trains and New Yorkers were uncharacteristically kind and considerate--opening doors and making room for others to pass on the sidewalks.
"You're from America?" inquired a local resident who was seated beside me in Marais' Café du Marché, renowned for its "All You Can Eat" Sunday buffet brunch. He added: "I heard that Michelle Obama had an empty seat next to her, during your president's State of the Union address, to honor people who have lost their lives to gun violence. There are a lot of guns in America. You all like guns. Everyone has a gun and can buy a gun pretty easily, can't they?" "Yes," I responded, shamefully.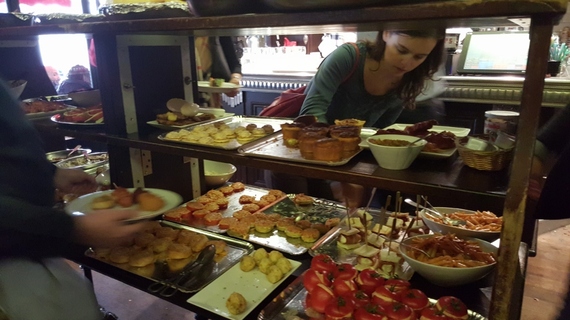 Sunday buffet brunch at Café du Marché
On another day, while having tea at Hotel Le Bristol, I encountered an attorney named Nissrine who has lived in Paris for over 20 years. "We've never seen guns in Paris until now," she said. "Now, there are armed military men with machine guns stationed everywhere," It is true. I saw armed guards at every major attraction, beginning the moment I stepped out of the baggage claim area at Charles de Gaulle airport.
I didn't plan this trip to Paris. My first preference would have been to visit during the balmy summer, not the frigid winter, two months following the deadliest attacks in France since World War II. However, my best friend, Stephanie, is living in Paris for the moment. She invited me for a visit--I could stay for free in her apartment, the airfare was cheap, the euro and the dollar are almost equal, and discovering a new European city at a bargain basement price trumped anything else I could've been up to in New York this season.
During my time in Paris, I stayed on Rue Civiale in bustling, working-class Belleville. That neighborhood is best known for being the birthplace of famed French singer Édith Piaf ("La Vie en Rose"). The multi-ethnic area includes one of two Chinatowns in Paris and was originally settled by Armenians, Jews and Greeks. It is now home to a growing population of North and Sub-Saharan Africans and intersects four arrondisements (districts of the city): the 10th, 11th, 19th and 20th. In Belleville, one can easily connect on foot to the site of four of the six terrorist attacks that took place last November. Belleville is an area Fox News classified as a "No Go Zone" for incubating Islamic terrorists in January 2015 after the attacks on satirical newspaper, Charlie Hebdo, only to later issue an apology for false reporting after the threat of a defamation lawsuit from the mayor of Paris, Anne Hidalgo. And, two weeks after arriving in Paris, my American friend, Stephanie, found herself on the evening of November 13 unable to get home to her Belleville apartment as the Paris Metro was completely shut down. She was instructed to stay away from the area for fear of additional attacks. "I live in walking distance to four of the six locations of the terrorist attacks," explained Stephanie.
On my first day in Paris, I wanted to see everything. From Rue Civiale, Stephanie and I made a right onto Boulevard de la Villette, walked past a group of call girls (prostitution is legal in Paris; solicitation is illegal) and the Belleville Metro station. Then we turned right onto Rue du Faubourg du Temple. I felt like I was back in New York--Chinatown meets the Lower East Side. The street was packed with rushed people of all ethnicities, and an eclectic mix of shops and restaurants from a French boulangerie on one side of the street to a Vietnamese restaurant and massage parlor on the other. We made our way through the crowds on the narrow sidewalk past construction, crossed Avenue Parmentier and then five minutes later, Stephanie pointed to Café Bonne Bière, where five people were fatally shot during the attacks. I gazed across the street at the café. It's a typical corner café that I see regularly in New York City, and it could be anywhere in the world. "Café Bonne Bière was one of the first places to reopen after the attacks," said Stephanie. "Across the street is another place that got hit."
My friend could have easily abandoned Paris after the attacks, along with droves of other tourists, and returned back home to the States. "You don't leave great cities," said Stephanie to me in our very first communication on Saturday, November 14 confirming she was alive and well.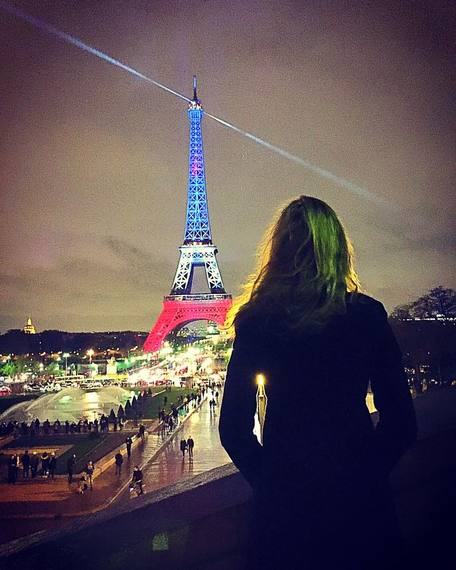 Stephanie at the Eiffel Tower, three days after the attacks
Seven days in Paris with Stephanie, and I visited every magnificent location imaginable from Montmartre to Versailles.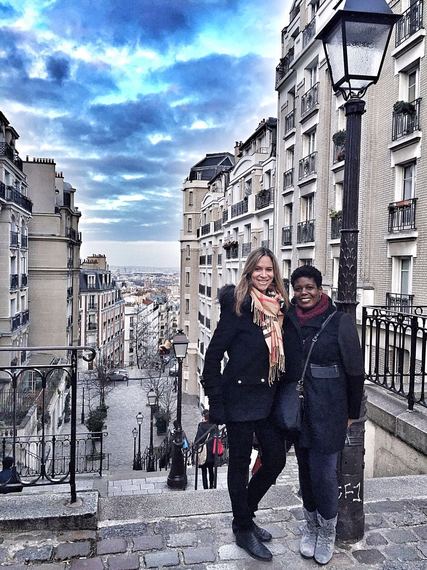 Stephanie and Mable in Montmarte
And, in between, more walks around Belleville. On my third weekday morning in Paris, we stopped for fresh squeezed orange juice at Marché Alibert. A short block from that supermarket are two more locations of the attacks: Le Petit Cambodge and Le Carillon. One of the restaurants, Le Carillon, is open for business while Le Petit Cambodge is indefinitely closed.
And then across the street from these 2 locations is the Don du Sang elementary school. I see about 20 children lined up on the sidewalk with two adult chaperones. I have now walked to the front entrance of this school. In my immediate view: the children, their adult chaperones, and the two sites for the November attacks.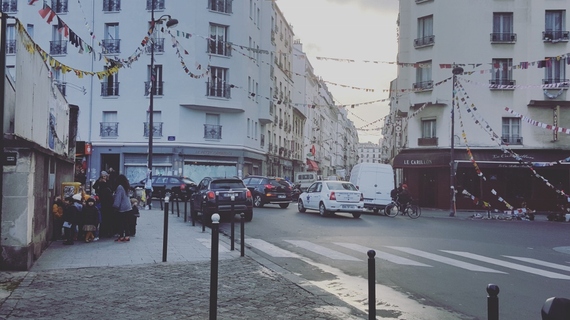 The children lined up on the sidewalk at the school; in the short distance, two locations of the November attacks
Terrorism is cruel and irrational. Like New York City after 9/11, Parisians are going about their lives. Unlike Americans, many are not trying to rehash what happened. "We don't want to talk about it anymore," said my waiter at Café Bonne Bière when we visited on a chilly Saturday night. The café was super crowded, indoors and outdoors. Business was booming. I had to wait some time to place my order and get my scrumptious sea bass dinner with a mojito mocktail (I had been drinking so much wine in Paris--it's cheaper than ordering a can of Coca-Cola--that this night I decided to refrain.) I was seated inside, by the window, across from the entrance, where people were coming and going. My view outside was a memorial of flowers and notes on the sidewalk. Paris is winning! I was so very proud and honored to be a witness--Parisians were supporting Café Bonne Bière in the most beautiful show of solidarity I have ever seen. I was dining with families and toddlers in strollers, old friends and lovers, White people, Black people, everyday people. It was resilience personified.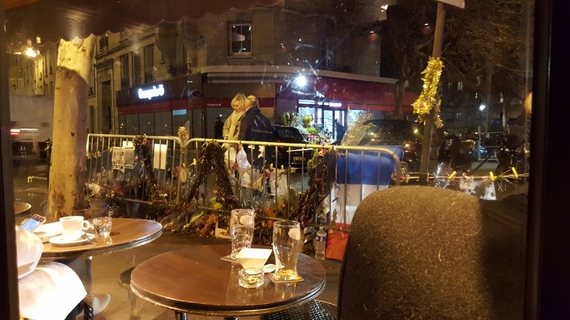 My table and view at Café Bonne Bière
Fluctuat Nec Mergitur is a Latin phrase than means "tossed but not sunk." There are a few large format murals that were recently created after the attacks, showcasing this saying--one at Place de la République and the other near Canal Saint-Martin. Poignant words to live by.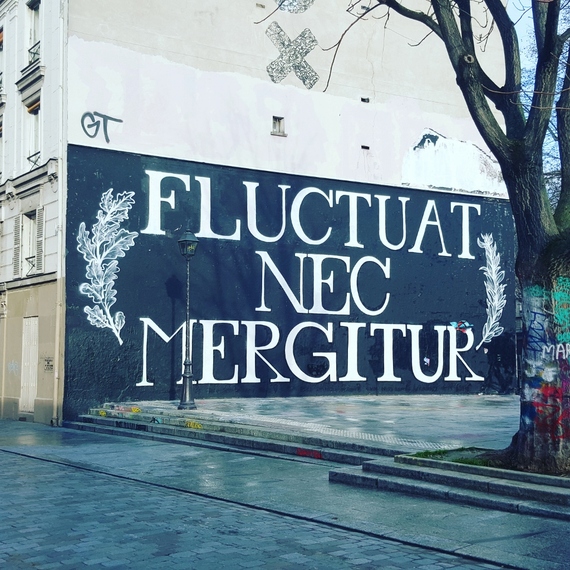 The mural at Canal Saint-Martin
Photo Credits: Mable Ivory and Stephanie McGuiness