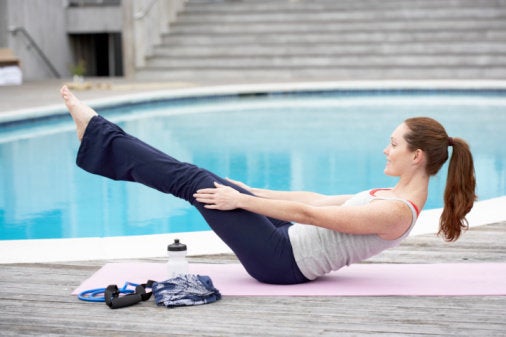 The energy makeover continues and Marissa comments that her energy improvements occur on so many different levels. Let's take a look.
Meeting with Dr Frank Lipman (author, Revive!) was a critical step in the initial stages of the Total Energy makeover. As with any health program, it is necessary to include evaluation by a healthcare practitioner prior to beginning the program. Thus, although I suspected adrenal fatigue and excessive caffeine intake, as well as minimal timeout to "unplug and recharge," as the primary culprits for Marissa's fatigue and energy spikes throughout the day, we required Dr Lipman to do blood work and a physical exam. What makes Dr Lipman's exam so much more valuable lies in his approach to medicine, an integrative approach. Thus, he explored much more than potential physiologic issues, inquiring about how Marissa invests other energy -- work, family, social. As he described this for an ABC employee in the Green room last week, the employee said, "Isn't this just good medicine." I couldn't agree more. So with his clinical findings (Marissa had very low vitamin D and had signs of adrenal fatigue but no other deficiencies) as well as his psychosocial ones, Lipman prescribed vitamin D supplementation, fish oil, greens, and protein supplementation, weekly acupuncture as well as "go out with your friends more."
So now that we had that critical piece, Marissa and I met to discuss her supplement regime -- it's important to know when, how much, and which brands to take when it comes to supplementation. I wanted to make sure that adding these items in wouldn't in any way subtract from Marissa's progress with compliance to her food plan, her yoga practice, and her before bed regime (to "unplug and recharge"). Right now Marissa is on a high dose of vitamin d3 (from Complementrix by Dr Soram Khalsa -- see his Huffington Post on vitamin D deficiency) to replete her levels. Vitamin D is fat-soluble so she is taking it twice daily with meals as well as taking her fish oil (a fat source) at the same time. I recommended Wholeomega by New Chapter for her fish oil as we discussed the benefits of getting her EPA and DHA in the balance supplied naturally (in wild salmon) as well as being an eco-friendly choice as well. She is also taking an organic greens powder -- choosing from either Berry Greens by New Chapter or NanoGreens by BioPharma -- as an energy boost in the morning or mid-afternoon where she would have previously turned to artificial sources. And she often mixes the greens with a protein powder -- Manitoba Harvest Hemp protein 70 now as she wants to eliminate all dairy from her diet (she had been using a whey protein powder).
Marissa continues to balance her nutrients at each eating occasion (carb + protein + healthy fat + unlimited vegetables), aiming for eating occasions every three hours. What changed this month was a desire to move to a vegetarian or even vegan diet. This prompted our spending time to review vegetarian protein and healthy fat sources to make sure she didn't lose anything in the adjustment phase (for more on this see the AKA menu worksheet in the client resources section at www.ashleykoffapproved.com). Marissa still needs quick and easy -- but much to my excitement she also began to cook a bit this month. I explained to her that an "IKEA" approach -- some assembly required -- would be ideal for her as she controls the ingredient quality, limits preservatives used, and can portion control yet without being overwhelmed by the prospect of full cooking daily. So she stocks up on the basics -- and assembles as needed/desired. And lastly, when we discussed becoming a vegan, being a vegetarian, doing a cleanse (this was of interest at month's start), I talked with Marissa about my approach or label -- being Qualitarian -- and explained that I created this because I've seen too many patients making lesser quality choices when they eliminate foods from their diet. For example, eating lots of processed vegetarian foods or those that exchange fat or carbohydrate food sources for processed replacements to achieve "net-zero" status. And as for the cleanse, switching to whole foods, removing extra sugar, removing artificial energy sources, eliminating dairy -- Marissa, you are cleansing and you didn't even know it!
Check in with Tara Stiles and Marissa's posts to see how her yoga continues to be a core (pun intended) part of her energy makeover.
Looking ahead, now that the physical pieces are in place and even starting to become habit, we have the right foundation to work on Marissa's energy on different levels. She's meeting with several Huffington Post experts, so stay tuned to see how her energy improvements take shape.