As Matt Hardy nears a quarter-century in professional wrestling, the star's perspective on life has shifted. Whether as a veteran inside Total Nonstop Action's six-sided ring or guiding fans to greater acceptance of all people, the former World heavyweight champion has a new concept of what he hopes his "legacy" will be.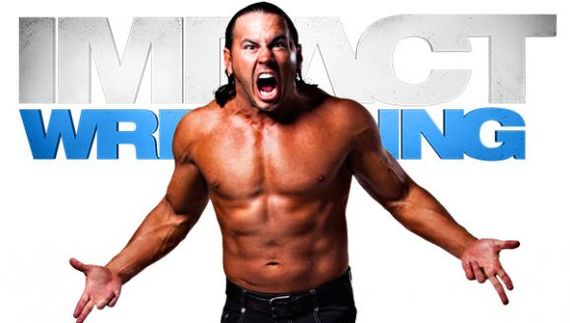 "We need more people to stand up and say, 'We're all the same. We're all equal,'" said Hardy during a recent telephone interview promoting TNA IMPACT! Wrestling's Jan. 5 debut live on cable's PopTV, "The fear that ultimately leads to hate is something we need to change, and I want to do whatever I can to make the world a better place."
When asked about issues relating to the LGBT community, Hardy admits it's been a long journey to his message of equality. Having grown up in a "redneck area of the South" -- North Carolina, to be exact -- he might well have had a very different perspective entering pro wrestling as a teen. His attitude began to change, though, as he grew into a globally-recognized sports entertainment superstar.
"As time goes on, as I've traveled and learned, it just jacks me that there's so much hate and so much of that energy in the world," said Hardy, a former TNA World Heavyweight champion.
"Anything I can do or say that maybe will change somebody who is a Matt Hardy fan's mind, if I can change a mind here or there," he continued, "If I can get people to open up and become willing to look at people more equally, that's important."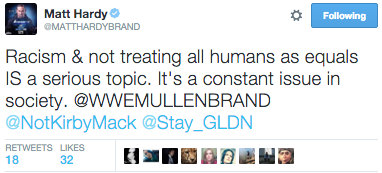 Matt Hardy Speaks Out on Diversity Via Twitter.

With younger brother Jeff, as The Hardy Boyz, Matt is one of the most accomplished tag team competitors in pro wrestling history. Beginning in the late-90s, iconic feuds between The Hardyz, The Dudley Boyz and Edge and Christian redefined the tag team division in the then-World Wrestling Federation -- and, indeed, worldwide.
By the time they departed WWE, both Hardys were established solo superstars. Matt's resume includes the ECW World heavyweight title as well as the WWE European, Hardcore, Cruiserweight and United States championships. After spending time touring the indie wrestling scene, in late-2014, Hardy joined brother Jeff in rival TNA.
"From a creative aspect, they're so open to ideas, my concepts, my perspective, and that's so appreciated by the performers and artists, to be heard and to know they are willing to let you do what you know is good for you," said Matt of his experience in TNA. "You don't get that kind of freedom anywhere else. It is very rewarding."
Originally, storylines called for a "very special" Hardy Boyz reunion. In fact, the duo captured the TNA World Tag titles amid a spectacular series of matches with then- (and reigning) champs The Wolves -- Eddie Edwards and Davey Richards -- and old rivals Team 3D (nee, The Dudleyz).
Shortly after, though, Jeff -- ever the daredevil in and out of the ring -- was unexpectedly injured in a motor-cross accident. Matt was left without a partner, the belts or direction. That's when the freedom TNA offers proved particularly beneficial, he noted.
Matt Hardy Challenges EC3 for the TNA World Heavyweight Title.

Matt pitched the company a storyline possibility, which was well-received, and soon found himself embroiled in a series of World title matches with Ethan Carter, III, the company's top rising star. "Amazingly, the idea really took off," said Hardy. "Six months later, things are still working themselves out -- and there's a lot more story to be told."
The highlight of the feud, of course, came last fall at Bound for Glory, TNA's biggest annual event. There Hardy captured his first TNA World Heavyweight championship in front of a hometown crowd, his wife, young son and father. "For me, it was absolute validation," recalled Hardy. "It said, 'You absolutely have made it as a single's competitor.'"
However, due to the match's controversial ending -- which saw brother and special guest referee Jeff physically involved -- the celebration was short-lived. Matt vacated the belt the very next day.
To determine a new champ, TNA kicked off a months-long #WorldTitleSeries involving 32 top competitors, male and female. With Matt, EC3, "The Maniac" Eric Young and "The Destroyer" Bobby Lashley -- all former TNA champs -- remaining, the tournament reaches its exciting conclusion live Tues., Jan. 5, when IMPACT! Wrestling debuts on PopTV (formerly the TV Guide Channel).
With TNA's coveted new day and timeslot on a network Hardy says has "a much better grasp of what it takes to make professional wrestling successful," the superstar acknowledges the pressure is on. As a veteran, and one of the company's most accomplished performers, he admits playing a key role in the company's future success.

Matt Hardy Relinquishes the TNA World Heavyweight Title.

"There are a lot of guys, as time goes on, who are working to just make a paycheck," stated Hardy. "I have never been that guy. If I'm going somewhere to work, I'm there to work as hard as I can, put out the best product possible and help any way I can along the way."
"I want to be one of the wrestlers that actually gave back, that actually cared about the industry," Hardy continued. "That's very important to me. Considering I've been able to come into TNA, work with younger talent and have their respect, and on top of it, have fun and continue to add and grow my legacy has been great!"
And, if he can add a plug for equality along the way, that is part of how the star hopes he's remembered too. In fact, said Hardy, he feels it's a "responsibility."
"When everything is stripped away in life, everybody is a human being that has problems, that has issues, has flaws, that isn't perfect," he concluded. "It doesn't make a difference what your sex is, what your sexual preference is, what your race is or what your background is, if you're a good person, you're ok in my book."

TNA IMPACT! Wrestling debuts on cable's PopTV Tues., Jan. 5. Check local listings for air times.