Like most great American holidays, the Super Bowl is a free day pass to eat whatever you want. And because we'll burn so many calories watching the 49ers and Ravens run around (that's how it works, right?), there's no reason to hold back. In this spirit, we bring you: Totchos.

Tater tots have been on the rise since the days of Napoleon Dynamite, and this nacho recipe is the perfect showcase for their finer virtues. The crispy nuggets of potato are baked, then topped with seasoned beef, cheese sauce, salsa, guacamole, sour cream, green onion and crumbled bacon. You may never go back to regular old nachos again.


Totchos Supreme
Recipe from
Girl Cooks World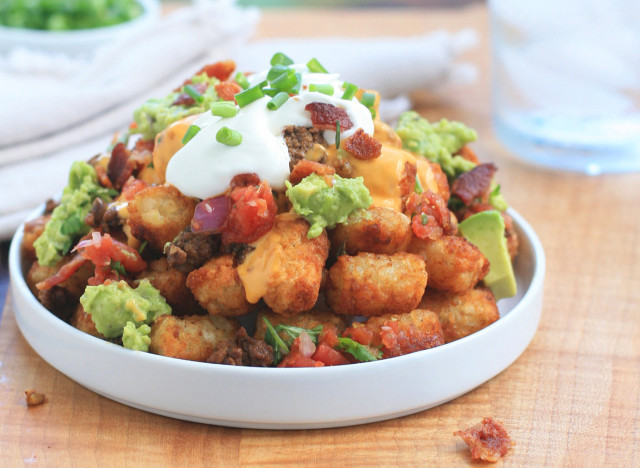 Yield: 4 as a main course or 8 appetizer-sized servings
INGREDIENTS
32-ounce bag frozen tater tots 3-4 slices bacon1/4 onion, finely chopped1 large clove garlic, minced1/2 lb very lean ground beef1 1/2 teaspoons chili powder1/2 teaspoon ground cumin1/4 teaspoon paprika1/4 teaspoon cayenne pepper1/8 teaspoon oregano1/4 teaspoon salt1/4 teaspoon black pepper15-ounce jar salsa con queso/cheese sauce, heated in the microwave (or
make your own nacho cheese
)salsaguacamolesour creamseveral green onions, finely chopped
DIRECTIONS
Prepare the tater tots using the oven method instructions on the package. Err on the side of overbaking because you'll be adding a lot of wet toppings, and you want the tots to remain as crunchy as possible.
While the tater tots are baking, fry the bacon until crisp in a large frying pan. Remove and set aside to cool. Ladle out all but about 1 Tablespoon of the bacon grease. Add the onion and garlic to the frying pan and cook over medium heat until softened. Add the beef and stir to mix. Once the beef is no longer pink, add the chili powder, cumin, paprika, cayenne pepper, oregano, salt and pepper. Stir to incorporate and then cook several additional minutes until the flavors have melded and the meat is cooked through.
Once the tater tots have finished baking, use tongs or a spoon to transfer to a large platter or individual plates. Top with the seasoned beef, salsa con queso, salsa, guacamole, sour cream and green onions. Crumble the bacon over the top and serve immediately.
Craving nachos now? Check out the slideshow below:

This story appears in Issue 34 of our weekly iPad magazine, Huffington, in the iTunes App store, available Friday, Feb. 1.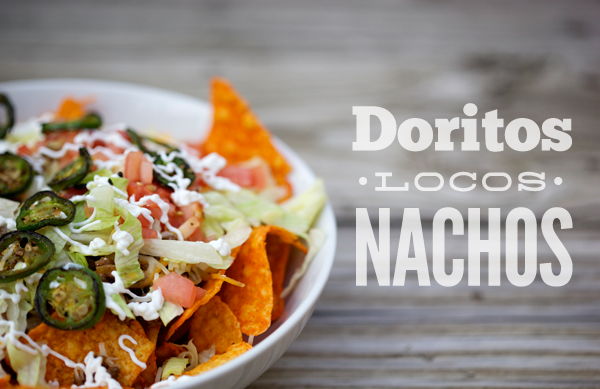 Nacho Recipes
Related