While creationists seek to deny the validity of evolution, a new show uses its exceptional arsenal of creative talent to build a production around an evolutionary theme. Not only does Cirque du Soleil's Totem deal with the process that allowed man to take his first steps, it also marks a turning point in the company's artistic standards.
Several members of the design team that helped Cirque du Soleil create its magnificent new traveling show have also been hard at work bringing the Metropolitan Opera's new Ring cycle to fruition. It's easy to see how their artistic freedom, physical exuberance, and ability to soar (both physically and artistically) thrive in a circus environment. It's just as easy to understand some of the challenges that have faced director Robert Lepage, set designer Carl Fillion, and video designer Pedro Pires in trying to bring Richard Wagner's 19-hour tetralogy to life within the physical confines of a traditional repertory house.
Faced with an audience of hypercritical opera fans, Fillion's infamous set of planks (known as "the monster") has drawn plenty of criticism. Each time Fillion's computerized set malfunctions, it triggers the worst reactions from an expensive audience with impossibly high expectations.
By contrast, the response from a Cirque du Soleil audience (that is eager and willing to be dazzled by anything) is remarkably different. Each new daredevil stunt is met with 2,600 people gasping in awe and cheering in admiration.
On the opening night of Totem in San Francisco, when a minor mishap forced a unicyclist to dismount midway through her act, no one in the audience was the slightest bit disappointed. Instead, there was a communal sense of concern, support, and encouragement as the cyclist (with an assist from a colleague) was able to remount and rejoin the action.
Each time a new Cirque show arrives in town, one can expect to hear jaded San Franciscans whining and moaning about how they've seen all the acts Cirque has to offer. But Cirque du Soleil has always taken the lead in adapting state-of-the-art technology for its shows.
The perch poles used in Totem are made of duralumin (an alloy used in aeronautics). Some of the photographs taken of Planet Earth by Cirque's founder, Guy Laliberté, during his 2009 Poetic Social Mission as a space tourist aboard the International Space Station are integrated into the show.
With a cast of 51 artists from 17 countries, Totem's stunning use of video by Pedro Pires raises the artistic level to new heights that have rarely, if ever, been imagined for traveling tent productions. Whereas patterned light projections in past productions have been able to place geometric designs on the stage floor, Pires has found a way to transform the solid elements of Fillion's set into landscapes filled with bubbling lava and mud, wintry waterfalls -- even the wake of a motorboat that can change its size and shape to match the boat's speed.
Some of the projections Pires has designed can interact with the movements of Cirque's artists in real time. The technology used involves infrared cameras positioned above the stage and around the "marsh area" that can detect a performer's movement and produce kinetic effects (ripples, splashes and reflections) in the water and the flames.
Whether the audience sees a school of sharks or individual people swimming beneath the stage's surface, the effect is simply breathtaking. As Pires explains:
Fillion's intricately trapped set includes an amazing hydraulically-driven mechanical tongue (referred to as "The Scorpion Bridge") which performs elastic wonders. His use of inflatable reeds to hide Totem's musicians, canoes, and rowboats is one of the best pieces of camouflage the company has devised for this section of the stage in years.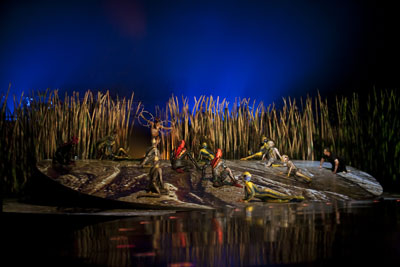 The "reeds" and "marsh" sections of the set for Totem
(Photo courtesy of Cirque du Soleil)
The 2,700-pound turtle skeleton which opens the show contains two horizontal bars for Totem's acrobatic frogs. In order to create a chorus of human amphibians, the patterns and colors of various species (including the most poisonous frog in the Amazon rainforest) were replicated by pixelating their images during the screen printing process. As costume designer Kym Barrett explains:
Some of Barrett's other costumes are amazingly intricate:
Costumes for the five jugglers peddling around the stage on 7'2" unicycles are designed to represent the colors of the fall harvest.
The costume for the Crystal Man (a recurring character representing the life force who also moves props to and from the top of the Grand Chapiteau) is entirely covered with a mosaic of small mirrors and crystals (a total of nearly 4,500 reflective components on a stretch velvet leotard).
Each of the outfits worn by the foot-jugglers (Marina and Svetlana Tsodikova) are based on lycra body stockings (each adorned with 3,500 crystals). The headdresses worn by the "Crystal Ladies" are each encrusted with another thousand crystals.
Composers Guy Dubuc and Marc Lessard have fashioned an exciting score which is enhanced by Jacques Boucher's sound design and Etienne Boucher's thrilling lighting. Whether working with a chorus of frogs, clowns, acrobats on Russian bars, or hoop dancers, Jeff Hall's choreography never fails to excite the audience.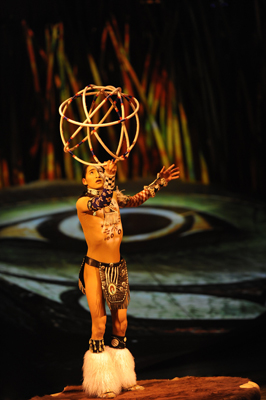 A Native American Hoops dancer in Totem
(Photo courtesy of Cirque du Soleil)
Like most Cirque du Soleil shows, Totem puts some prime beefcake on display. Early in the show, some Bollywood-inspired music accompanies two muscle hunks on a summer day at the beach as they compete on the rings. In Act II, two young aerialists (Rosalie Ducharme and Louis-David Simoneau) pretending to be lovebirds tease each other in one of the most original pieces of choreography for static trapeze seen in recent years.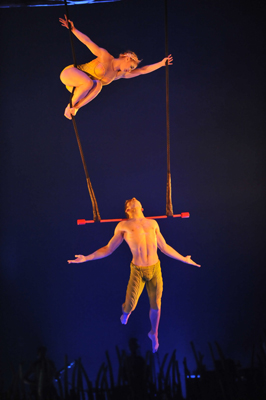 Rosalie Ducharme and Louis-David Simoneau portray two
young lovebirds in an unusual trapeze act during Totem
(Photo courtesy of Cirque du Soleil)
If you want to get the most bang for your holiday entertainment buck, Cirque du Soleil is definitely the way to go. Performances of Totem continue under the Grand Chapiteau at AT&T Park through December 18. Here's the trailer:
Calling all HuffPost superfans!
Sign up for membership to become a founding member and help shape HuffPost's next chapter