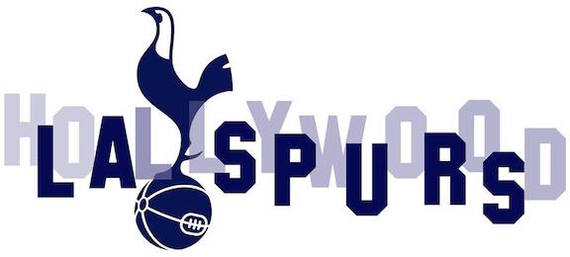 Our Los Angeles Spurs group enthusiastically meet weekly at our local, The Greyhound Bar, where 40 to sometimes 200 supporters regularly congregate to chant often saucy but brilliant soccer songs and go a little mental. Spurs are having a possibly magical season with a top-4 Premiership finish and two Cup finals in view -- so we've been going football crazy.
To commemorate this ongoing season, our LA supporters' club president Brian Moore asked us to contribute bios to our group's Facebook page, so here's mine.
I've been a Spurs fan since I was a nipper growing up in Newport, Wales, which seemed like a million miles away on the M-4 from North London. My dad, Ashley Sr., is an inveterate Man-U fan, and clearly expected me to follow in his shoes. So he must've spilled his cuppa when I came out as a Lilywhite supporter: "Come on you, Spurs!"
How did it happen? I think it's because of our lovely mum, Nancy, who always had an eye for something special. She first saw Tom Jones perform on Top of the Pops. She also had a fine sense of style and fashion. She admitted watching Spurs playing in dazzling all-white (with no names or sponsor logos clogging up the jerseys) on European nights and pointed out how fabulous we looked and played. She was always busy bringing up us six kids, but she also found time to recall quotes from our captain Danny Blanchflower from our glorious early 1960s.
One quote epitomizes why I love Spurs and why I will be "Tottenham Till I Die."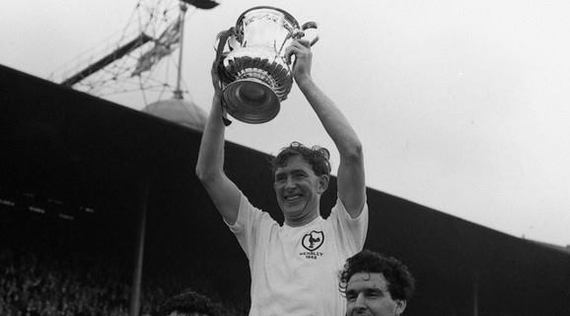 Danny Blanchflower, captain of legendary Tottenham team
"Danny Boy," which is the name of my new spec movie script, once said of Spurs:
The game is about glory. It's about doing things in style, with a flourish, about going out and beating the other lot, not waiting for them to die of boredom.
Oh, man, that encapsulates Spurs for me. I've never seen us win the League, but that quote by the man who captained us to the League and FA Cup double in 1960-61, is what I hope Spurs continue to strive for. We have a unique history, we're named after a dashing knight written about by Shakespeare (Sir Harry Hotspur), and we've always had footballers who play with style -- Hoddle, Ardiles, Gazza, Ginola, Bale and now Kane and Alli.
But the Spurs player who became my boyhood hero was local London lad, Jimmy Greaves. Our mum loved Greavsie and his mischievous Cockney smile, and legendary goal-scoring exploits. Seeing this gifted goal-scorer knock in goals with both feet and with his head, to see him just glide by opponents was mesmerizing. His Lilywhite jersey hardly ever got muddied because, like Barca's Messi today, he had incredible balance, and would just ride over tackles. Then he'd calmly pass the ball into the net. He was unpretentious, cheeky, handsome and he was ours! I loved Greavsie so much, I named my first pet after him -- dad surprisingly came home with a budgie, feathered in Tottenham white/blue, for a birthday present, and I named him Jimmy. And the bird could sing like Greavsie could "sing" on the football pitch.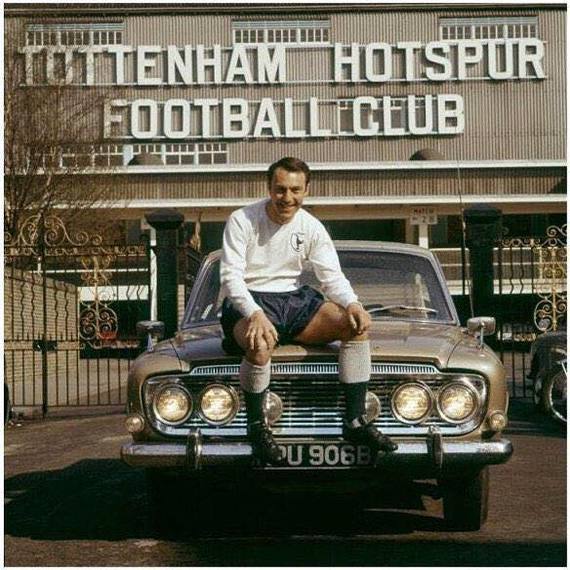 My hero Jimmy Greaves outside famous White Hart Lane
I met Greavsie twice as a kid. The first time was in Cardiff for a contest between Wales and England. I met my hero and got his autograph -- I think he ruffled my hair. I also heard 30,000 Welshmen proudly sing our National Anthem "Land of My Fathers" and my dad held me tight to make sure this nipper didn't get crushed by the passion of the fans. The next time I saw Greavsie was in Toronto, Canada during the off-season, when Spurs beat Glasgow Rangers 4-3 in a friendly at Varsity Stadium -- later, two of my younger brothers (Chris and Dave) both played for the University of Toronto soccer team and won a national collegiate championship with the same Varsity as their home pitch.
Anyway, Greavsie scored a hat-trick, and my dad photographed me and my hero together. Hello! Things don't get much better than that. After he retired early from football, Greavsie went through a rough patch, fighting alcoholism. But he overcame that to find a wonderful post-playing career as a pundit on the show "Saint and Greavsie." He was insightful, funny, calm never screaming like pundits today, and always had that mischievous twinkle.
Greavsie, who's in his 70s now, suffered a massive stroke last year, and he's still in recovery but his agent Terry Baker, of A1 Sporting Speakers, presents a Jimmy Greaves Benefit Show in Stevenage, England on February 26 with a host of Spurs legends attending the fundraiser. Long live Greavsie, the goal-scoring King of White Hart Lane.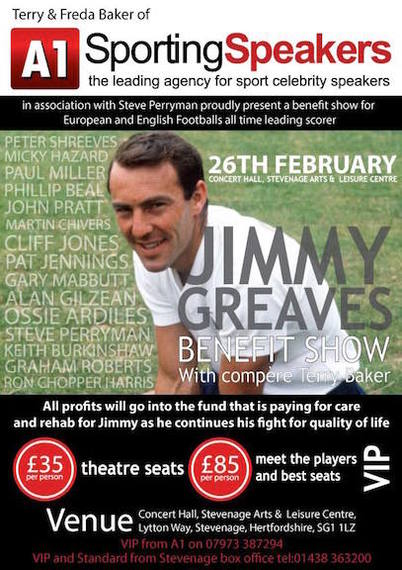 As a journalist, I've met and interviewed dozens of superstar athletes from the NFL's Peyton Manning and Tom Brady to the NBA's Kobe Bryant. I've been fortunate to know them from the personal side, while meeting their families. They're human, like us. Mostly, they're trying their best. They don't try to miss a shot or pass to the other team or make an error. As long as my Spurs team puts out a great effort, then they'll always have my undying support.
Today, I love our Mauricio Pochettino led team -- our savvy, yet sometimes criticized chairman Mr. Daniel Levy wisely hired him when many were again questioning his decision -- and "MoPo's" philosophy of promoting youth (Harry, Dele, Eric, Tommy) and blending them with world class veterans (The Boss, Jan and Toby, Mousa). This season may be one year too early for us. But we're growing and Spurs are once again playing with style like that recent Dele Alli three-touch swivel and volleyed goal-of-the-season candidate. It's inspiring and makes me think that we can recapture that "glory" our "Danny Boy" talked about.
Blanchflower's spirit and those of the great 1960-61 legends are watching over us! And remember, there are a lot of Reals, Uniteds, and Citys. But there's only one Hotspur! And, We're Tottenham Till We Die! Oh, and, COYS!
Ashley Jude Collie is a lifelong supporter of Tottenham Hotspur, The Spurs.
Support HuffPost
The Stakes Have Never Been Higher
Related
Popular in the Community