A two-year-old drug-sniffing dog with the Pennsylvania Department of Corrections has died after being left alone in a hot car.
Totti, a yellow Labrador retriever, was left inside his trainer's vehicle last Thursday, according to a DOC public statement. The handler, Sgt. Chad Holland, stored some things in a vehicle around 12:15 p.m. and did not realize until until 2:44 p.m. that Totti was inside the car as well, Amy Worden, DOC spokeswoman, told PennLive.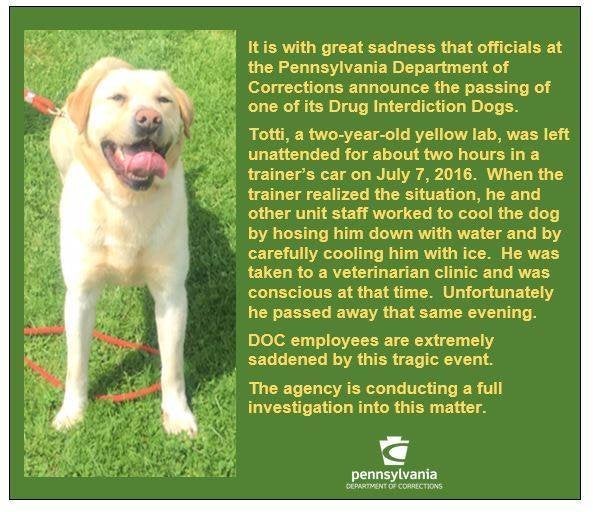 Totti was still conscious at that point and staff tried to cool him down with ice and a hose before taking him to a veterinarian. Though veterinary workers managed to stabilize his body temperature, Totti's heart rate remained too high. He died several hours later.
"DOC employees are extremely saddened by this tragic event," the statement reads.
Worden told The Huffington Post that Holland had been placed on desk duty while the agency conducted a "full investigation" into the incident.
But while Pennsylvania does not currently have any laws that specifically address leaving animals in hot cars, it is "illegal to deprive an animal access to shelter which will protect the animal from elements and preserve body temperature," Sgt. Nicole Wilson, field supervisor with the Pennsylvania Society for the Prevention of Cruelty to Animals, told HuffPost.
Wilson was unable to comment on the specifics of Totti's case, but noted that "we have successfully prosecuted cases where animals were left in cars during extreme temperatures suffering harm as a result."
This story has been updated to include Wilson's remarks as well as comments from Amy Worden.
Popular in the Community