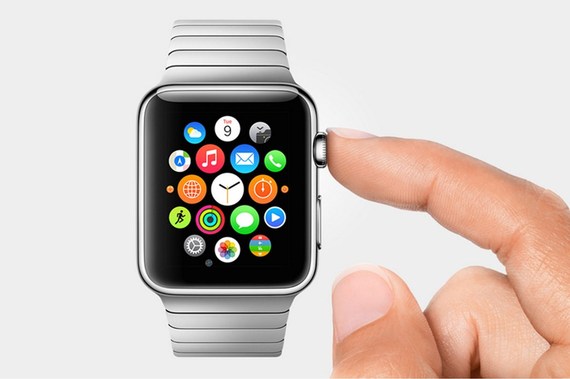 Apple Watch is about to start arriving on customers' doorsteps and interest in Apple's most innovative product in years is high. Apple created numerous technological and engineering innovations for their first wearable, and some of these are already being applied to other Apple products. But Touch ID, the fingerprint sensor that has been steadily making its way across Apple mobile devices is notably absent from Apple Watch. Adding Touch ID to Apple Watch would immediately enhance its usefulness and would solve several of the problems that result from the watch not having its own cellular connection. And importantly, it would do so without the increased power consumption required by an always-on cellular antenna. Here are just a few of the use cases for Touch ID on Apple Watch.
Payments Apple Pay is Apple's bid for mobile payments. Apple Pay allows users to store credit card information on mobile devices and to make payments in a seamless and secure manner. By most accounts, the experience of using Apple Pay is highly satisfying. Rather than having to swipe a credit card, sign a paper receipt, and expose confidential information, Apple Pay works wirelessly and requires only holding the Apple Pay enabled device near a payment terminal. It uses encrypted tokens to protect users' banking data. The biggest drawback to Apple Pay on iPhone is that fishing your phone out of your pocket is really only marginally better than taking a credit card out of your wallet. Apple Watch removes this last remaining step. When wearing an Apple Watch there is literally nothing more to do in the store than hold your hand up to a terminal.
But... because Apple Watch relies on a paired iPhone for authentication and does not independently confirm the identity of a user a new problem arises. How to ensure that the person wearing the Apple Watch actually is the credit card holder? Apple has devised an ingenious solution to this problem. When putting on the watch the user can enter a PIN number to confirm their identity. Because the watch could theoretically move from person to person the authentication will only last for as long as the watch remains in contact with that person's skin. This is no doubt a clever solution, but it is also a little bit of a hack. In some ways it represents one step forward and two steps backwards. Customers now have to make sure to enter a PIN number every time they put on the watch, or not use it for payments. Presumably they could enter the PIN in the store but this is precisely the kind of hassle that Touch ID and Apple Pay were meant to remove. Solution: Touch ID on the watch. With a Touch ID sensor on Apple Watch users could confirm their identity with the touch of a finger. This could either happen at point of sale, making the experience akin to that of Apple Pay on the phone, or they could enter it when putting on the watch. The difference between entering a pin number and merely touching a sensor has already been well established. This very difference is the whole raison d'etre for Touch ID in the first place. And the dramatic increase in the number of iPhone users who enable Touch ID, compared to those who previously set PIN codes proves that the convenience benefit is substantial.
Passwords Keeping track of passwords is a tremendous challenge to human beings (secure passwords, not the still shockingly popular 1234). This has led to the rise of passwords managers like Apple's Keychain and third party applications like 1Password. Several of these applications use Touch ID as a secure and convenient alternative to laboriously entering a complex master password. Being able to access passwords conveniently from Apple Watch is very appealing. In fact, 1Password has already enabled Apple Watch integration for quick and easy access to passwords on your wrist. Future updates may even allow for automatic password presentation based on location or other factors. For example, consider a scenario where your garage door code automatically appears on your watch whenever you approach the keypad. But these possibilities suffer from the same limitations as Apple Pay. How to ensure that the person wearing the watch should indeed have access to the passwords? Touch ID on Apple Watch would provide a perfect solution. Touch the watch and see your passwords. Just as you do on your phone. More security with less hassle; precisely what makes for a great product.
Identification Apple has touted the usefulness of Apple Watch as an 'identity establisher' in a variety of situations. Tim Cook has spoken about the watch replacing car key fobs and the watch is already able to unlock hotel room doors. Each of these situations, and countless others, would be enhanced by the ability to confirm your identity directly to Apple Watch, without relying on iPhone as intermediary.
Touch ID on Apple Watch would also remove the necessity to have both iPhone and Apple Watch present, and charged, in countless situations. So why has Apple not included Touch ID in Apple Watch? And do they intend to do so in the future? It is likely that a major impediment to Touch ID on Apple Watch is the need for a separate area to house the fingerprint sensor. On iPhones and iPads this is elegantly solved by placing the sensor directly in the home button. Doing so allowed Apple to keep the familiar form factor while adding tremendous functionality. In a watch, with severely constrained real estate, adding a separate area for a Touch ID sensor beneath the screen is obviously a no go. It is conceivable that the sensor could be housed on the back of the watch but this would the limit usage to when putting the watch on, and would not allow for authentication throughout the day.
A patent recently awarded to Apple and credited in part to the cofounder of AuthenTec, the firm Apple purchased to produce its Touch ID fingerprint sensor, provides a hint as to Apple's future plans, and points to a much better solution. The patent describes a system for embedding a fingerprint sensor directly into the screen of a mobile device. Reporting on the patent has so far been based on the assumption that Apple is considering embedding the sensor in the screens of iPhones and iPads (and potentially doing away with the home button entirely). But this would be perfect for Apple Watch. If Apple can make a watch with a fingerprint sensor that does not require dedicated space we would have the best of both worlds: Independent secure authentication with minimal hit to battery power, and no need to change the design aesthetic of Apple Watch, a design Apple has clearly invested tremendous resources to perfect. Importantly, it would also be a huge differentiator for Apple Watch compared to competing products. Samsung has already followed Apple's lead in embedding fingerprint identification on their high end phones, and purchased a mobile payments solution to compete with Apple Pay. Enabling Touch ID on Apple Watch would set it many steps ahead of any wearables currently on the market. Touch ID on Apple Watch would also require that the chip inside the watch include the same 'secure enclave' that Apple uses to secure fingerprint information on iPhones, but this seems possible (and it may already be included).
My bet is we will see Touch ID on a future iteration of Apple Watch not too long from now, and that its inclusion will dramatically enhance the already impressive potential of this new product line.
Popular in the Community