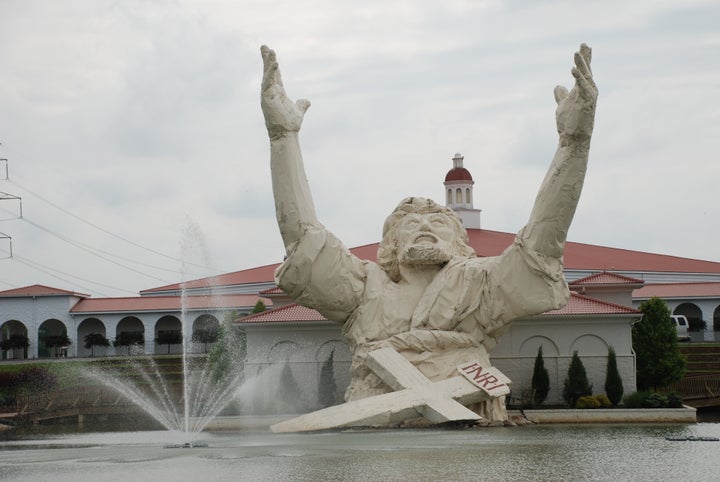 Monday night, another chapter in the age old rivalry between the Notre Dame Fighting Irish and the Alabama Crimson Tide takes place in what many predict will be the most-watched game in the history of college football. The drama is steeped in tradition and the winner takes all -- the title of BCS National Champion.
The game takes place in Miami's Sun Life Stadium, but some 1300 miles to the north on the campus of Notre Dame University, the team's de facto mascot -- known colloquially as "Touchdown Jesus" -- will gaze over Notre Dame Stadium as it has since artist/architect Millard Sheets first created it in 1964. The mural, which measures 134 feet in height with a width of 68 feet, is actually called The Word of Life. The Son of God is depicted with arms outstretched much like a referee signaling a touchdown -- hence the mural's nickname.
Does Touchdown Jesus bestow any sort of advantage over the Fighting Irish? Legend holds that in 1980, high winds tore through the field during the entire game. However, when it came time for the final field goal play by Notre Dame, the wind suddenly ceased. Similarly, fans believe that the team also benefited when a key field goal was missed by the University of Pittsburgh recently, which forced its game into a third overtime. In both circumstances Notre Dame won the game.
Rob Clemenz believes in belief, and to that end, he started his small company Saints for Sinners some years ago in New Orleans. Saints for Sinners painstakingly handpaints Italian holy medals and sells them all over the world, accompanied by a story about that particular saint. This year, Clemenz is offering Touchdown Jesus medals with necklaces and lagniappe. "In a sense, these are non-denominational medals," says Clemenz. "Each of the saints and Touchdown Jesus stands for something, and you don't have to be any particular religion to believe in their power."
Clemenz also firmly believes there is a saint for any situation and he's happy to find people exactly the saint they need during a trying time. Some of the saints are far more contemporary than you'd think -- St. Richard is the patron saint of race car drivers and NASCAR fans, for instance. There is the patron saint of hairdressers, St. Martin de Porres; St. Paul, patron saint of interior design; St. Clare, patron saint of television; St. Florian, patron saint of beer lovers.
St. Florian and Touchdown Jesus could make a good pairing for the game tomorrow night, in fact. "Although I'm definitely rooting for Notre Dame and Touchdown Jesus there a lot of people locally supporting Alabama and the Crimson Tide," Clemenz explains from his New Orleans office. "I hope it's a good game and I hope it's played fairly...it will certainly be interesting, no matter what happens."