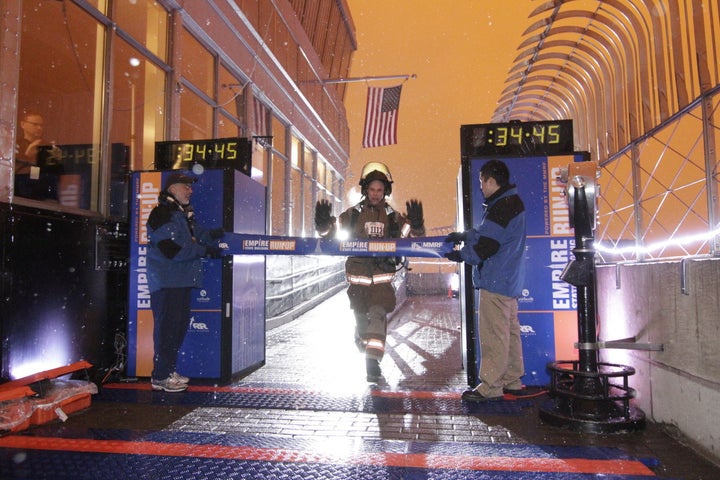 After racing up the Empire State Building for charity while wearing 50 pounds of gear, Touche Howard dispelled his biggest fear -- that he would never return to his tip-top firefighting shape -- once and for all.
Howard, 50, thought his career was over after he seriously injured his back while carrying a woman suffering from a seizure, during a routine call in 2008. But through the surgery and excruciating recovery, his 12-member squad never let him give up.
"That was a time when I didn't know if I would ever be a firefighter again," Howard told The Huffington Post. "I was feeling really vulnerable and they provided support at a really critical time."
When he returned to his job within a year, Howard vowed to achieve another overwhelming feat -- to climb all 86 stories of the Empire State Building and raise $30,000 for the Multiple Myeloma Research Foundation along the way.
Howard accomplished his goal Wednesday night, along with 649 other climbers, when he soared to the top of the Empire State. But he was the sole racer to add more weight to the already daunting challenge.
"As firefighters, that's the stuff we have to have with us," Howard said. "It just made sense in keeping with all the goals I wanted to accomplish; to show people that their efforts had been worth it and to try to be the best firefighter I can be."
When it came to supporting the Multiple Myeloma Research Foundation, the organization that sponsored the run up, Howard said he was immediately moved to contribute.
He said he was amazed by the fast pace at which the nonprofit has been able to bring drugs to the market to help patients suffering from the bone marrow cancer, and the way in which the organization engages with those in need of care and support.
"They're able to inspire a sense of camaraderie and optimism," Howard said. "That's the sort of thing that firefighters thrive on, people pulling together and supporting each other."
Howard couldn't help but notice the uncanny parallels between surmounting the stairs and the challenges he's faced in his life.
"It starts off being terrible and it just stays terrible," Howard said of climbing 1,576 steps. "Sometimes that's the way challenges are. You just have to keep persevering."
And persevere he did, with the unending help of his friends and supporters. Even though there are no buildings in Durham, N.C., that even slightly resemble the Empire State, his training buddies found innovative ways to make do with six-story parking decks and 15-story buildings. He trained three hours each day, for six weeks, and blogged about the experience to inspire donors to give to his cause.
When his fellow firefighters joined him in the stairwell for his last few flights, reminding him that he had faced such an uphill battle before, he gave one last push, and hit the top in 34 minutes and 45 seconds.
"As you come out to the observation deck and into the open, nice, cool air, there's light snow and you can see the glow of city lights," Howard said. "It was really a very moving moment."
Related
Popular in the Community