In the 6th grade I was inspired to overcome insecurities about my dark skin because of Sharon G. Flake's 1998 debut novel, The Skin I'm In. The story changed my life and is one of my favorites to this day. With her newest book just hitting the bookstores, I took some time to talk with the award-winning author about her inspiration, career and, most of all, how her books about adolescents facing difficult scenarios has inspired her readers, young and old.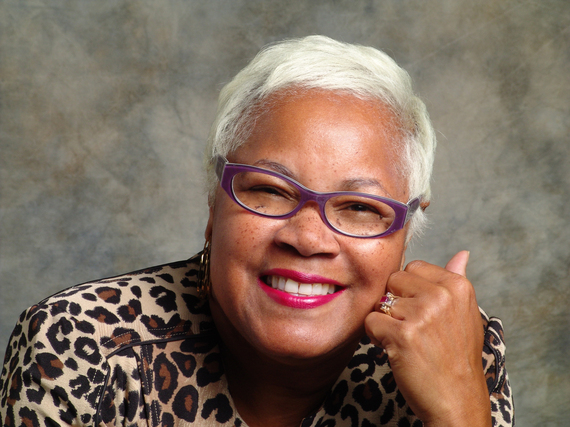 When we spoke on the phone, I was fascinated that people from a wide spectrum of backgrounds were, like me, inspired by her work. Flake says she accomplishes this by going down the "most unexpected route... by exploring the road less traveled." For example, she points out that usually people have predefined ideas about money-craving people in poverty, but in her book, Money Hungry, as an author her "job is to say you don't know everything about" less fortunate people. In the novel Raspberry Hill, the main characters, "sells rotten candy" for money, challenging stereotypical ideas of how a girl would try to get cash. By being unexpected, Flake believes "people from different segments will find themselves into your work, even if they are of different races, ethnicities or gender orientation. They will still find themselves represented in the book." Flake said for this reason people of separate backgrounds, gay or black, straight or white, can connect to The Skin I'm In and the insecurity about being different from the people around you.

Flake herself has spent time being insecure, and says her own insecurities helped her write the book. "I was born scared," Flake admitted. "I spent my life afraid." She explains that she grew up with a timid side, but "there was another side [of me] that said dive in." It's hard to imagine a shy Sharon -- over the phone her words erupt with confidence and rich, carefree laughter. It's inspiring that such a strong woman had her share of trouble with insecurities too.
The power behind Flake's first novel was not in her denial of insecurities but her acceptance of them, which allowed all types of readers to connect with its message. Flake reflected:
The feeling of being insecure, the feeling of not being good enough, the feeling of having a good, strong, confident voice, but underneath having a vulnerability, resonated in a way that I couldn't have predicted. The Skin I'm In speaks to the kid inside of everyone, even adults. This allows boys, men, women and girls to unveil themselves and say I'm ok with who I am. I was ok all along.
Flake says, "I know that I do tell stories mainly about African American experiences. But if I can find myself in Jane Austen's books, I hope others can see themselves in my books [and that I] can capture the voice, heart and interest of young characters." Most recently her book Unstoppable Octobia May follows curious and courageous young Octobia May during 1953 as she investigates the eccentric characters in her aunt's boarding house. Flake adds that not only is Octobia May unstoppable, but "young people are unstoppable."

Although her books focus on young adults, Flake recognizes that her coming-of-age novels have "a thread that connects to all of us. We can relate to being bullied, to being broken up with, to our parents not understanding us." We can connect to insecurity, we can resonate with the underdog and we can relate to characters who refuse to be knocked down. We can heed Flake's voice because it's all our voices. Her readers, no matter what skin color, age or background, can connect to her stories and the power behind diverse experiences.
Popular in the Community