Three years ago, on February 26, 2013, Julianne Haynie gave birth to a baby girl named Lillian. Tragically, the baby passed away just days after she was born. Both the mom and the photographer who captured the birth of baby Lillian, Ela Wunderli, are reflecting on the experience as the anniversary of Lillian's short life approaches.
In 2013 Wunderli connected with Haynie through a mutual friend. She recorded the journey of Lillian's birth and life through photography and on her blog.
Haynie and her husband, Jared, and their six children moved to California when Haynie was 8 months pregnant, the mom told The Huffington Post. After several weeks of finding a doctor who would see her promptly, the family discovered in an ultrasound that the baby likely had Trisomy 13 or Trisomy 18 -- both chromosomal conditions in newborns that can include heart defects, brain or spinal abnormalities. According to Stanford Children's Health, most babies with Trisomy 13 or Trisomy 18 die by the age of 1.
"We could have had a sample taken of my amniotic fluid and sent to the lab, but I was so close to delivering that we wouldn't know the results before she needed to be born," Haynie wrote to HuffPost. The mom added that they were unsure of whether her baby would be stillborn or would die shortly after birth.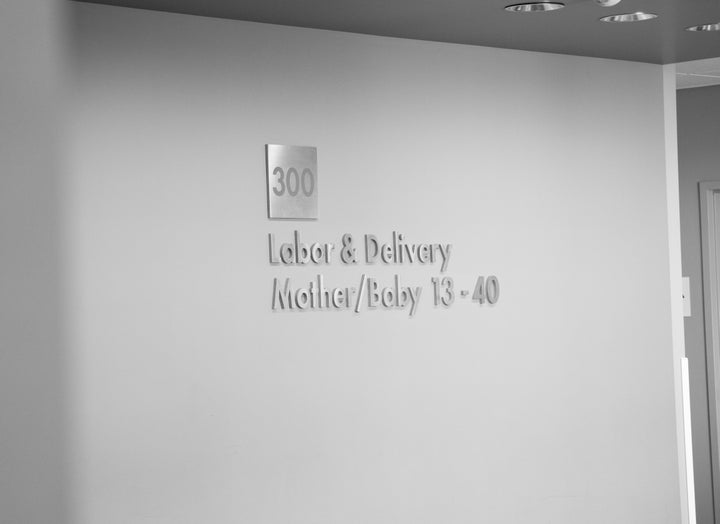 Doctors scheduled an induction for Haynie a week or so after the ultrasound appointment.
"Finally, the truth started to sink in," Haynie wrote. The mom continued, "Over that time we walked around in a state of shock. We would be pretty calm one minute and crying the next. Our kids didn't know quite what to make of it all, but we did our best to explain it to them."
Haynie gave birth to Lillian on February 26 after 20 hours of labor.
"The day of the birth went beautifully," Haynie wrote. "Having Ela there to record it for us, even though we didn't know her, was such a blessing. I remember it was long, but I didn't feel anxiety."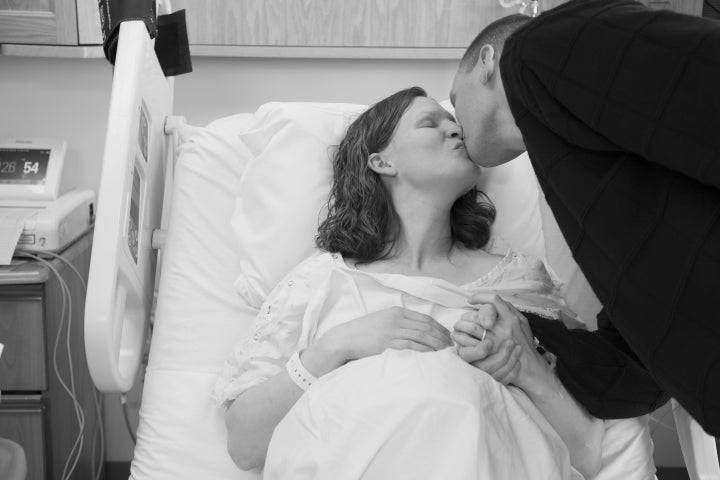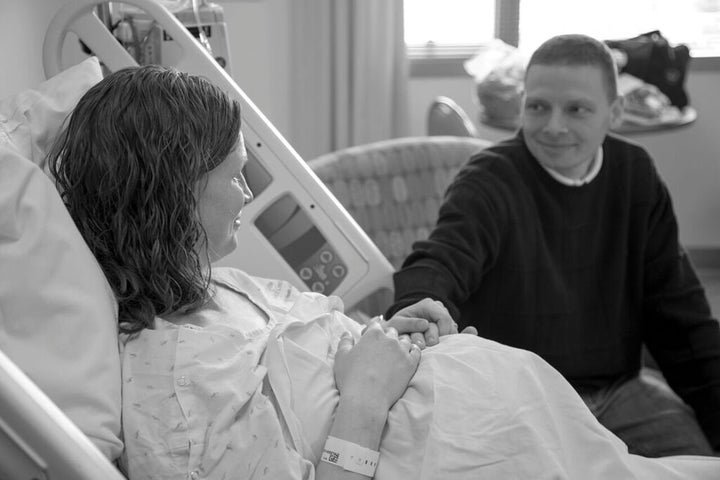 After Lillian was born, she was put on breathing assistance machines and rushed to Neonatal Intensive Care Unit (NICU). Haynie recalls holding Lillian briefly before she was moved to NICU. She told HuffPost that she remembers hoping that the doctors were wrong about Lillian's diagnosis.
Haynie and her family learned that Lillian's esophagus didn't reach her stomach, which made it impossible for her to eat. She was also born with birth defects that impacted her heart and brain.
Jared had difficulty accepting Lillian's condition, Haynie noted. And while the mom felt great sorrow and pain, she also felt a sense of peace. "I knew I needed to let her go," Haynie wrote.
Haynie's six children each got to meet and touch Lillian before she passed away. Wunderli captured those moments.
"Each one had a different way of expressing his/her feelings during this time." the photographer wrote. "It was an honor to capture their first moments together, and the expressions on their faces as they met their little sister."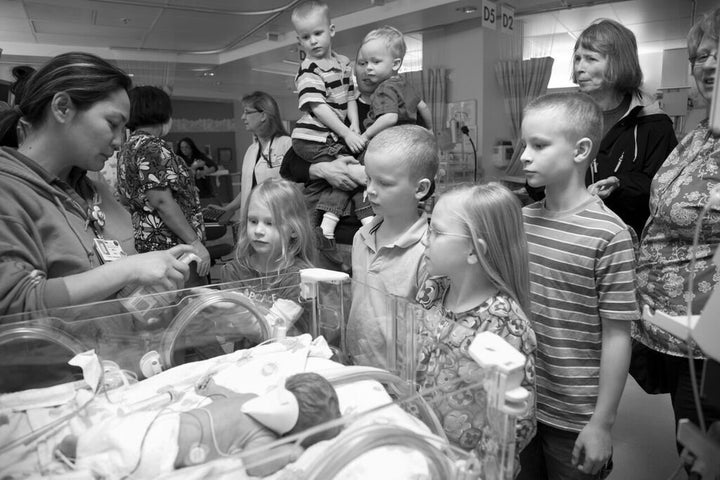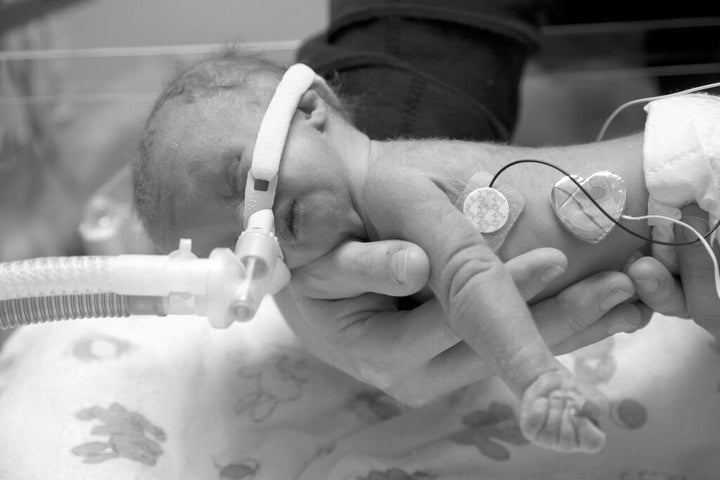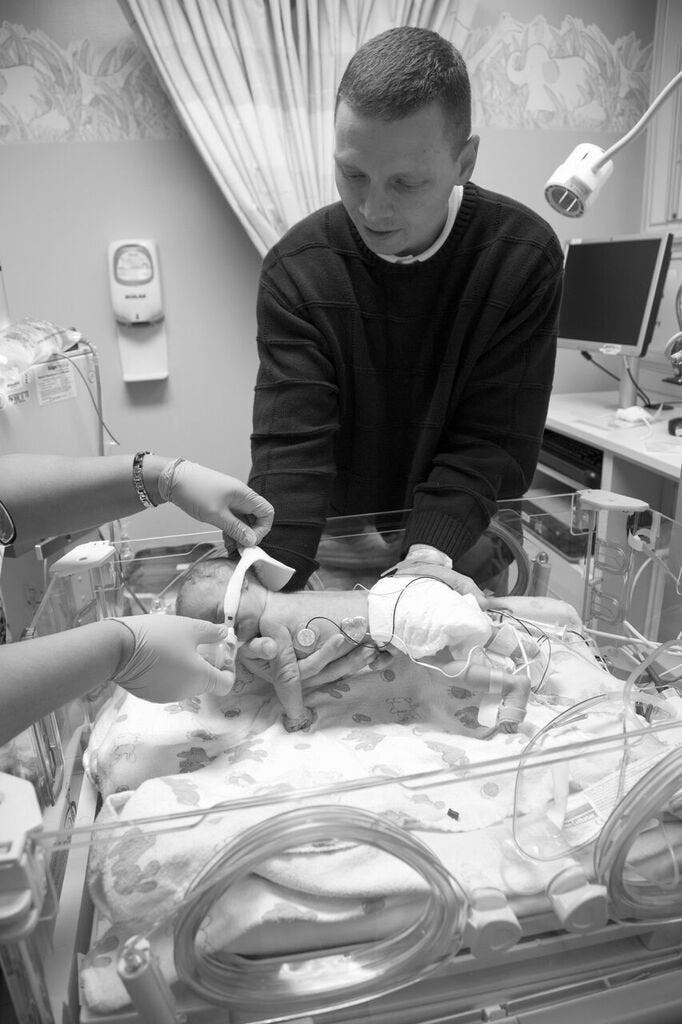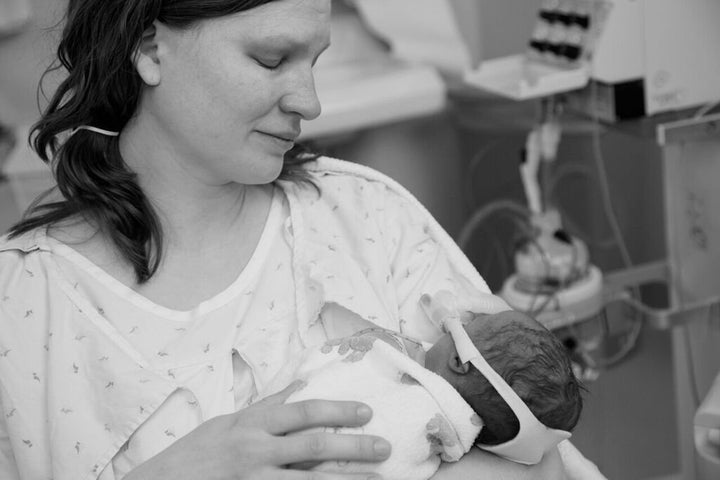 On February 28, two and a half days after she was born, Lillian passed away.
"With heavy hearts we finally came to the conclusion on day three to take her off the machines and let her go," Haynie wrote to HuffPost. "We were all there around her as they removed the machines."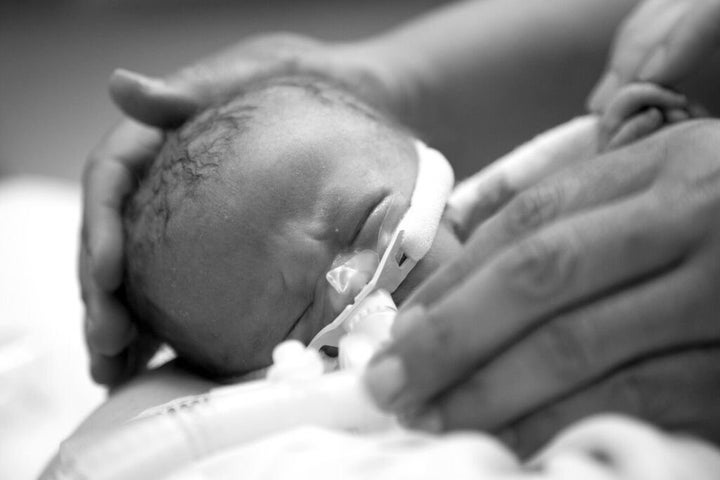 "They let us take her to an isolated room with a bed and told us we could stay there as long as needed," Haynie wrote. "It was getting late by now and Jared thought he should take the kids home and put them to bed since we didn't know how long it would be." She continued, "For about an hour or more it was just me and Lillian. I was able to really hold her like I had longed to."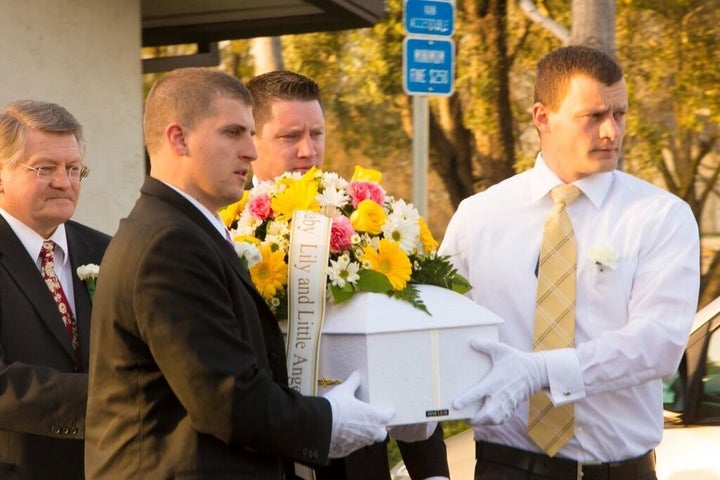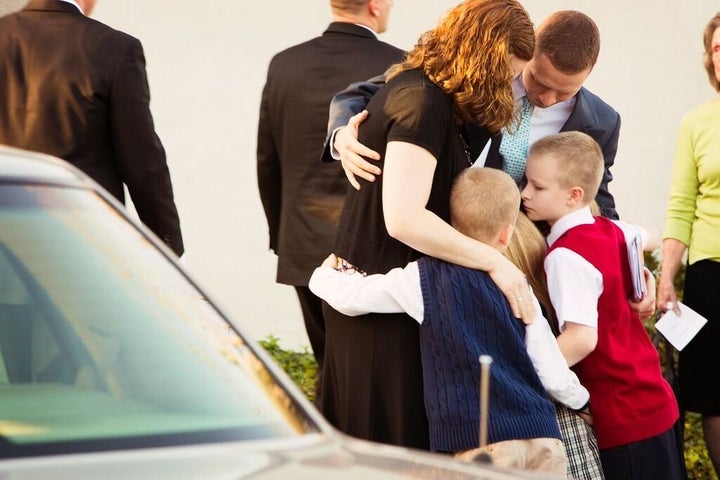 For Wunderli, Lillian's birth story taught her a lot about life.
"For me personally it just opens my eyes to the whole life experience ... death doesn't have to be so sad, but it's OK when it is sad," Wunderli said. "And it's OK to feel all of that."
The Haynie family currently lives in Colorado. A picture of Lillian next to a plaque of her obituary, written by her dad, hangs on their wall. The mom told HuffPost that the family celebrates Lillian's birth and her life every year.
"We still have moments today when we remember her and cry, but I don't feel any negative emotions remain with us from this experience," the mom wrote. "It is not a memory we hide or try to bury in our hearts, but instead we celebrate her short life and the spirit we know lives on."
See Wunderli's full story capturing Lillian's birth story with photos here.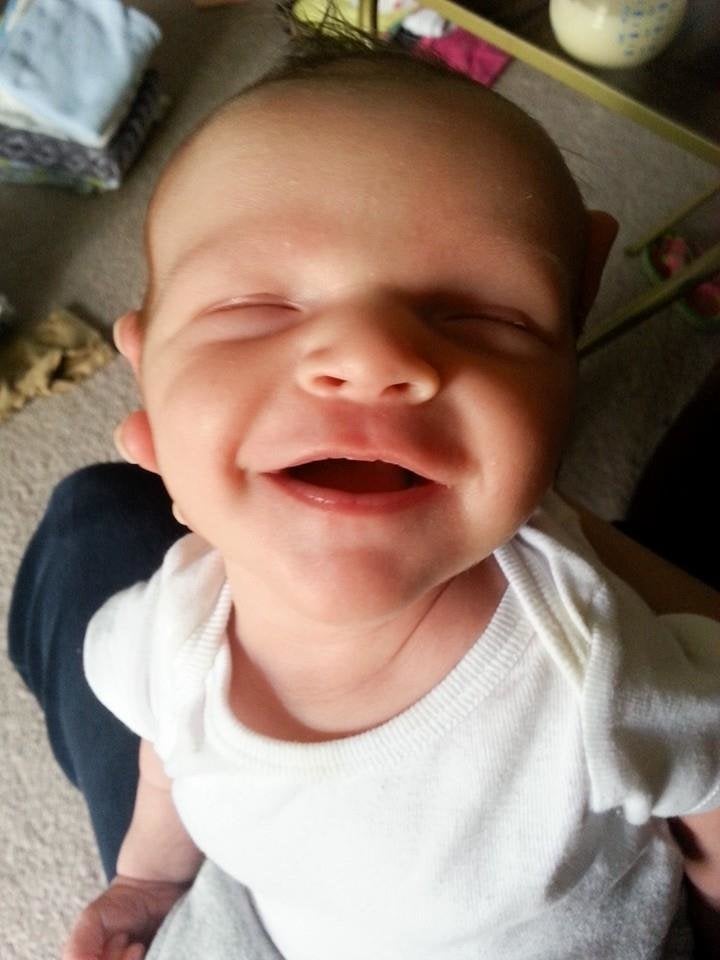 Smiling Babies
Popular in the Community