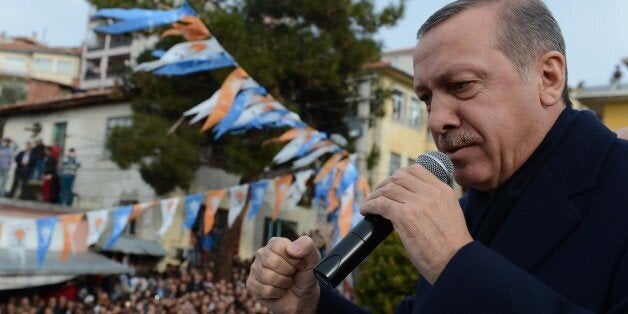 Istanbul -- Turkey's Prime Minister Recep Tayyip Erdoğan weathered international criticism for last summer's violent crackdown against peaceful protesters, while keeping his domestic base of support largely intact. However, recent revelations of corruption by senior members of his Justice and Development Party (AKP) have sparked more street protests. Domestic tranquility is also at-risk. The PKK announced a cease-fire and withdrawal of forces earlier this year, but Erdoğan squandered a historic opportunity for peace by failing to implement promised reforms. The West is also concerned about Erdoğan's support for Al Qaeda in Syria, which undermines Erdoğan's credibility as a NATO partner and ally of the United States.
Erdoğan can restore his democratic credentials by reaching out across the aisle to build a common agenda with the participation of other parties. His leadership is critical to legal and constitutional reforms, entrenching democracy and strengthening Turkey's parliamentary system. Erdoğan's legacy can also be defined by addressing the root causes of conflict with Kurds that has led to 30 years of civil war and the deaths of 40,000 people.
This may be wishful thinking. Erdoğan is known for his polarizing personality, especially when challenged. In 2013, Erdoğan repeatedly put his personal interest ahead of principle, prioritizing short-term gains above good governance.
Erdoğan doubled down when more than two dozen associates were recently charged with corruption including sons of the Interior and Economics ministries. Instead of endorsing the investigation, he fired the Istanbul police chief and scores of police officers looking into economic crimes. Erdoğan accused opponents of belonging to a "criminal gang" involved in "very dirty business" and threatened "to break their hands."
In addition, Erdoğan imposed a rule that all prosecutors clear their investigations with the Chief Prosecutor. Then Muammer Akkas, a prosecutor reportedly investigating economic crimes by members of Erdoğan's family, was removed from his post. Reports indicate that Akkas was investigating economic malfeasance by Erdoğan's son, who allegedly acquired a shipping line and has profited from shady real estate deals in Istanbul. It is also alleged that a medical services company linked to Erdoğan's wife has profited from deals with the Health Ministry.
There are also allegations that Erdoğan turned a blind eye to money laundering with Iran. Halk Bank, Turkey's state bank, allegedly made payments on behalf of companies exporting gold to Iran and funneled cash from Iran to Turkish businessmen with ties to the AKP. Police found $4.5 million in a shoe box under the bed of Halk Bank's Chief Executive Officer. When the U.S. Ambassador raised concerns about Turkey's violations of sanctions on Iran, Erdoğan threatened to throw meddling envoys out of the country.
More than pique, Erdoğan has shown flashes of paranoia. He recently turned on Fetullah Gulen, a Sufi cleric and friend of 20 years with whom he had previously found common cause against the security establishment. Erdoğan accused Gulen of masterminding the corruption investigation, aimed at undermining support for the AKP before local elections in March.
Erdoğan pushed to reform the 1982 constitution. However, constitutional reforms are really intended to establish a more powerful executive with Erdoğan at the helm of a dominant presidential system. Turkey is entering into a year-long cycle of local, parliamentary, and presidential elections.
The scandal comes on the heels of nationwide protests last summer. Police brutality against peaceful demonstrators protesting a commercial development project in Gezi Park at Istanbul's Taksim Square spiraled into massive demonstrations in 60 cities.
Across the country, basic freedoms are under threat. Security services monitored social media accounts to identify the protesters; thousands were arrested. An estimated 15,000 websites are blocked in Turkey.
The government systematically restricts freedom of expression, according to the Committee to Protect Journalists and Freedom House. Journalists, like Hasan Cemal, are targeted for unfavorable reporting of its policies. The Doğan Media Group was fined $2.5 billion for unpaid taxes in what is largely considered a politically motivated move.
Dissenting opinions are silenced via judicial proceedings, with criminal prosecutions used to eliminate political opponents. Since 2007, more than 500 journalists and military officers have been arrested and accused of plotting a coup against the AKP government. More than 300 individuals linked to the probe are still in jail.
The government refuses to repeal regressive legislation such as Article 8 of the Anti-Terror Act that is broadly interpreted to suppress dissent. Many human rights activists are jailed under Article 301 of the Penal Code, which makes it a crime to "denigrate Turkishness." Erdoğan also launched an assault on the secular judiciary.
Secularists accuse Erdoğan and the AKP of an Islamist agenda. A self-declared "servant of sharia," he recently lifted limits on women wearing Islamic style headscarves at universities and public institutions. Daily prayer is routine among AKP party members in the civil service. Erdoğan is also planning to build the world's largest mosque in Istanbul.
Many Turks resent Erdoğan's intrusion into their private lives. They object to his pronouncements on what color lipstick women should wear or how many children families should have. When the government recently restricted alcohol sales and advertising, Erdoğan offended many with disparaging comments about alcohol drinkers.
Turkey's Kurds are growing restive. They are angered by the prolonged administrative detention of Kurdish civic and political activists. In 2009 and 2011, thousands of Kurds associated with the Unıon of Kurdistan Communities (KCK) were arrested for pro-Kurdish activities and ties to the Kurdish Peace and Democracy Party. They face trial under Article 314 for "associating with a terrorist gang."
A nationwide celebration followed the PKK's announced cease-fire and withdrawal of forces on March 23, 2013. But rather than addressing the root causes of conflict through negotiations, Erdoğan saw the cease-fire as a goal in and of itself and has let the peace process languish. Nobody wants more deadly conflict, but lack of progress increases the prospect of renewed violence.
While Erdoğan's Foreign Minister Ahmet Davutoğlu heralded a policy of "zero problems with neighbors," Turkey's regional relations have deteriorated dramatically. Nearly 1 million Syrian refugees have crossed the border into Turkey. Providing for Syrian refugees cost $1.5 billion in 2013. Turks are also concerned about the contagion of sectarian violence.
Worrisome to the West, Turkey has been facilitating the transfer and operations of militant Sunni fighters across its border to Syria including the Al Nusra Front, which the United States labels a foreign terrorist organization. Erdoğan also supports the Muslim Brotherhood in Egypt and Tunisia, and patronizes Hamas in Gaza.
Turkey's economy was stagnant and suffering double-digit inflation when the AKP was elected in 2002. Since then, GDP has tripled. However, Turkey's economy is highly leveraged. Economic development has been fueled by ready-access to capital. A credit crisis could lie ahead. Corruption cases have rattled the markets. Investors are concerned that Erdoğan has turned a blind eye to profiteering by loyalists, confusing the people's welfare with the state's well-being and the concentration of power by the AKP.
Turkey has historically been a cherished ally of the United States. U.S. and Turkish troops fought side-by-side in the Korean War. Turkey was a critical staging area during the Gulf War and a base for "Operation Provide Comfort" and "Operation Northern Watch," which rescued Iraqi Kurds from Saddam Hussein. Turkey was also a pivotal player in Bush's "war on terror" after 9/11. Turks and Americans enjoy strong bonds of friendship.
Friends must be honest. It's time for some tough-love from the West. The Obama administration must be steely-eyed, seeing Turkey as it is -- not as it was -- or how Washington wants it to be.
_________David L. Phillips is Director of the Program on Peace-building and Rights at Columbia University's Institute for the Study of Human Rights. He is a former Senior Adviser and Foreign Affairs Expert to the U.S. Department of State.
Related
Popular in the Community