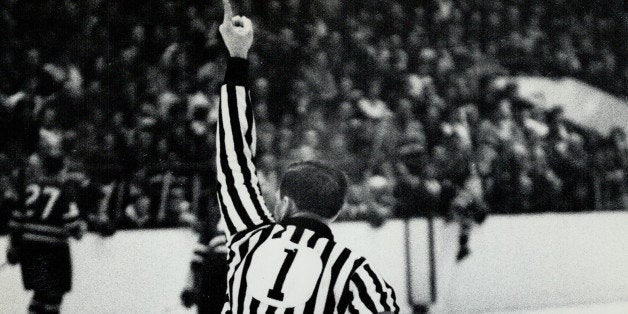 I will be happy when the month of August is over. Over the course of the last few weeks, it seems that every time I wake up this month, I find out that another important person in my life is gone. In the case of Hall of Fame referee Frank Udvari, who passed away last week at the age of 90, the loss is shared by the entire hockey world but especially by those in the striped shirts.
As he was for every official coming through the ranks in my era, Frank Udvari was a mentor and teacher to me. He was one tough uncle to me when I was coming up and learning my trade. His style was one of tough love, but he was an amazing teacher. No matter how tough he could be on me, I realized that I was learning at the foot of a master of his craft. He cared about his charges and wanted them to succeed.
When I was working my way up to the NHL, I never knew when Udvari might be at a game I was doing regardless of the cities that I traveled to. Frank tracked me down in Springfield one game early in my career. His message and style was both memorable and startling. I never forgot what he taught me that night. Frankly, he had me scared to death.
I had seen a defenseman mug a guy by grabbing him around the neck in front of the net. I called a minor for holding. Then the player got thrown down and punched... I didn't make the second call trying to manage the game instead of refereeing it. To be honest, everything dissolved into a shitfest from then until the end of the period.
In between periods, Frank came down to our room, walked into the bathroom and stalked back out. I waited expectantly. The tension was thick. Finally, he started. Frank literally backed me up against the wall and poked his finger right in my chest.
He sneered, "If you don't have the guts to make that second penalty call on a player down here, how the hell do you think you'll have the guts to make it up in the NHL?"
Then he turned and left. Frank was right and I learned a valuable lesson right then and there: Be the referee for 60 minutes. Have guts. To hell with what anyone else thinks, because you are the one being paid to judge.
When you are in the presence of a legend and they are passionate about what they are teaching you, it is a mixed feeling of fright, awe and pride. At the moment in question, the experience was hard. But then my emotions settled in and I understood what he did. I was just schooled by someone who cares, someone who knows what I needed to learn in order to survive and prosper.
Frank was never a guy who gushed praise when you did a good job. At most, he'd walk in and nod at you with a slight dip of his chin. After a minute, he'd walk by and ask where you were going next. Then he'd walk away with a simple "keep it up" message.
After a while, you realized you just got high praise from one of the greatest arbiters ever to don the sweater.
The last time I ever saw Frank was in Florida near the very end of my active officiating career in the NHL. I was actually breaking in young referee Chris Rooney in his first NHL game. That is another story and an expensive night for me, rookie Rooney and family. I'll tell that tale another time.
On that night, Frank showed up with his always dapper look. He was wearing his Hockey Hall of Fame blazer. He looked the part of a hockey legend. Frank walked around the room as I introduced him to all of my brother officials including young Mister Rooney.
Frank was respectful that we were about to go out for the game and was quick to want to leave in order to let us get ready. He paused just before he left the room. Udvari turned to me, in front of the guys.
With a quick nod, the same one I always hoped to receive, he said to me, "Stew, you've done alright. I'm proud of you."
I never told him that I was humbled to receive the greatest compliment anyone in my profession could receive. I never told him how much that meant to me. But I never had to say a word, anyway. Frank knew.
Thank you, Frank Udvari, for being such a great teacher and for helping me to learn. Nowadays, I teach The Officiating Gospel according to Udvari. You will always be remembered, Frank, and you will be missed.
Paul Stewart holds the distinction of being the first U.S.-born citizen to make it to the NHL as both a player and referee. On March 15, 2003, he became the first American-born referee to officiate in 1,000 NHL games.
Today, Stewart is an officiating and league discipline consultant for the Kontinental Hockey League (KHL) and serves as director of hockey officiating for the Eastern College Athletic Conference (ECAC).
The longtime referee heads Officiating by Stewart, a consulting, training and evaluation service for officials. Stewart also maintains a busy schedule as a public speaker, fund raiser and master-of-ceremonies for a host of private, corporate and public events. As a non-hockey venture, he is the owner of Lest We Forget.
Stewart's writings can also be found on HockeyBuzz.com every Monday, Tuesday, Thursday and Friday. He is currently working with a co-author in writing an autobiography.
Popular in the Community