Tough Mudder is a swampy, 10 to 12-mile military-style race created by British Special Forces. It's done in teams and it toys with participants' physical and mental boundaries, using fire, water, electricity and heights in a series of backbone-testing, grueling obstacles. And did we mention that the whole thing is absolutely filthy?
Perhaps it's not the first place you'd imagine finding The One, but there are plenty of couples who've connected at the mucky endurance event. In a quest to find out just how love can be sparked amid electroshock therapy, bouts of hypothermia and sludge, HuffPost Weddings talked to a few of these couples to hear how it worked for them.
The resulting love stories are full of grit, teamwork and, yes, romance.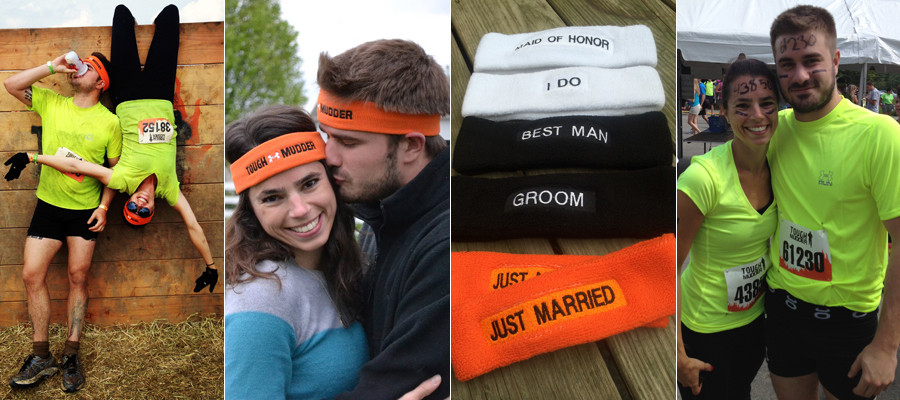 Kim & Mike
"I was drawn to the Tough Mudder strangely because I had just gotten out of a long-term relationship. I was looking for something new to do, a way to meet people and have something that was my own.
I met Mike at the race in July 2012. He had started the group, which was called the Mudder Fochers and we were all staying in a house together for the event. He just came in and I felt like everyone instantly loved him. He had this great aura around him and he was so friendly. We were the last two people up, just chatting about I can't even remember what.
The next day, we helped each other during the race a lot. For example, he had said that he's kind of claustrophobic. In one of the obstacles, you have to go in a tunnel that they've dug out underground. He really didn't want to do it, and I was there to support him. That evening, we even had a secret handshake. [laughs]
Looking back at it, it was just so funny. Everything was such a whirlwind. We were immediately best friends. We were immediately each other's partner. It was just so different than anything I'd ever experienced before. Tough Mudder is something that's so different. It's not just like meeting at a bar, where it's always the same.
He really was such a key element in our team. It was nice to see how he interacted with not just me, but with other people, and to see how helpful he was. You got to see a soft side of somebody, but then also a very playful side. I do think that Tough Mudder really opens you up and makes you more vulnerable right away, because there are those fears and there are those trust things that you might not touch at the beginning when you meet someone in a different circumstance. It brings things to the forefront that relationships do naturally, but usually it's later on.
We moved in officially together in January of 2013. Then in October 2013, he proposed when we were in Hawaii. We went on this hike that is 2,300 hundred feet. It's called Ka'au Crater. It took us four hours to get to the top, and that's where he did it. Then we had a four hour hike back down, which was treacherous and scary. I asked him, 'What would've happened if I said no? This would've been a very awkward walk.'"
-Kim Allen, who married Mike D'Urso in September 2014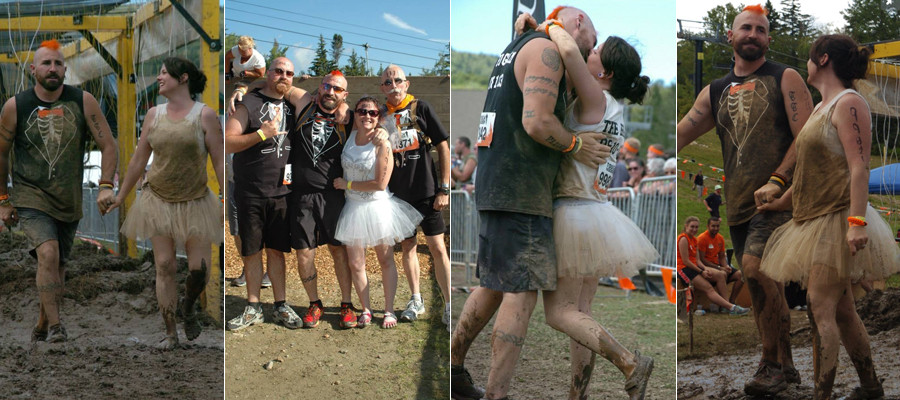 Heather & Aaron
"We're both veterans and we were active in a veterans group at a community college. There was a team of 12 of us who decided that we were going to compete in Tough Mudder, and Aaron was the captain. That's when he and I first started officially dating.
I watched how he interacted with the entire team. We had a huge range of abilities and age. He just made sure everybody got through every obstacle and he was the last to go through. He checked in with everybody. He ran ahead to make sure that the people ahead were doing OK and then would run back. He was taking ownership and watching out for everybody. It really made him stand out as somebody that cared.
He proposed at the Boston event on June 1, 2013 when we were just about to go through electroshock therapy. Apparently, he had carried the ring with him the entire time. I had no idea. He was terrified that he was going to lose it or break it or something was going to go wrong. We made it to the electroshock therapy and he got down on one knee. I thought he was just resting and preparing to go through. I put my hand on his shoulder and said, 'Are you alright? Are you ready to go?' He's like, 'Well, actually...' and he asked me to marry him. Of course I said "yes".
The wedding was very interesting. It was at the August 10, 2013 Tough Mudder at Mount Snow. I wore a fluffy white tutu and a wedding dress-looking t-shirt. My husband and his best friend that ran with us wore tuxedo t-shirts and black shorts. Our friend Joe married us on the course. It was really muddy. [laughs] We started out nice and clean and then got married covered in mud.
For us, Tough Mudder is a like a symbol of marriage: You get out there, you get dirty, you get through the obstacles together, you help each other over mountains and get through the dirt together. It's very fitting and very symbolic of life. You can't get through it without someone else with you."
-Heather Suddaby, who married Aaron Suddaby at a Tough Mudder competition in August 2013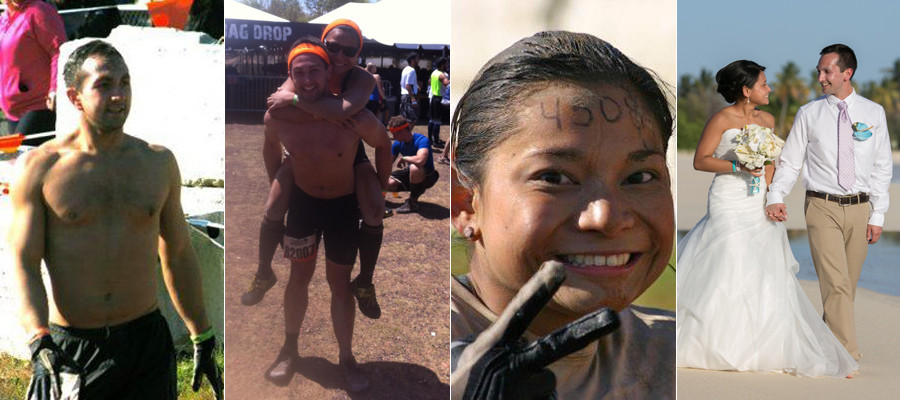 Johnny & Roselle
"I met Roselle at the 2011 Tri-State New Jersey Tough Mudder. My brother-in-law said, 'Man, we've got to do this race,' and I thought it looked cool. He had also recruited Roselle. So the morning of, we met in the parking lot because we were running as a team. That -- and the race -- is how we began to get to know one another. While we were leaving Tough Mudder, I thought she was faking an injury because she was sort of hobbling along, so I helped carry her to her car. Then she couldn't find her phone. So I was like, 'Aha! Give me your number and I'll call it.' It was a cheesy way for me to get her number, but it worked.
The love story started from that point. We dated for two years thereafter. Then we got married a year later, this past April, down in St. Martin in the Caribbean. She's just a really cool, fun girl, someone who's willing to run 12 miles and get muddy and dirty. I was like, 'Wow, this is pretty interesting.' I'm very active myself, so it worked out pretty well.
Tough Mudder really matches a personality. You're both obviously outgoing and adventurous if you're willing to sign up for it. I think the attitude and the atmosphere of the race makes you have to be in a similar mindset. And I guess my standards weren't too high, since she was sweaty, dirty and muddy. [laughs]"
-Johnny Little, who married Roselle Little in April 2014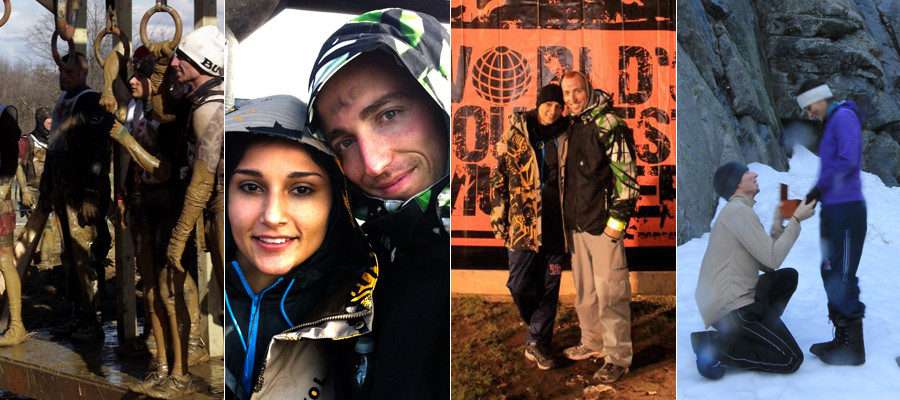 Marissa & Tom
"[Tom and I] met at the World's Toughest Mudder. There was a lady that had started a Facebook page for all of the qualifiers for World. There were a few hundred people on the page, but only a handful of people kept up and posted and were really noticeable, including me and Tom. A couple of days before the race, Tom messaged me asking me how I was feeling. The night before the race, we both ended up at a gala event thrown by the woman who created the Facebook page. It was there that we just kind of clicked.
We were looking for each other at the beginning of the race, but we didn't find each other so we started separately. He got out at the front of the pack, so he was way ahead of me. I ended up catching up to him a few miles in. We ran through one or two obstacles together, but he got penalized for an obstacle and later had to drop out of the race due to hypothermia.
I was running with two other friends from Houston, who helped me run through the rest of the race. I dropped out because I was talking funny and I couldn't feel anything. I was freaking out, basically. After we both dropped out, we went back to cheer on the other people that we knew. Being in that situation together and going through those things allows you to really know a person.
[He proposed] on our one year anniversary. He flew me up to California and we went on a hike to Horsetail Falls in Lake Tahoe, one of our favorites.
If you're into outdoorsy stuff, events and athleticism, then I think Tough Mudder is a good place [to meet someone]. Like for me and Tom, if you spend just a couple of hours at an event like that with someone, you really get to know what kind of person they are, how much pain they can handle, how much stress they can handle, what they can overcome, what they're willing to overcome and how dirty they're willing to get. [laughs]"
-Marissa Methvin, who is engaged to Tom Teller
*Interviews have been condensed and edited.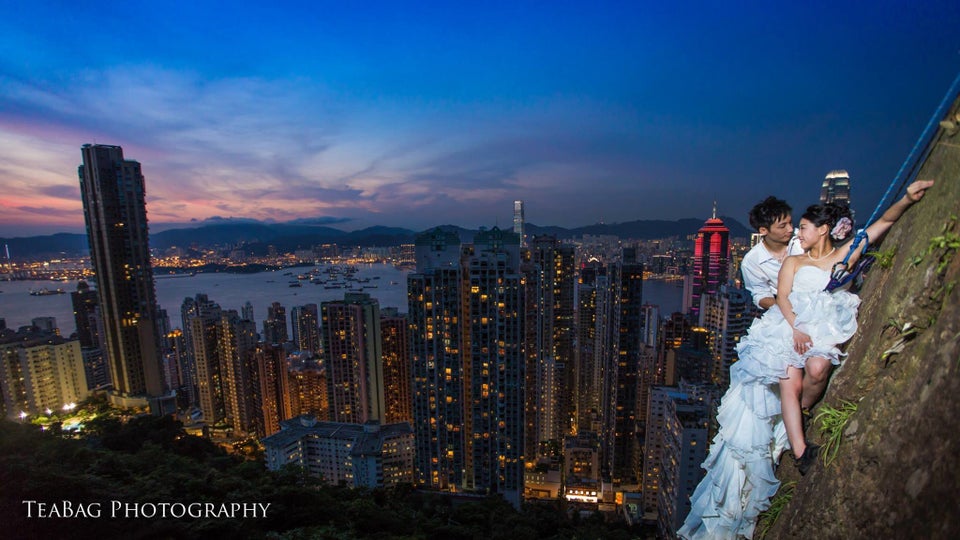 Dangerously Epic Wedding Pics