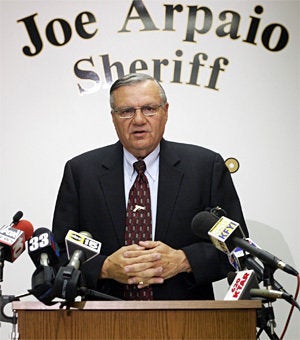 PHOENIX, AZ -- Sheriff Joe Arpaio announced Friday that he is "furious" about the new 287(g) agreement between the Maricopa County Sheriff's Department (MCSO) with the Department of Homeland Security (DHS). According to a statement released by MCSO Monday evening, the new 287(g) agreement has "stripped Maricopa County Sheriff Joe Arpaio's deputies of their ICE agent status to act as federal immigration authorities."
The 287(g) program allows agreements to be made between local law enforcement agencies and DHS under 287(g) of the Immigration and Nationality Act. Under previous 287(g) agreements made between Maricopa Country and ICE, federally trained and supervised state and local law enforcement officials to investigate, apprehend, transport, and detain people who are living and working in the country without authorization.
The 287(g) provision has been one of the most controversial aspects of the immigration debate because of allegations that law enforcement officers use 287(g) authorization to investigate the immigration status of individuals who have not committed serious crimes. Arpaio's critics maintain MCSO routinely engages in racial profiling, while Arpaio steadfastly refutes those claims.
The new 287(g) agreement, according to Arpaio, only authorizes MCSO deputies to screen inmates already booked into MCSO jails. Arpaio said MCSO attorneys tried to get clarification from DHS last week on non-detention immigration enforcement activities but did not receive a response from DHS. Arpaio called DHS officials out, saying, "It looks like they're taking away my authority on the streets for political reasons. They don't have the guts and the courtesy to even come back and say in writing, 'We are not going to continue.'"
After saying that he felt like taking the agreement and ripping it up, Arpaio added, "On the other hand, I feel it is very critical to have the jail."
In response to the news, Vice President of Government Relations for the grassroots immigration control organization NumbersUSA said Monday afternoon, "State and local law enforcement officers have the inherent authority to enforce all the laws of our land, including immigration laws, with or without 287(g) agreements ... society as a whole benefits if officers have the training they need to identify immigration violators wherever they may encounter them ... NumbersUSA will continue to encourage state and local law enforcement officers to use their inherent authority and their common sense to enforce our immigration laws."
Although Arpaio says the new agreement is a setback, he also says MCSO will continue to enforce immigration laws under Arizona state laws. Most notably, the Arizona legislature passed a state law a couple of years ago that allows immigrants who are willingly trafficked into the country to be charged as co-conspirators of human trafficking.
Arpaio was defiant Sunday night on local conservative radio station KTAR, "I'm going to tell you something, Jay," he said to Lawrence. "I don't need the feds to do my crime suppression to opt to arrest illegals. I can do it without the federal authority, and I'm going to continue to do it. It makes no difference. It helps us. Because I don't have to do all the paperwork for the feds, number one. And number two, I won't be under their umbrella, their guidance. So I will operate the same way, nothing is going to change." He added later in the show, "They just don't want me, I'm the poster boy."
Arpaio continued, telling the radio host, "Nothing changes because pursuant to our duties in these crime suppression [sweeps] we arrest anybody that violates the law. If we find during the arrests that that there are illegals, we arrest them. Now the only difference [is] we're going to take 'em down to ICE. I hope they accept them, if they don't, I'll bring 'em myself to the border. So nothing really has changed. This is all politics. They want to use me to get rid of this 287 agreement across the country."
DHS officials have refused to comment on the new 287(g) agreements, saying they would not discuss the agreements while they are still pending through October 15, but at least two FOIAs were filed last week (by opposing sides) asking for the new standardized Memorandum of Agreement (MOA). Judicial Watch filed its second FOIA on the matter (see their FOIAs here and here). Last weeks' FOIA from Judicial Watch asks for the following:
The new standardized Memorandum of Agreement used to enter into 287(g) partnerships, as announced by Secretary Napolitano on July 10, 2009, as well as any documents containing information on the development of the agreement
All new 287(g) agreements entered into with law enforcement agencies
All documents concerning the decision to standardize the Memorandum of Agreement and/or create new 287(g) agreements
Media and congressional notification plans concerning 287(g)
And all email correspondence concerning the new 287(g) agreement between Homeland Security Secretary Janet Napolitano, Border Security "Czar" Alan Bersin, and White House Director of Intergovernmental Affairs Cecilia Munoz, among other government officials
Tom Fitten of Judicial Watch says, "The vast majority of Americans want federal immigration laws enforced. Local law enforcement officers can contribute to this process and they have every legal right to do so. You can be sure that 287(g) is under attack because Obama appointees have an "amnesty" agenda at odds with enforcing the law."
The National Day Laborer Organizing Network also filed a FOIA requesting similar information.
Salvador Reza of Puente Arizona had strong words about Arpaio's 287(g) program, "Sheriff Arpaio's rampant racial profiling and civil rights abuses under the 287(g) program is but one example of a national disgrace. It is high time for the President to put an end to the racial profiling, terror, and the suffering of our communities by terminating the agreements once and for all."
Indeed, Arpaio's critics have been steadfastly asking the federal government to end all 287(g) agreements. Arpaio is used as an example in virtually every complaint. After pressure from numerous advocacy groups and elected officials, the U.S. Department of Justice (DOJ) is currently investigating MCSO for alleged civil rights violations (racial profiling).
In September, the Hispanic Congressional Caucus sent a letter to President Barack Obama asking him to immediately terminate all 287(g) agreements and end the program, saying, "misuse of the 287(g) program by its current participants has rendered it ineffective and dangerous to community safety." The letter, which specifically cites Arpaio, contends that the 287(g) program lacks oversight, is mismanaged, deteriorates public safety, diminishes trust between communities and local law enforcement, diverts scarce resources, and is abused to target minorities.
Following a closed-door meeting in August in which President Barack Obama, administration officials, and nearly 100 immigrant rights leaders discussed plans for comprehensive immigration reform, a coalition of 521 organizations signed an open letter to Obama criticizing the Presidents inactivity on immigration reform. According to a source who attended the White House meeting, the organizations' leaders were upset at what they deemed a lack of action primarily on the 287(g) program, especially in regards to perceived abuses by Arpaio.
After gathering input from elected officials, law enforcement agencies, academic researchers, and business leaders, the U.S. Southwest Border Task Force recommended to the U.S. Department of Homeland Security that the 287(g) program "be limited to identifying illegal immigrants in state prisons and county jails and exclude any efforts to track them down outside of criminal investigations."
Arpaio also told KTAR that his office will conduct another neighborhood immigration sweep "very soon to show Washington and everybody else I'm not changing, I will not be intimidated by Congress, by alleged racial profiling investigations by the Justice Department, by all these demonstrators, these politicians, all trying to keep me from doing my job, so nothing will change. Stay tuned."
"If Secretary Napolitano is serious in her announcement
today that she will reform detention conditions," stated Salvador Reza of the
National Day Laborer Organizing Network, "the first step she should take is the
immediate termination of Joe Arpaio's 287(g) agreement."
Arpaio remains a popular figure throughout Arizona, despite clamoring critics. The Maricopa County Democratic Party said in a statement late Monday, "MCSO and County Attorney's Office officials have been caught wasting thousands of dollars on unnecessary junkets and equipment.
Arpaio uses his deputies to arrest newspaper owners and writers who
criticize him and harass dishwashers and corn vendors while 40,000
felony warrants go un-served."
The Maricopa County Board of Supervisors meets Wednesday and will vote on the new agreement signed by Arpaio and DHS.
UPDATE 8-AM 10/6: The Memorandum of Agreement (MOA) was released by DHS this morning (see the PDF here). The MOA has been signed by Arpaio and a representative from the County Attorney's office, but no one from DHS or ICE has signed it. Stephen Lemons at the New Times reports that, according to his sources, Arpaio did not consult with DHS/ICE prior to releasing information about the MOA, which is a violation of the terms:
The MCSO hereby agrees to coordinate with ICE prior to releasing
any information relating to, or exchanged under, this MOA, including
any SOPs [Standard Operating Procedures] developed for the
implementation of this MOA.

The MCSO hereby agrees to coordinate with ICE regarding information to
be released to the media regarding actions taken under this MOA.
The new MOA also institutes a new requirement that MCSO actually persue charges against those detained under 287(g), "The MCSO is expected to pursue to completion all criminal charges that
caused the alien to be taken into custody and over which the MCSO has
jurisdiction."
Popular in the Community