It goes without saying, leg day is every day for Tour de France riders.
A photo of a Polish cyclist's legs is captivating social media, showing a map of bulging veins stretching across his sunburned skin as he competes in the 2,200-mile race.
Pawel Poljanski, who is peddling with the German team Bora-Hansgrohe, showed off his monster pins to the equal horror and amazement of social media on Tuesday.
Viewers readily agreed, with many cautioning that he may be one paper cut away from death.
"Omg. Your veins are screaming!" one Instagram user commented.
"This looks like a picture from a book about the [anatomy] of a body," another added.
"Bro, you hydrating enough?" asked another.
Fellow Polish cyclist Bartosz Huzarski turned heads with a similar photo of his bulging leg veins back in 2014, after completing the 18th stage of the 21-stage Tour de France.
U.K. vascular surgeon Eddie Chaloner later addressed online speculation that the swelled veins were the result of doping. He said that it's normal for an athlete of Huzarski's caliber to see such swelling.
"At rest, about one liter of blood goes up in the veins of the leg every minute. During intense exercise in elite athletes, this can increase more than ten-fold, making all the veins in the leg swell to accommodate the increased volume," he told fitness website Fiona Outdoors.
"The superficial veins, which you normally can't see, get dilated to cope with the excess demand and swell massively. Plus, of course these guys have less than five per cent body fat, so you can see all their veins even at rest," he added.
Think those photos are crazy? Check out the leg veins on American cyclist George Hincapie back in 2010.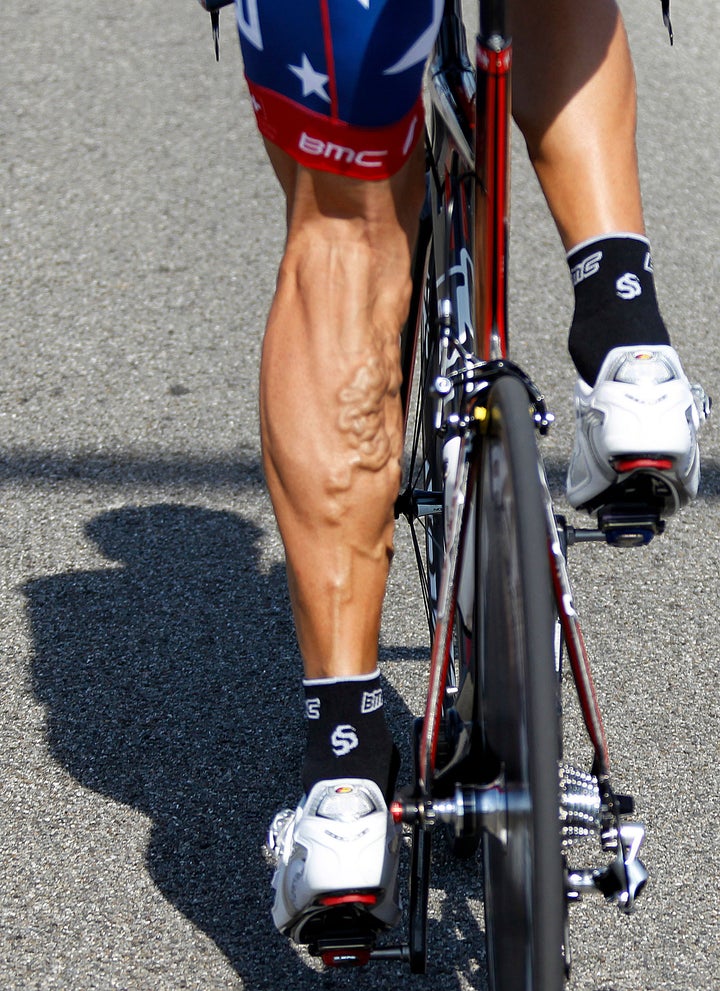 In Hincapie's case, another vascular surgeon told NBC News, that his varicose veins were likely the result of hours upon hours of sitting on a bike, which puts pressure on the veins.
Popular in the Community