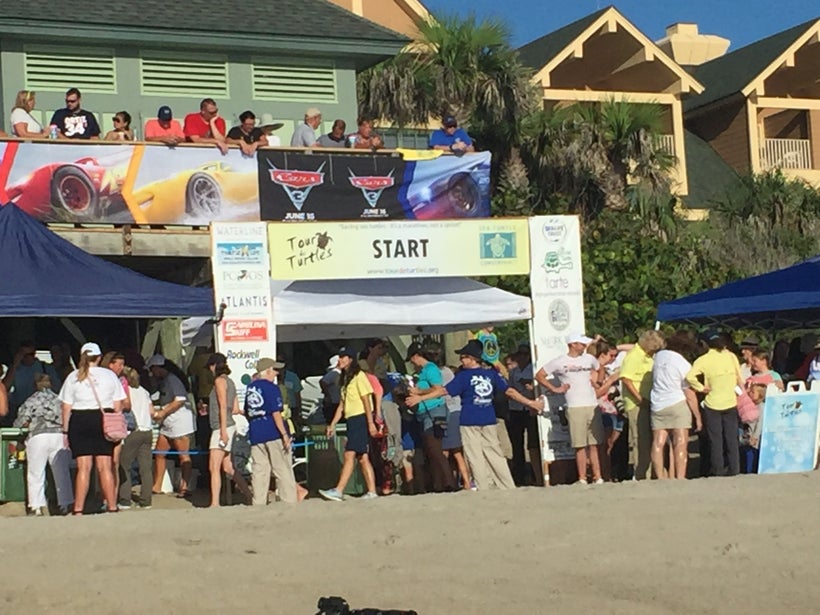 Tour de Turtles is now in its 10th season as one of the world's premier FREE events. I call it a FREE event with FREE being an acronym for Fun, Research, Educational, and Environmental.
Fun
The Tour de Turtles event brings fun and excitement each year to the hundreds of people who participate in the annual weekend kick-off events.
Each year the Sea Turtle Conservancy produces this fun event with the focus on the excitement of the release of 4 approximately 300 plus pound sea turtles over the two days. The fun also includes the great food, music, and social atmosphere of the coming together of individuals, couples, and families to participate in this festive event.
My wife Nancy and I have participated in the past five Tour de Turtles launches at Disney Vero Beach and the Barrier Island Research Center in Melbourne Beach, FL We look forward to this event each year as one of the fun events of our Summer.
The Walt Disney Company Animal, Science, and Environment Team and the Disney Vero Beach staff create many games, and fun activities for people of all ages at the release of the two turtles at Disney Vero Beach.

During the weekend we also enjoy the fun of Disney Vero Beach, a leading model for resorts in sea turtle conservation, including the time on the beach, pool, dining, beautiful beach sunrises, and other amenities the resort has to offer. I have got to know the General Manager Paul Hart who is an inspiration to for sustainable tourism leadership and particular concern for Sea Turtles. In our room at Disney Vero Beach Resort we found information to better protect the sea turtles as one example.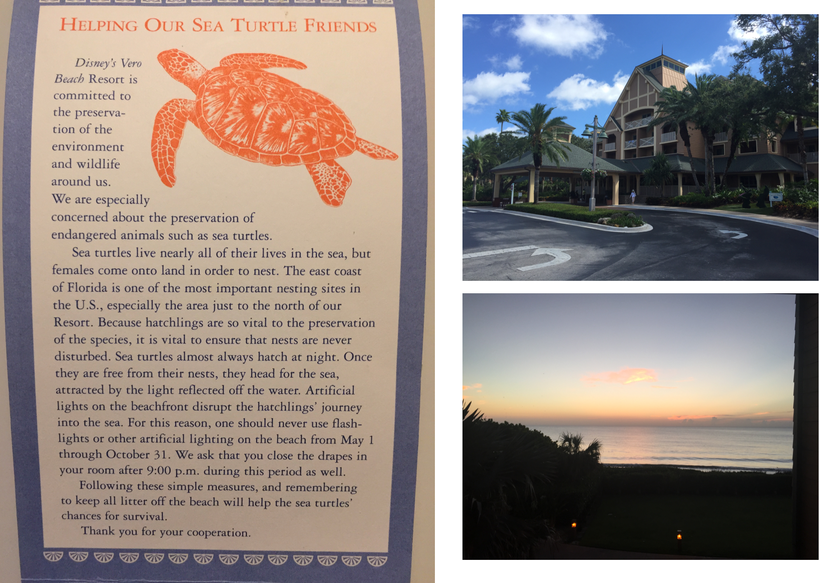 The Kick-off dinner is especially great fun with the auction and opportunity to meet like minded sea turtle enthusiasts.

Listen to David Godfrey, the Executive Director of Sea Turtle Conservancy summarize the program.
Research
Tour de Turtles provides significant research through the sea turtle tracking part of the event. While the trackers mounted on the Sea Turtles allow the distance of each turtle to be tracked for the purpose of the race, important research into the behavior and life cycle of marine turtles is also taking place.
Before tracking devices were mounted on each sea turtle, research was conducted on nesting beaches even though over 90% of a sea turtle's life is spent in the water — feeding, mating, migrating and doing whatever else a sea turtle does when no one is watching.
Researchers realized that they were missing important information that can help us better protect sea turtles. In particular, there was a need to learn about the habitats, migratory patterns, behavior at sea, where marine habitats are located, how the turtles use these different habitats, and the migration routes turtles travel between habitats.
This is where tracking technology of satellite telemetry plays an important role in protecting sea turtles. When a turtle with a tracking device surfaces for air from beneath the sea, a signal is sent to a Satellite. The satellite re-transmits the data to a receiving station on earth, which researchers can access through their computer. The transmitters generally function for one to two years and then fall safely off the turtle.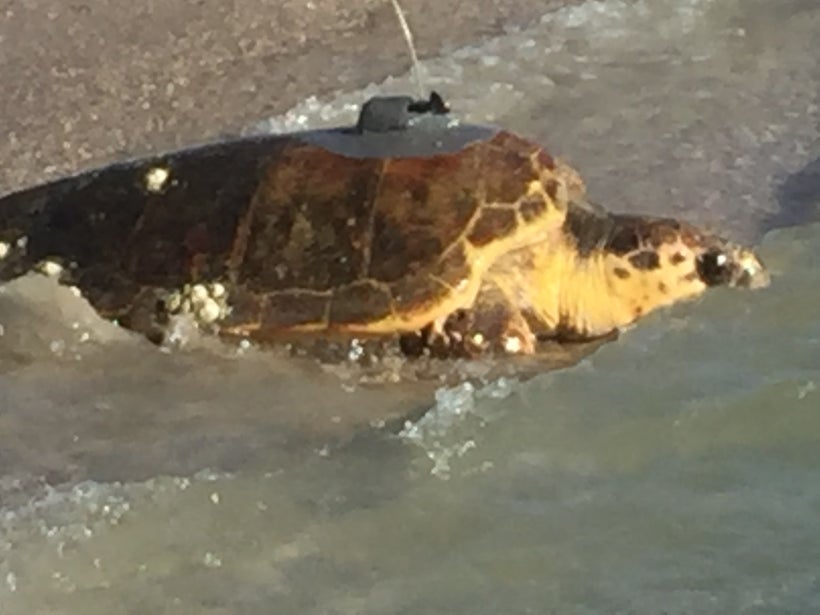 I was privileged a year ago to take part in the first Sea Turtle Expedition in Cuba where we tagged two Green Turtles for this research. Dan Evans the team's lead researcher found that one of our turtles who nested in Cuba later traveled to Mexico to nest. This was contrary to the conventional wisdom that sea turtles always return to nest in the same place. This discovery is important given the expected habitat disruptions which may come from climate change, and indicates the need for sea turtle research to gather more data as to how frequent this behavior is, and what this means in terms of habitats which need protecting.
Another interesting piece of research came from our Leatherback turtle which our College, the USF Patel College of Global Sustainability sponsored last year. Our turtle, Tortuga Turista was tagged near Panama City in Panama, and headed straight for Panama City Beach, FL. For some reason Leatherback sea turtles don't seem to be as prone to boat strikes as other species. The reason has been thought to be that they do not stay near the shallow coastal waters. Our Leatherback however showed through tracking that it hung out almost entirely in the coastal waters off of Panama City, FL during the Tour de Turtles event.'
Listen to Sea Turtle Conservancy Research Dan Evans share more.
Educational
The release of the sea turtles at Disney Vero Beach includes many different educational activities and learning stations. That is just the beginning though of the Tour de Turtle educational contributions.
Tour de Turtles offers several online resources for teachers. The resources include materials for Grades 2 through 12. Each turtle races for a different cause and these causes also provide additional educational and learning opportunities for people of all ages.
Classrooms from many nations in the world adopt their favorite turtle, learn about the cause that their particularly adopted turtle is racing for and follow their tracking on a daily basis.
At the graduate level which I teach, our students have done research and internships in cooperation with the Sea Turtle Conservancy expeditions, developing ideas for sea turtle protection criteria for the tourism industry, and participating in the Tour de Turtles events including serving as a volunteer team member to capture and tag turtles the night before their release.
Below are the comments of two students who took part in both the Sea Turtle Conservancy Expedition in Cuba and Tour de Turtles this year.
Environmental
A core part of the work of the Sea Turtle Conservancy is saving sea turtles from extinction through science based conservation.
The Tour de Turtles fulfills this mission through providing a cause for each of the sea turtles competing in the race.
This year's causes include:
Sustainable Tourism, the cause which our Turtle Tortuga Turista is racing for overlaps with many of these causes.
The following are some examples that illustrate this connection.
Water quality is important to tourism for aesthetic and health reasons for tourists. It is also important for water recreational related activities including fishing, swimming, and boating.
Plastic Debris because of its slow decomposition now makes up 90% of the pollution in the ocean and threatens the pristine beaches around the world. The ocean now contains 6 gyres with swirling plastic, the largest being in the Pacific Ocean and twice the size the state of Texas. Recent researchers just found plastic near the North Pole .
Light Pollution often comes from tourist development or development for tourism services.
Illegal Sea Turtle trade is closely related to the tourist industry as it is often tourist establishments and / or tourists who deal in this activity.
Beach erosion is often related to the type of development, protection of coastal habitat, and beach management all related to the tourism industry.
Climate Change is a major concern of the tourism community and has become a major priority of the Global Sustainable Tourism Council and is included in their new Destination criteria. The World Travel & Tourism Council has stated that, "Addressing climate change is now a must for any sustainable tourism programme."
In summary, sustainable tourism is becoming increasingly important in the preservation, protection, and enhancement for sea turtles and their habitat. As sea turtles have become an increasing popular tourist attraction there is a need for both tourist and tourism operations to understand the principles, laws and regulations, and best sea turtle practices. Following sustainable tourism, tourist and tourism operations can work together to protect, rather than adversely impact, sea turtles and their habitat.

Calling all HuffPost superfans!
Sign up for membership to become a founding member and help shape HuffPost's next chapter
This post was published on the now-closed HuffPost Contributor platform. Contributors control their own work and posted freely to our site. If you need to flag this entry as abusive,
send us an email
.