Medical care is very personal. Research shows that patients who receive care from doctors of the same background are more satisfied with their care and more involved in their treatment. Although African Americans, Hispanics and Native Americans compose more than 26 percent of the U.S. population, they represent only six percent of practicing physicians and five percent of dentists, according to the Association of American Medical Colleges.

On Saturday, 100 African American and Latino high school students from the greater D.C. area attended an all-day workshop at Georgetown University School of Medicine to learn about college readiness, careers in health care and what health care is all about. The stop was the last on a 400-mile Northeast tour for the Tour for Diversity in Medicine, a program that seeks to educate, inspire and cultivate future physicians and dentists of diverse racial and ethnic backgrounds.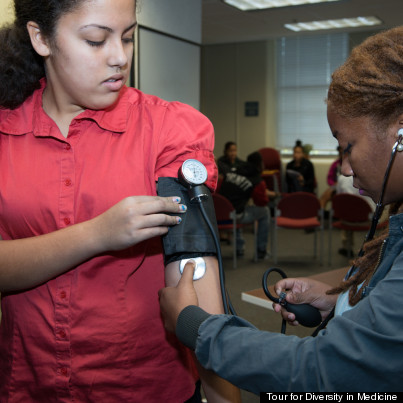 We at the Tour for Diversity in Medicine, along with tour sponsor, the Aetna Foundation, believe that in order to overcome this barrier of ethnicity in care, we need to inspire and support minority students to pursue the medical profession -- which is why we have set out to conduct tours across the United States to interact with students about their education. This is the fourth tour and the first time we've visited institutions including Iona College, Rowan University, Delaware State University, Bowie State University and Georgetown. During these stops, we met with undergraduate students to introduce medicine and dentistry as a field of advanced study and career path to minority students. A team of mentors, including doctors, dentists and medical school students, participated to provide hands-on workshops to the students.

By reaching students early, starting at the high school level, and offering an opportunity for them to network with professionals who come from similar backgrounds, we have the ability to empower students to consider a career in medicine early on -- and to imagine what's possible for patients and their communities with a more diverse physician population.

It was yet another amazing week interacting with the young minds that will shape our country's future. We walked away from this tour exhausted, but also inspired by the enthusiasm and hope from the students we met. We will continue to volunteer our time and log the miles because we are committed to giving back on behalf of the mentoring we received in our careers. In this way, the cycle of mentorship has been paid forward again.
The authors are the cofounders of the Tour for Diversity in Medicine.
Calling all HuffPost superfans!
Sign up for membership to become a founding member and help shape HuffPost's next chapter