When was the last time you spent an evening with your jaw dropped? With your head sore from laughter while listening to words so offensive you couldn't help but react? That's how I spent my Thursday evening last week, at Jamie DeWolf's "Tourettes Without Regrets." The title says it all, don't you think? I met DeWolf at Bawdy Storytelling and within the first few sentences out of his mouth, my eyes were wide and my jaw hit the floor.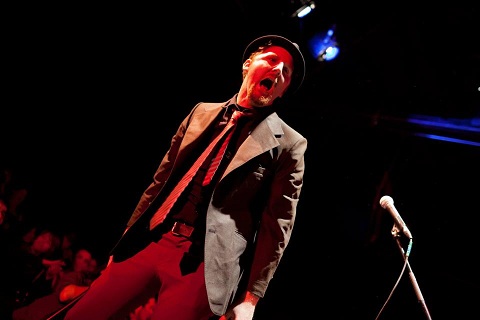 Jamie DeWolf
The man is unadulterated, uncensored and absolutely unashamed. Tourettes Without Regrets is essentially an evening of absurdity, mixed with artistic precision and insanity. I found myself in Oakland on a Thursday night with a friend of mine. This was the Cinco De Mayo edition of Tourettes Without Regrets, and DeWolf pulled no punches with the variety he had on this gritty stage.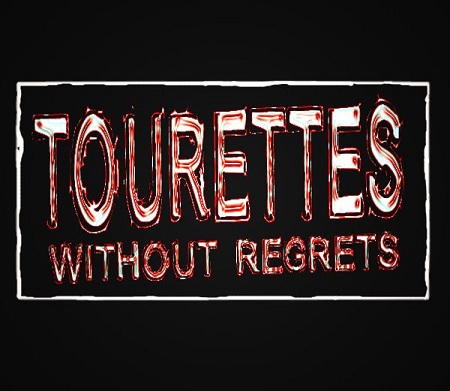 Tourettes Without Regrets
His stage is filled with an eclectic mix of cohorts: DJ Miggy Stardust, Sissy DeWolf, Baxter the Badger,The Black Ninja of Oakland and the Inhibition Elf. Part of the fun for DeWolf is being able to shout at his audience and get them to participate. If DeWolf asks you to do something and you say no, the Inhibition Elf hunts you down and dry humps you.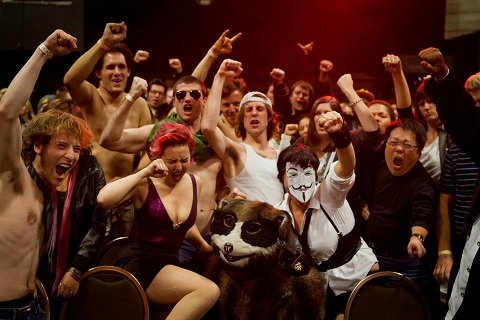 Tourettes Without Regrets
Tourettes started in 1999 in Vallejo/Benicia as revenge against every open mic that kept kicking me out. I swore to create a show that celebrated all the outlaw performance I was into, laced with my dark anarchic sense of humor. It started in a warehouse and kept getting shut down by the cops and ran from one venue to another until we moved the show to The Oakland Metro, where's it thrived for years ever since.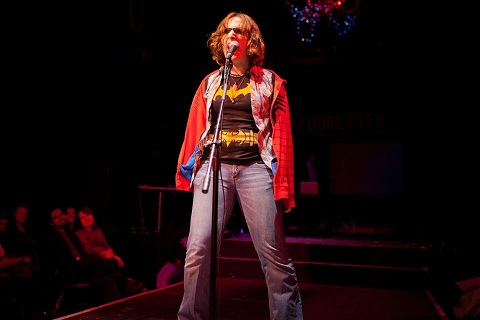 Tourettes Without Regrets
The evening started with dirty haikus. Believe me when I tell you, haikus will take on a whole new meaning after you see the dirty haiku battle. Then some brave entertainers, who want to get up in front of this rowdy crowd, vie for a spot on Tourettes Without Regrets' stage. There are no censors, and these people speak about whatever is on their mind.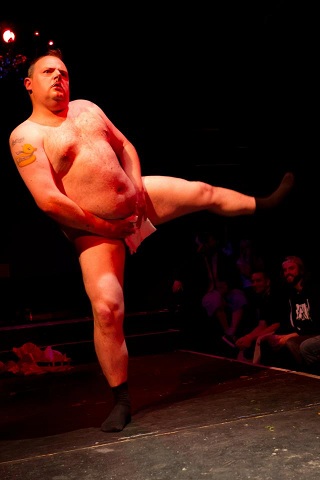 Tourettes Without Regrets
The next section was the slam poets who peddled their wares for the night. The ladies on this night kicked some ass. My favorites were April Jessica Garro, who talks about hot lesbian sex, including flannel lingerie and light construction projects; Lydia Popovich who talked about cholos rocking out to Journey in a cholo bar; and then of course Caitlin Gill, who wondered how she wasn't dead due to all the blood she had lost in her life because of her period. The venue is packed and the response from the crowd is unreal. DeWolf gives the offensive, different, radical, and hilarious a space to peddle their wares.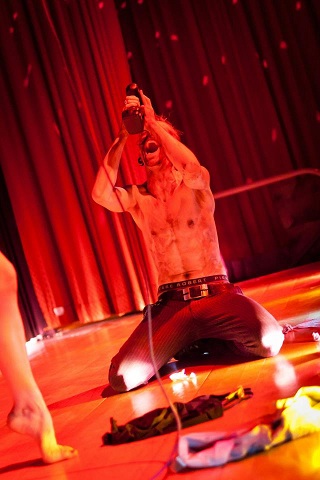 Tourettes Without Regrets
After the slam poetry, the headliners make their debut. Story tellers, poets, hula hoopers and disturbing performance art are some acts who fill the stage. Jaylee Alde did a poem about cocaine, with sentences like, "Thank you cocaine, you made that possible." My voice is still gone today from all the laughing, yelling and energy this venue generates.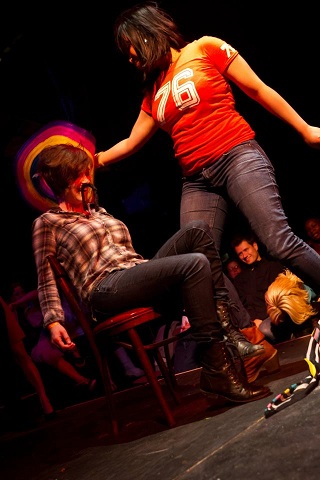 Tourettes Without Regrets
He found someone in the audience who had a birthday and brought up people from the audience to give her lap dances. This is not a stage for the shy, and believe me when I tell you these folks were anything but shy. In between performers, DeWolf has furies, strap-on freeze tag, a DJ and lots of audience participation. I still have flashes of the ridiculous images, like the man who took his pants off behind us to reveal his dick, because DeWolf told him to take his pants off. They did make him sit on a paper towel, so Tourette's is a law abider for sure.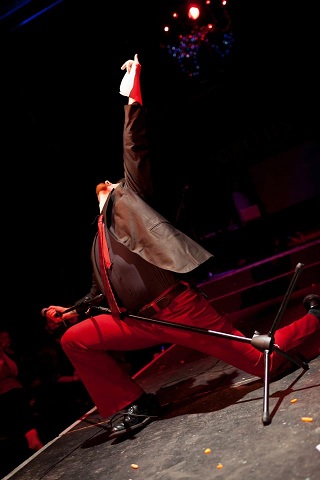 Jamie DeWolf
Now, I will say this: The show is right around four hours and it goes fast, but it is still quite a long show and it's a Thursday night. From someone who lives in San Francisco and takes BART, that was a run to make it back home without missing my train. Be mindful of the time if you are on a train, but beyond that, check it out if you enjoy a raucous evening filled with some of the most entertaining acts you will ever see. Thank goodness DeWolf got kicked off so many stages, because he created one that allows every individual a place to share their particular brand of art. I love the Bay Area and the free thinking folks she attracts!
Calling all HuffPost superfans!
Sign up for membership to become a founding member and help shape HuffPost's next chapter