We have a natural affinity for any place that grapes are grown--that special combination of rolling hills backed by mountains, lush valley floors, small towns, and fresh cuisine suited to local wines gets our hearts thumping. Having traveled the world in pursuit of the pleasures of the vine, we return again and again to Napa Valley. In addition to powerful Cabernet Sauvignon and buttery Chardonnay, you will find a multitude of wine styles in Napa, including fresh un-oaked whites, sparkling wines made in the traditional method, and red blends in the style of Bordeaux or the Rhone Valley.
There is also a wide variety of visitor experiences, from large wineries with group tours every hour on the hour to smaller family-run operations where the owners are behind the counter pouring your wine. Whether you are headed to Napa to check out the "mother ship" of your favorite bottle or to discover a new gem that is mailing list only, it is bound to be a trip full of discoveries.
The best way to get there from New York is on Delta's non-stop transcontinental service to San Francisco. With inspired in-flight cuisine by Napa's own Michael Chiarello and wine pairings by Master Sommelier Andrea Immer Robinson, we feel like we're in wine country even before we get there. We always enjoy the journey and the fact that getting there can be part of the fun.
On our most recent trip, we experimented with getting around using the rental car GPS and a few different iPad apps. One of the things we don't like about GPS alone is that we have to blindly follow directions, and on occasion we have found ourselves at a winery's corporate office rather than their tasting room or visitor center.
With the Napa Valley Wine Tour App we always knew we had the correct address for our destination, and we could decide whether we wanted to speed up Route 29 or take in the view on Silverado Trail. With over 250 wineries, hotels, and restaurants, some of them new to us, this app made our trip much easier: We knew the current operating hours of each winery, and each day we were able to plot a course that avoided backtracking through the valley.
Wineries:
Sequoia Grove
Set on 22 acres of Rutherford area vineyards, Sequoia Grove's 150-year-old barn cum tasting room setting is a beautiful setting for wine tasting or a vineyard-side picnic. The beautiful wood-hewn interior is filled with natural light thanks to a skylight that was installed after one of the many redwoods on the property crashed through the roots in the storm--all the better to check out the rich color of their rich Cabernet Sauvignon and other Bordeaux-style reds.
8338 Saint Helena Hwy, Napa, CA 94558, (707) 944-2945
www.sequoiagrove.com
Domaine Carneros
Sip some delicious California sparkling wines on the patio of this beautiful French chateau inspired winery. Owned in part by French Champagne house Taittinger, Domaine Carneros is one of California's finest sparkling producers. A tasting of sparkling wine alongside a charcuterie platter or a caviar and salmon sampler is a great way to spend an afternoon here.
1240 Duhig Road, Napa, CA 94559, (707) 257-0101
www.domainecarneros.com
Robert Mondavi Winery
Founded by wine-world legend Robert Mondavi in 1966, his namesake winery offers a bottle for every palate, from entry-level through the Reserve and Library wines, and an experience for every wine lover, from a 30-minute tour to a customized culinary experience with a private chef. The history of Robert Mondavi is intertwined with the history of Napa Valley and the California wine industry.
7801 Saint Helena Highway, Oakville, CA 94562, (707) 226-1395
www.robertmondaviwinery.com
Michael Mondavi Family Estate
Established in 2004 by Michael and Isabel Mondavi and their children Rob and Dina, the Michael Mondavi Family Estate Winery makes quality wines under a variety of labels, including one for family friend Tyler Florence. Relax on the back porch of the Taste Gallery with a glass of wine and a charcuterie and cheese platter, or indulge your career-change fantasies by arranging a "Winemaker for a Day" experience.
1285 Dealy Lane Napa, CA 94559, (707) 256-2757
www.michaelmondavifamilyestate.com
Cliff Lede Vineyards
Specializing in Cabernet Sauvignon and Sauvignon Blanc from the Stags Leap AVA, Cliff Lede offers tastings and daily tours of their modern winery. If you've always dreamed of a place among the vines, consider a few nights at the Poetry Inn, or a longer stay at the Farmhouse at Poetry.
1473 Yountville Cross Road, Yountville, CA 94599, (707) 944-8642
www.cliffledevineyards.com
Where to stay:
Auberge du Soleil
Perched high at the eastern corner of Napa Valley, Auberge du Soleil combines the elegance of the Cote d'Azur with the laid back ambiance of California wine country. Under the direction of Executive Chef Robert Curry, the restaurant at Auberge has earned one Michelin star. The views over the valley, especially in the early hours of the day or at sunset, are unparalleled. Whether it's drinks by the pool, dinner on the terrace, or a massage in the spa, we've always been impressed by Auberge's attention to detail.
180 Rutherford Hill Road, Rutherford, CA 94573, (707) 963-1211
www.aubergedusoleil.com
Napa Andaz
Centrally located in downtown Napa, the Andaz is a perfect place to base yourself when visiting wineries up and down the valley. It's also in walking distance to the Napa waterfront and a wide array of restaurants and shops.
1450 First Street, Napa, CA 94559, (707) 687-1234
www.napa.andaz.hyatt.com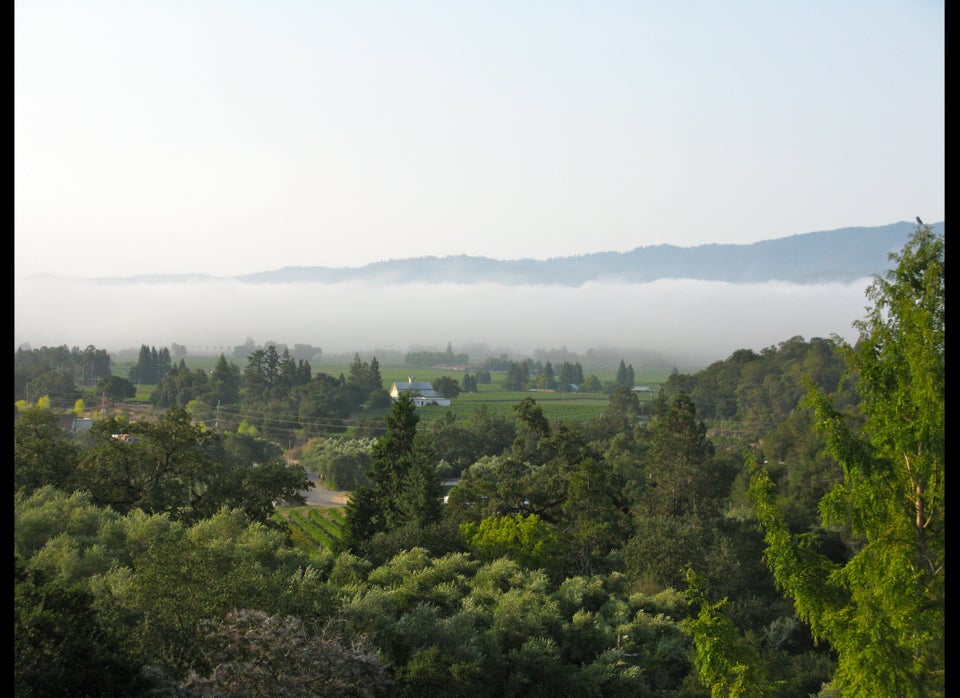 Wine Tourism in Napa Valley