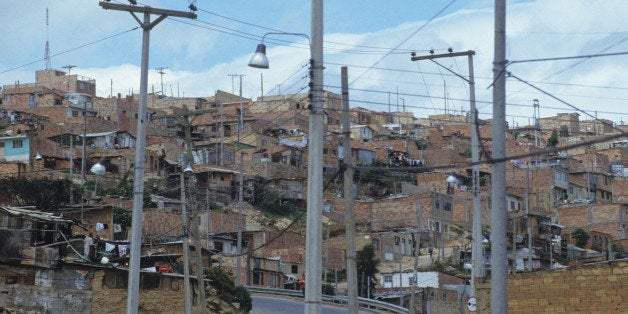 Everything we produce and consume has an impact on the environment, on social fabrics and on the economy. This impact can be positive or negative, and frequently some combination of the two. Building more prosperous, sustainable societies requires us to minimize the environmental footprint of our production processes and consumption decisions. It is for this reason that Sustainable Development Goal 12, one of 17 goals in the United Nations' prospective new development agenda, calls for us to "Ensure sustainable consumption and production patterns."
With a growing, fast-urbanizing global population set to reach 9.5 billion by 2050, the challenges are immense. People need food, water, housing and energy. The rapidly growing global middle-class will want more consumer goods and services, from flat-screen televisions to overseas holidays. Hundreds of millions of people who still live in extreme poverty rightly hope to be able to consume more, not less.
Meeting these needs and demands in an environmentally sustainable manner is one of the great challenges of our time. And it will affect all of us. The Huffington Post reader in Cleveland, Ohio, who goes out of her way to buy sustainably sourced food and clothes -- but plugs her tablet into some of the dirtiest electricity. The farmer's daughter in a drought-affected district of Maharashtra who knows that the tube well on her family's plot will soon run dry, and is saving up for a ticket to the city. We cannot afford to disappoint the latter's aspirations. But if all of us were to have the former's carbon footprint, the planet would become unlivable.
Sustainable production and consumption matter immensely to the people I meet every day as head of the International Trade Centre, which works with small and medium-sized enterprises (SMEs) to help them boost growth and job creation by improving their competitiveness and connecting to international markets.
For most of the SMEs we work with, what's stopping them from producing goods and services more sustainably is not the will but their means to do so. Access to finance is already tough for SMEs, especially in developing countries. The higher up-front costs of investing on environmentally sound tools or production facilities can be nigh on impossible. The emphasis on finance for SMEs at the recent Financing for Development conference in Addis Ababa was an important step. Financial institutions must build on this commitment to inclusivity by not only making it easier for SMEs to start up and do business, but to enable them to participate in our common quest to achieve SDG 12.
Tourism is one sector that has considerable potential for more sustainable consumption, production, and job creation. It has been on my mind this week, as I attended the annual meeting of the United Nations' World Tourism Organization (UNWTO) in Medellin, Colombia. While tourism is often resource intensive, it is a major driver of poverty reduction in developing countries. According to the UNWTO, fully one in 11 jobs worldwide is directly or indirectly related to tourism: it's not just about the concierge, the waiter, and the lifeguard -- it's also about the plumber, the builder, the ice-cream maker and the tomato grower, and the artists who sell their crafts to tourists.
Talking to participants in Medellin was an eye-opening experience. They were acutely aware that the industry's future depended on reducing its environmental impact: to reduce water use, to think creatively about offsetting travel-related carbon emissions, to source fish and other food sustainably, and to reduce waste.
The tourism industry has considerable potential to be a sustainability role model in its role as a buyer of goods and other services, from building materials and green construction standards to farm produce. Indeed, research by ITC and UNWTO suggests that some of the hospitality industry's biggest positives for development come from its local purchases of goods and services. The industry surely has potential to buy more, and buy better.
Of course tourism is only one sector in which we have to rethink how we produce and consume. Achieving SDG 12 -- and by extension the other Sustainable Development Goals -- will require sustainable pricing and sustainable trade. We will need sustainable technology and food, especially in terms of energy and water use. We will need sustainable-procurement practices and education on sustainability. Above all, we will need lifestyles that fit within the carrying capacity of the planet.
This post is part of a series produced by The Huffington Post, "What's Working: Sustainable Development Goals," in conjunction with the United Nations' Sustainable Development Goals (SDGs). The proposed set of milestones will be the subject of discussion at the UN General Assembly meeting on Sept. 25-27, 2015 in New York. The goals, which will replace the UN's Millennium Development Goals (2000-2015), cover 17 key areas of development -- including poverty, hunger, health, education, and gender equality, among many others. As part of The Huffington Post's commitment to solutions-oriented journalism, this What's Working SDG blog series will focus on one goal every weekday in September. This post addresses Goal 12.
REAL LIFE. REAL NEWS. REAL VOICES.
Help us tell more of the stories that matter from voices that too often remain unheard.