It's a summer season in Gdansk! I hope you can visit. Nearly two million people have visited our city in 2015. Less than half of them came for recreation and leisure. Majority declare that they will come again and will recommend Gdańsk to their family and friends.
Obviously, that makes the mayor happy! We are doing our best to make this summer even better and cooler for tourists in Gdansk! Efforts are not spared in city's agencies and institutions to conduct a smart pro-business, pro-residents, and pro-tourist policy that will result in our city to be even more attractive. That, coupled with excellent restaurants, nightlife, and most importantly, a rich cultural offer, places Gdansk among top European destinations.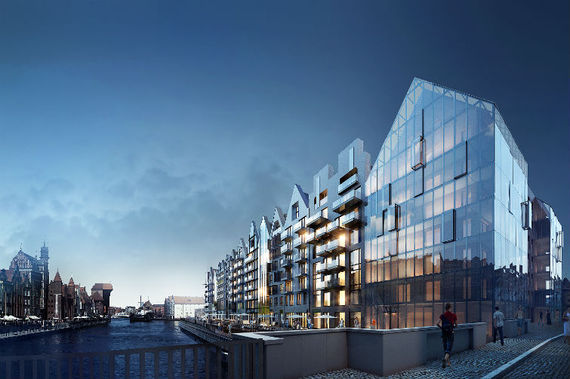 Chcek out the new project: Granary Island redevelopment right in the heart of the Old Town, on Motlawa River.
Fig. Jerzy Pinkas / www.gdansk.pl
Here is an infogram created by Gdansk Tourist Organization showing the results of a survey conducted among tourists visiting Gdańsk. Data were collected based on more than 2.5 thousand surveys.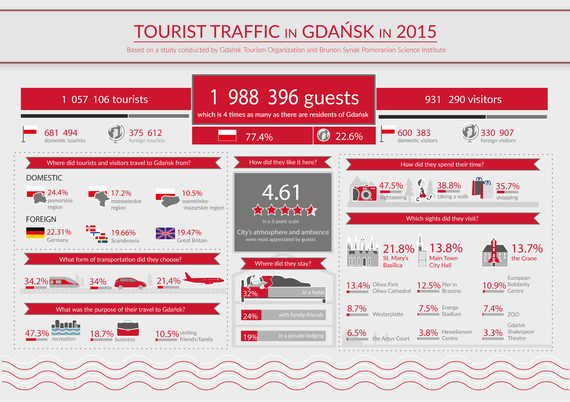 On this basis, we determine who our visitors are, where they come from, how they spend their time, what places they visit, and, most importantly, whether they like Gdansk . In 2015, Gdańsk was visited by 1 988 396 visitors.1 281 877 are domestic tourists and 706 519 are foreign tourists: • 22.31 percent from Germany • 19.66 percent from Scandinavia • 19.47 percent - UK residents
When asked what they liked the best, they frequently appreciated the ambience of the city, openness among residents, standards of accommodation and gastronomic offer.
Purpose of visit to Gdansk • recreation 47.3 percent. • 18.7 per cent of the business. • visit relatives 10.5 percent.
Most of the respondents at the time of questioning were 2nd or third time visitors to Gdansk. In most cases, the visitors declared they would return and will recommend a visit to our city to their families and friends.
The study also made it possible to determine how tourists are encouraged to visit Gdansk and where they get knowledge about it. The most popular sources were the Internet and recommendations of friends. Needles to say, I am happy to hear the numbers are growing. Wouldn't you put Gdansk on your itinerary this summer?
Calling all HuffPost superfans!
Sign up for membership to become a founding member and help shape HuffPost's next chapter