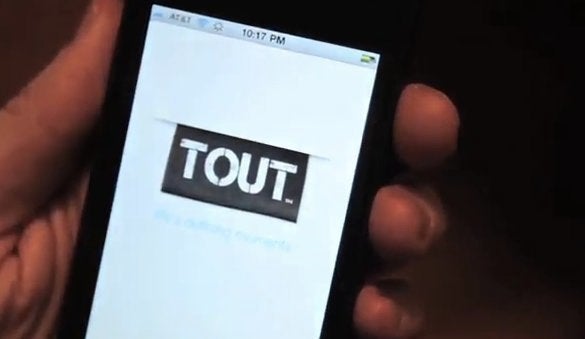 This post is part of a new series from HuffPostTech, Socialized, that will profile a different social startup--from apps to services to websites--every day. Want to be featured on the site? Email us about your startup, which should have a social media component and be less than two years old, at bianca@huffingtonpost.com.
Has Tweeting started to feel too word-locked? Looking for some visual stimulation with your Facebook status updates?
Maybe it's time to start Touting--in other words, using Tout, a real-time social video update service that lets you release 15-second clips to your friends and followers.
What it is: Tout is like video-Twitter--short video updates blasted out to followers to let you give other people a glimpse into your life.
"It's a combination of the real time blog and the rich clarity and vivid capability of video," CEO Michael Downing told the Huffington Post. "In being able to push these short video messages to friends, family-- people youre already connected to--it's a whole new means of sharing your life experience but also instantaneously communicates in a visual manner that is more natural, more clear."
The site has been in testing with over 2,000 users, and went live this Tuesday.
How it works: Tout lets users broadcast 15-second long clips to their followers, Facebook friends and Twitter followers with the video capabilities found on the iPhone. Like Twitter, Tout is about a real-time conversation--but in video, rather than words. The 15-second time limit grew out of testing how long it takes to capture a moment.
"Leaving it open-ended is too overwhelming for too many people," said Downing. "But 15 seconds almost feels like a photo--It's not only about finding what's comfortable to record and capture but to find out from a viewing perspective when you land on my page and see these Touts that ive accumulated what the best viewing experience is."
Why you'd use it: Tout's uses are flexible, and to an extent, unknown. In many ways, it plugs into the pre-existing model of social interaction online by allowing people an outlet to give updates on their life. But the video element may prove to have unexpected results.
Downing himself has already found a good reason to Tout.
"I had a baby 14 weeks ago and started using the application," said Downing. "I was Touting the special moments while my wife was pregnant, when she was in the hospital and 14 weeks later we have this baby son and all along the way I've been able to capture 15 seconds of video and all my family members are instantly updated that I've Touted a new moment."
But another Tout user--the band Vanaprasta--had an entirely different use for Tout. Broken down in the middle of Las Vegas, and without the money to get their van fixed, the band was left with nothing to do but to Tout the entire experience.
"All of a sudden a whole bunch of people in the community were rallying support and six to eight people volunteered to send them 30 or 40 dollars, we kicked in 50 bucks and within a couple of hours they had 350 dollars to get the water pump fixed and could get on the road," said Downing. "It was such an interesting community activity."
Downing also envisions that as tablets and devices like the Apple TV continue to catch on, that Touters could gather followings commensurate to something like television channels--real-time, highly personal reality TV for a future generation.
But as for the average user in 2011, Tout is simply a new way to keep updated on the people you know, or the people you'd like to know about, with brief video messages.
How to get it: Just visit Tout's website, or the iTunes App Store to get started.
LOOK: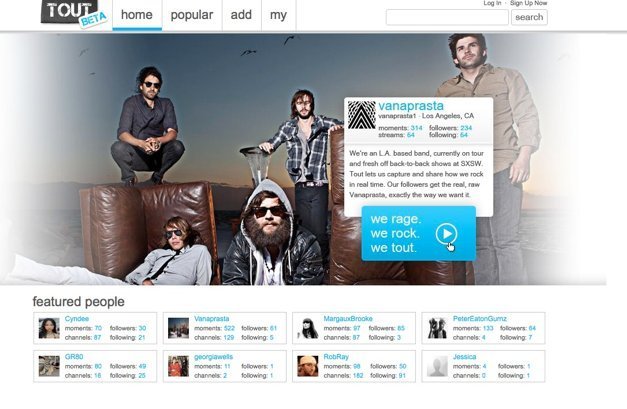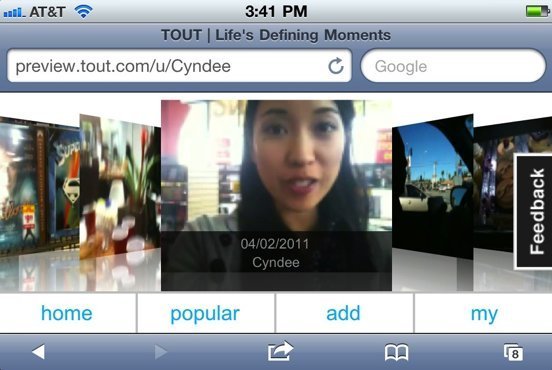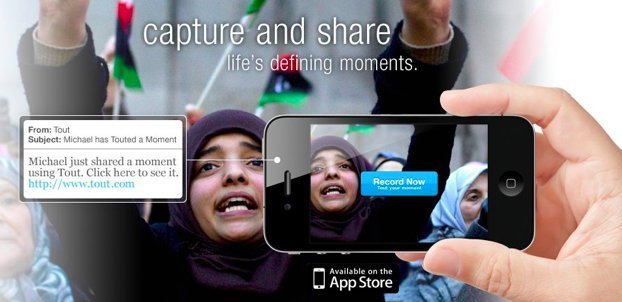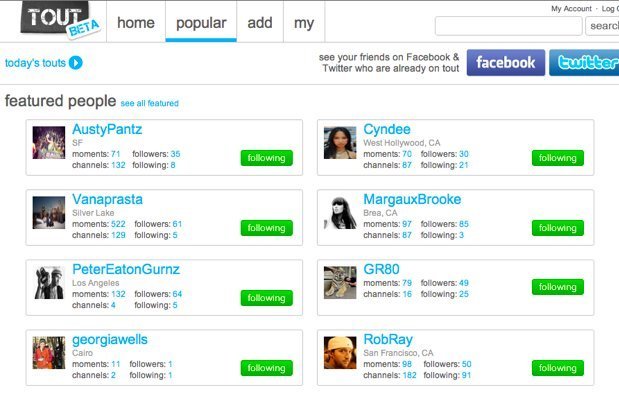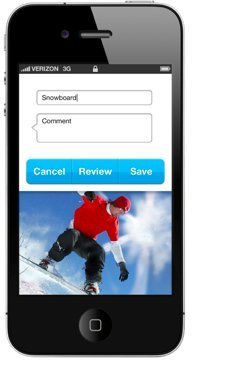 Related
Popular in the Community