For a children's comic book, "Moomin Falls in Love" isn't quite as cookie-cutter cute as you might expect.
The story, written and illustrated by Swedish-speaking Finnish artist Tove Jansson, follows lovers Moomintroll and Snork Maiden, bulbous characters who are technically trolls but appear more like hippos made of marshmallow fluff. From page one, their relationship is fraught. "I wonder," Moomintroll says to himself, "why the heroine in a book is always much more beautiful than the one at home." When a flood hits Moominvalley, he ends up saving the life of a beautiful, albeit self-involved "leading lady" named La Goona, falling hard for in the process. "Don't you see she's a vamp!" Snork Maiden cries in exasperation, as her beloved attempts to woo another.
Like any good protagonist, Moomintroll eventually realizes the error of his ways. The tale closes with Moomintroll staging a dramatic reconciliatory gesture to win back his Snork Maiden, though the apology seems more like an obligatory performance than a true expression of regret. In the end, the story lacks the grand moral resolution typical of literature written for a younger set, instead delivering adorable fairytale creatures with human shortcomings that are all too recognizable.
Jansson created "Moomins in Love" in 1956, 11 years after she first introduced the mouthless creatures in a 1945 book titled "The Moomins and the Great Flood." She started the series amid the backdrop of World War II; the lighthearted stories mollified her grief and anxiety in the face of political turmoil. They typically revolve around benign trials of domestic life ― family disagreements, money troubles, loneliness, romance gone haywire, sometimes grief. Though there are occasional floods and natural catastrophes, more often the conflicts are banal, and rarely rose-tinted. The characters constantly misunderstand and disappoint one another, teetering between happiness and melancholy.
Over the past 72 years, the series has grown wildly popular. Millions of copies of the illustrated series have been sold and translated into 44 languages, while the characters have been adapted into multiple television series and films. There's even a Moomin theme park, Moomin World, in Finland. Most recently The Moomins made headlines when it was announced that Kate Winslet and Rosamund Pike had signed on to the animated series "Moominvalley," slated to premiere in 2019. A separate Moomin film starring Alicia Vikander is reportedly also on the horizon.
This Moomin-crazed moment is as good a time as any to remember the singularity of the woman behind the series, who balanced a booming career of children's book illustrating with writing adult fiction and creating anti-fascist political cartoons.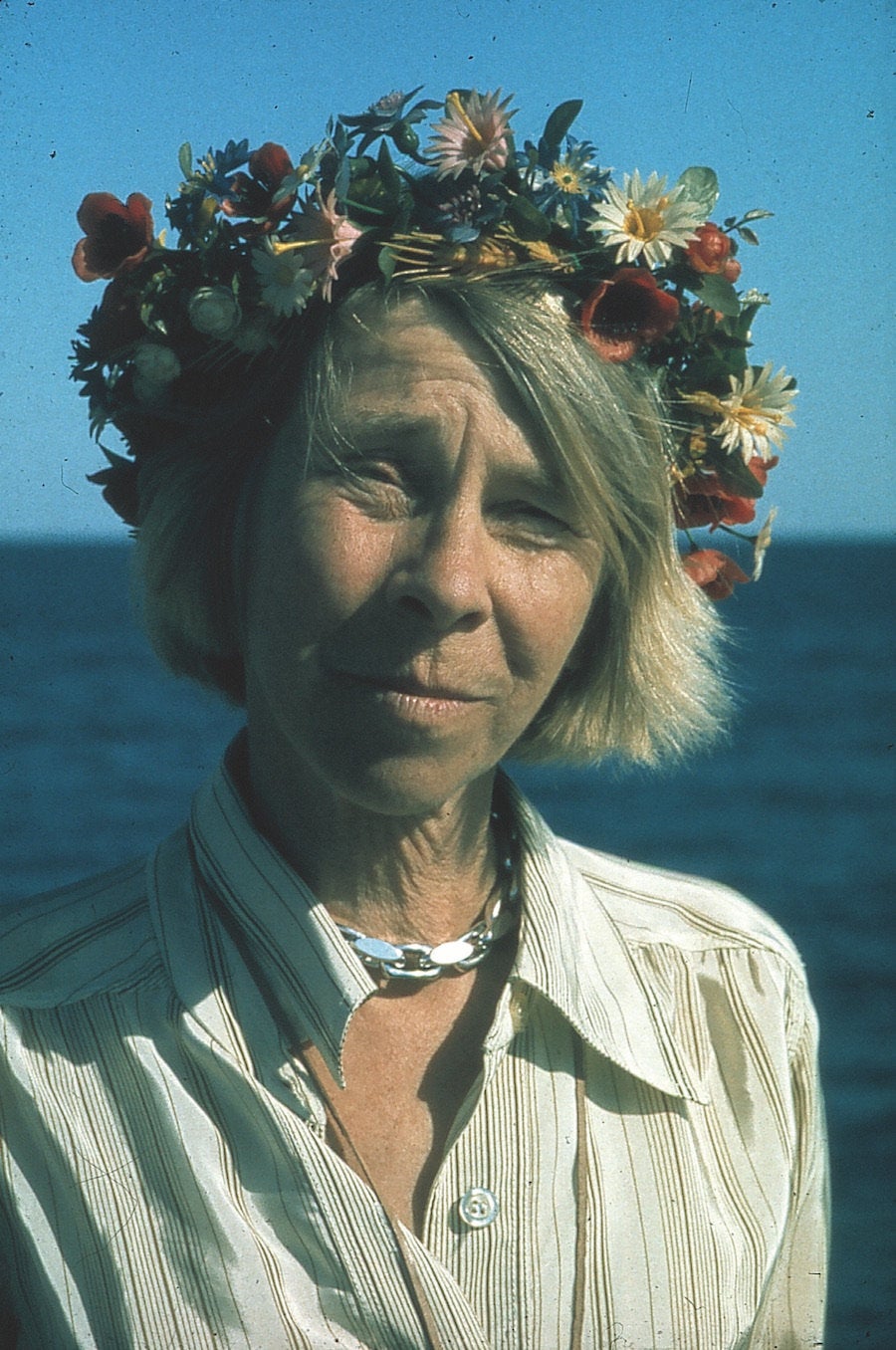 Born in 1914 in Helsinki, Finland, Jansson grew up with bohemian artists as parents ― the types of people who owned a pet monkey named Poppolino. Jansson's father was an indulgent and erratic sculptor of monuments, her mother a defiant illustrator who took a job designing stamps to pay the bills. Storytelling, art making and socializing with the creative community were staples of Jansson's early life, so much so that she wrote and illustrated her first picture book, Sara and Pelle and the Water Sprite's Octopuses at 13.
Two years later, in 1929, Jansson began contributing to a Finnish satire magazine called Garm. She worked there until the magazine closed in 1953 and took particular pleasure in rendering anti-fascist imagery that brought authoritarian rulers down to size. "What I liked best," she recalled, "was being beastly to Hitler and Stalin." Her most well-known political cartoon, published in October of 1938, shows Hitler as a whiny toddler crying for cake as frazzled world leaders scramble to soothe his fury, offering him treats labelled as European states.
Jansson may have cast Hitler as a petulant child, but her illustrations geared towards children treated her young readers with dignity and respect, coupling instantly empathetic illustrations with more complex human characteristics. It's hard not to fall in love with Moomintroll for his round snout and protruding belly, though the feeling sours when he dips into superficiality and light misogyny.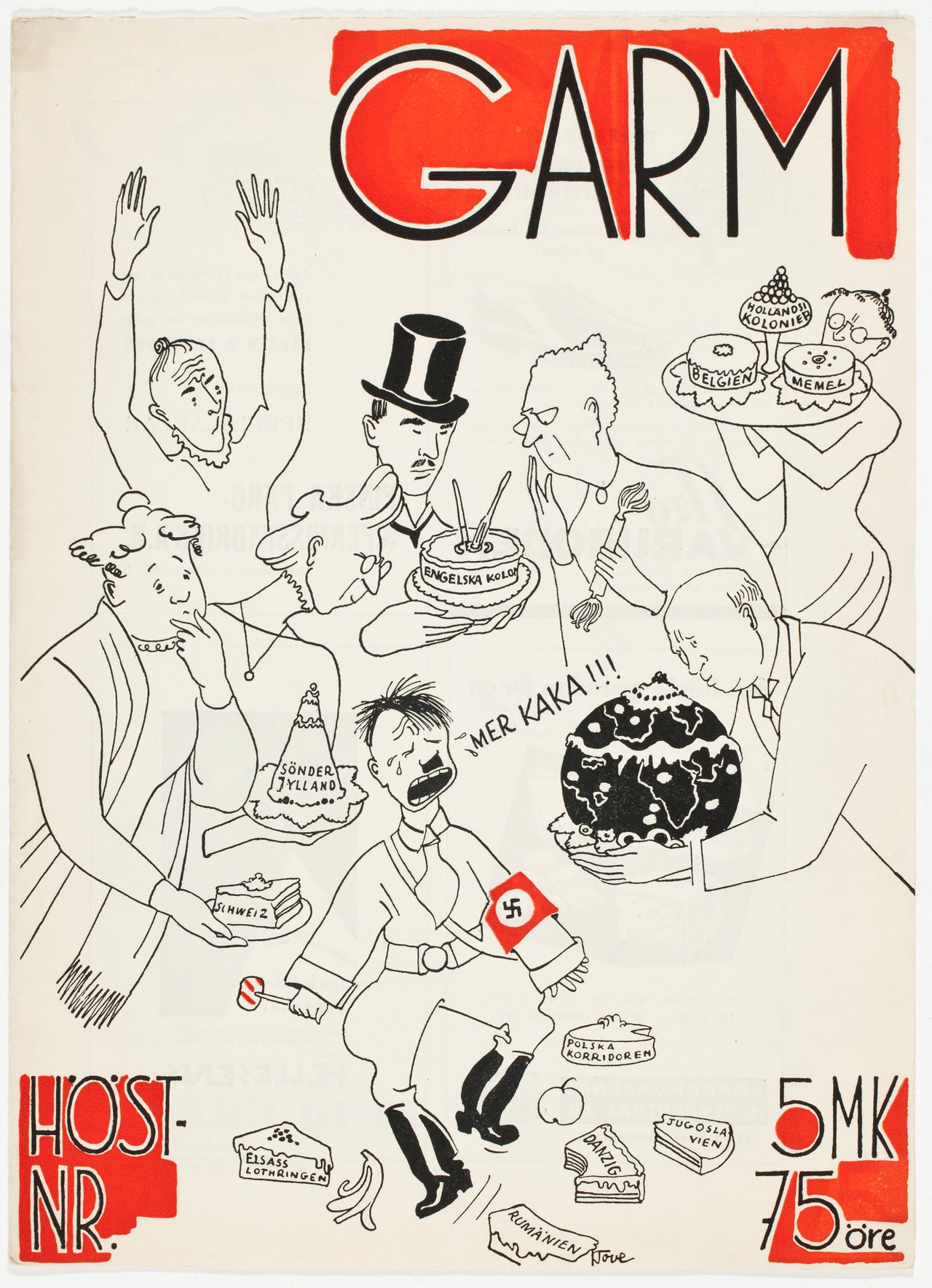 The illustrator created the first ever Moomin-esque creature following an argument with her brother over the philosopher Immanuel Kant. Frustrated by her sibling, Jansson drew her attempt at "the ugliest creature imaginable" as an act of revenge, creating a skinner, nastier-looking troll ― more platypus than hippo ― she dubbed a Snork. After rounding out the creatures' angular physique, the instantly huggable Moomin was born.
It's hard to describe how freakishly appealing the Moomins are. Devoted readers and viewers of the franchise will recognize the bizarre, visceral reaction to seeing a Moomin pout, primp or gaze off solemnly into the distance. It's almost discombobulating, to say the least, to feel so wholeheartedly for two-dimensional drawings. Yet the ingeniously organized squiggles and lines evoke human expressions with uncanny congruence.
Many of the Moomin characters are loosely autobiographical, based on influential people in the artist's own life. The creatures' undeniable charm, then, speaks to the affection readers feel toward their own friends, even when their behavior is questionable or worse. The Moomins are never evil nor cruel, but they can be petty, whiny, disappointing and dishonest. The reader lets them get away with the occasional misdeed, in part, because of their sweet familiarity. Something about their emotive eyebrows, bloated noses and blank-canvas bodies makes the two-dimensional drawings feel strangely like family.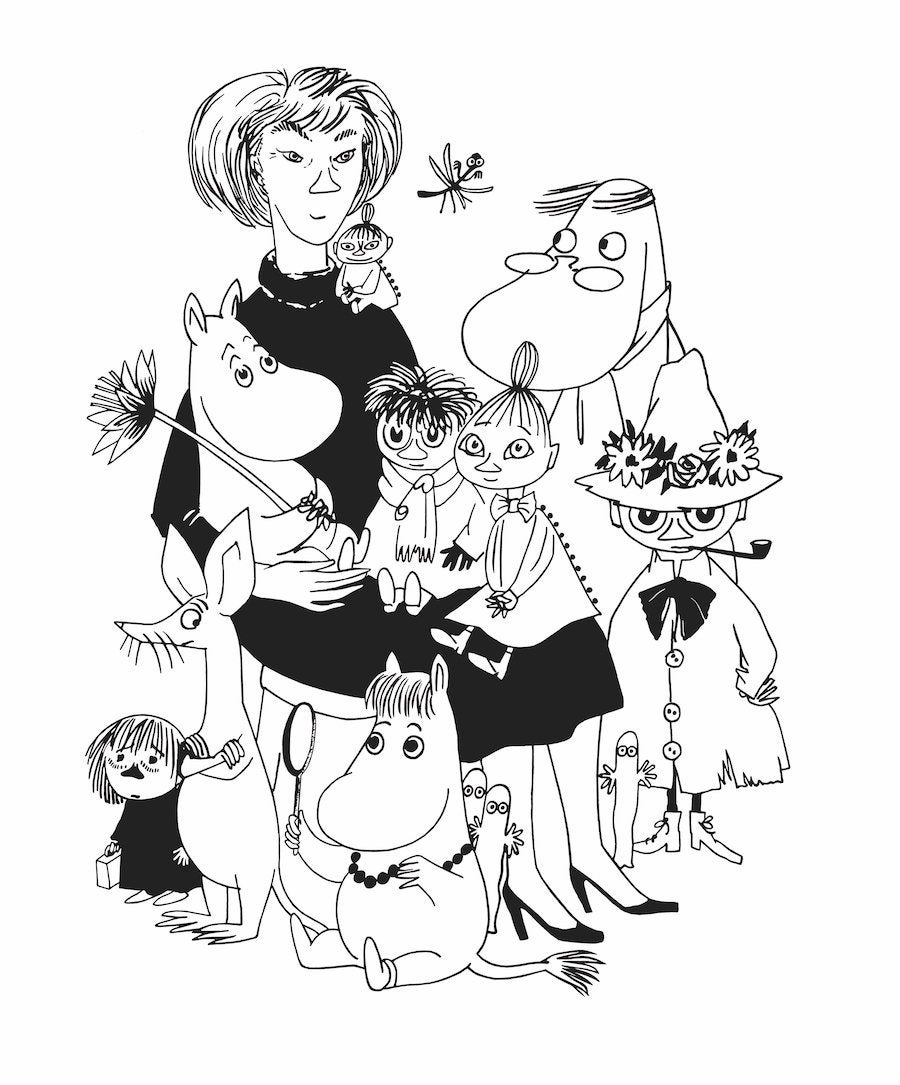 Despite dedicating her life to children's literature, Jansson never had any children of her own. "She made a positive ― documented ― choice not to marry and have a family," her niece Sophia told The Guardian.
Throughout her life Jansson loved both men and women; she was briefly engaged to political philosopher Atos Wirtanen, who inspired the Moomin character Snufkin, identifiable by his pipe and bucket hat. Jansson then developed a secret love affair with theater director Vivica Bandler. Not only was Bandler married, but homosexuality was illegal in Finland at the time. The Moomin characters Thingumy and Bob, inseparable twins who communicate in their own secret language and hide in confined spaces, are thought to be based off the couple. In the books, Thingumy and Bob carry a suitcase holding a giant ruby, a symbol of their love.
Bandler and Jansson eventually parted ways and, in 1956, Jansson met the artist Tuulikki Pietila, who would eventually become her life partner. Jansson never referred to herself as a lesbian, according to her niece, but used the coded expression of crossing "over to the spook side." Pietila appears in the Moomin books as well, as Too-ticky, an androgynous human character who wears a red striped shirt and carries a briefcase.
Jansson died in 2001 at age 86, yet international Moomin mania lives on to this day. Perhaps it's because of the series' combination of relatable humanlike scenarios and surreal, symbolic flourishes. (Snork Maiden, for example, changes color when she changes mood.) Or maybe it's because in times of political anxiety ― whether 1945 or 2017 ― there's something immensely soothing about opening a children's book full of trivial mishaps and uncanny adventures.
Popular in the Community