A green activist walks into a packed bar, followed by a human rights activist, a government official and a corporate buyer.
They noticed that patrons of the bar were all having the same drink so they asked the bartender for that drink. On tasting it, the green activist spits it out and complains that it tasted too much of forests. The human rights activist disagreed and said that the dominant flavor tasted too much of human rights abuse. The official liked it however, noting that it was made from raw materials his country produced. The corporate buyer liked it as well but only because it was the cheapest drink in the house.
The disagreements grew into a shouting match which upset the other bar patrons. Some got up and left swearing they would boycott the place, yet others pleaded with them to keep supporting the bar otherwise illegal booze cans would surely destroy the neighbourhood.
That's how I see the on-going arguments over sustainable palm oil. Each group comes with their own self interests, whether it's protecting forests for global good or the rights of countries to development. These arguments between civil society organizations and the governments of developing countries have gone on for years even as palm oil plantations expanded.
A new solution was announced last week that could provide a common ground. A study on High Carbon Forests(HCS+) conducted by experts in the fields of biomass, soil carbon, socio-economics and sustainable development released its findings. You can read the full report here and the press release here. Note the presence of heavyweight Malaysian palm oil producers including Sime Darby, IOI Group and Kuala Lumpur Kepong and the world's single largest user of palm oil, Unilever.
Environmental groups were quick to criticize this new study as greenwashing to cover up a business as usual approach to palm oil expansions.
Saving forests for the greater good is a grand notion but if the only results it brings is debate and deforestation, then we should all give the new study the consideration it deserves.
Popular campaigns by environmental groups targeting global brands and financiers of palm oil companies have succeeded in bringing the industry to this point. It would be an act against conservation to reject a platform that would address the environmental needs of the global community while improving socio-economic needs for local communities.
The best intentioned plans to produce sustainable palm oil will not be realistic without government support. As co-chair of the study, Sir Jonathan Porritt puts it,
These are their laws, people and economies. It has to start there...
To prove this point, there is an on-going situation where Indonesian palm oil giants including Golden Agri Resouces, Wilmar and Musim Mas formed the Indonesian Palm Oil Pledge (IPOP) with a focus on producing zero deforestation palm oil. This has been opposed by the governments of Indonesia and Malaysia who see it as a threat to sovereignty over the industry.
I grew up in Sarawak which is part of Malaysian Borneo and have seen the worst that industry (uncontrolled legal and illegal logging in this case) can do to forests. Most of the arable areas happen to be peat lands which is a curse for the state if we look at peat lands through green standards for sustainable palm oil.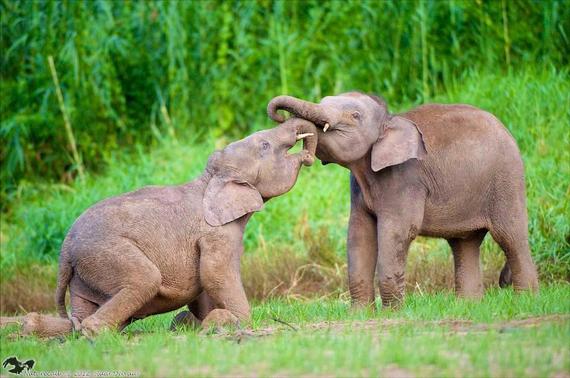 The Malaysian state of Sabah however, provides a good sample of how the HCS+ platform could work to deliver global benefits. Its land mass is the smallest compared to Sarawak or Indonesian Borneo. Yet it's one of the biggest producers of crude palm oil, supplying 12 percent of global output while maintaining some of the lushest tropical rainforests found on Borneo. Fragmented wildlife habitats remain a threat to the long term survival of species like the pygmy elephants but its recent commitment to the HCS+ methology will undoubtedly mean a more secure future for wildlife. Imagine if conservationists sat down with governments to plan out entire landscapes, especially in countries where millions of hectares of palm oil plantations are being developed.
It's critical to get these landscapes established. The EU which is the largest market for palm oil outside of Asia announced its commitment to 100 percent sustainable palm oil in The Amsterdam Declaration on Sustainable Palm Oil. But what should a global standard for sustainable palm oil look like?
I had a chat with Sir Jonathan Porritt on the HCS+ study and its potential to deliver a globally acceptable standard for sustainable palm oil.
Q1: I understand that your study was to define HCS areas in the context of sustainable palm oil that would be accepted globally but can we define sustainable palm oil based on a scientific report on HCS areas?

A1: No! The identification of and protection of HCS forest is just one part of the whole sustainable palm oil terrain. We recognised early on that it would not be possible, however, to stick to too narrow a remit, focussing solely on HCS. That means we've gone much wider in our considerations. Indeed, what we're actually advocating is a new business model, with as much attention on the socio-economics of what now needs to happen as on the business of identifying and protecting High Carbon Stock forest. Those socio-economic elements will need as much trialling as the directly relevant HCS recommendations for forest protection.
Q2: I do understand that the preservation of these HCS areas are much needed to fight climate change for the benefit and greater good of the planet and communities far removed from these areas but what of the local communities rights to not only fight poverty but to develop their own communities? Can we deny these local communities and developing countries whose only claim to arable lands is defined as HCS by environmental groups and scientists who live in comfort far away from these areas and still label what we allow to produce as "sustainable?"
A2: I feel this very strongly. We are not presenting a narrow environmental perspective; this is an integrated approach (with a focus on social justice and economic entitlement as well as on environmental issues). And that means, by definition, that we do not embrace a 'zero deforestation' position: we recognise that the need to protect the world's remaining forests has to be balanced with the rights of states and local communities to make the best use of their resources. It's that reconciliation that we've focussed on all the way through.

But is it really possible to square that circle? For us, carbon neutral oil palm development, with a strict upper threshold of 75 tonnes of carbon per hectare, is the only way.
Q3. Is the preservation of HCS areas in the context of defining sustainable palm oil going to make any difference in fighting climate change? Say for example, the global community succeeds in shutting out palm oil produced on HCS areas that we've defined and these local communities and countries opt out of palm oil and convert those to timber or pineapple plantations. Have we really saved those HCS areas or are we simply content with the fact that palm oil which we may or may not consume, was not grown on those HCS areas? In the case of East Malaysia for example, we have the state of Sabah which is working towards jurisdictional certification of sustainable palm oil and is blessed with mineral soils for cultivation. In the case of Sarawak, which has been cursed with peat lands, do we somehow try and involve Sarawak in producing sustainable palm oil or reject them to continue supplying markets like China or Pakistan?
A3: The answer to this has to be both 'no' and 'yes'. On the one hand, as we all know, the amount of land which is devoted to the oil palm is relatively small -- just 5.5 percent of the 260 million hectares for all edible oils, amounting to 1.3 percent of arable land. And depending on which calculation one goes with, the net contribution of land clearance for oil palm is still relatively small.

However, this year's burning was truly horrendous. Land use policies in Indonesia are, in the opinion of most people, an appalling mess. If those can be sorted out over the course of the next five years, it would make a major contribution to reducing deforestation while simultaneously securing economic opportunities for Indonesia's rural poor. That means palm oil companies need to get behind a new business model, and it means that provincial governments will need to get behind the whole idea of genuinely sustainable land use planning.

This is why we have been particularly encouraged to see the development of various jurisdictional approaches, in Sabah in Malaysia, and in a number of Indonesian provinces.

That combination could be very powerful for the future. But it starts from the assumption that palm oil is going to be a continuingly important part not just of the economies of Indonesia and Malaysia, but of other countries, in Africa, South America and so on.
Q4. The main player in sustainable palm oil, the RSPO, has lamented the absence of India and China in demanding sustainable palm oil. Do we continue to work on sustainable palm oil as a niche product to satisfy the demands of Western environmental groups? Or do we try and define sustainable palm oil as a product that not only provides an affordable cooking oil but also provides jobs in poor and developing countries?
A4: We are in strong agreement with the line taken by the Roundtable on Sustainable Palm Oil here. And indeed the targets that have now been set for Europe, China and India.

In my opinion, this is where Western NGOs are in some danger of getting things completely out of perspective. There just seems to be a continuingly intensive focus on the big palm oil companies, which means that not enough consideration is being paid to the role of smaller, unlisted companies, that are causing a lot more damage. Little attention is being paid to the situation in China and India.

In Indonesia (and, to a lesser extent, in Malaysia) the needs of smallholders need far greater attention -- with a focus on how to make it possible for smallholders to prosper whilst minimizing levels of deforestation.

And finally, there's the whole question about what I'd call 'institutionalised hypocrisy' on the part of some of those consumer goods companies that make a big song and dance about sustainable palm oil, but then refuse to pay any kind of premium for the oil that is on the market. Of the 20 percent of total traded volume that is sustainable, only half of that is actually purchased by those companies.

For us, it's very clear that palm oil (produced sustainably) can and should play a significant role in meeting rising global demand for vegetable oils, and can and should play a significant role in helping address rural poverty in Southeast Asia and in West and Central Africa.

Only by accepting those propositions is it possible to find the right policies to protect forests, reduce emissions of greenhouse gases and optimize the process of producing more oil through the adoption of the highest possible environmental and social standards.