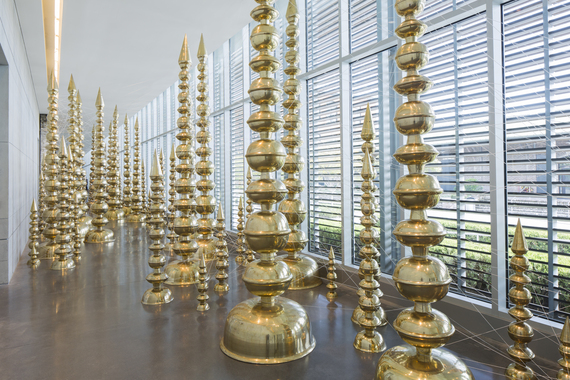 Subodh Gupta, Terminal, 2010, Brass and thread, Dimensions variable. From "Guests, Strangers and Interlopers," SCAD Museum of Art | POETTER, Curator: Storm Janse van Rensburg. Courtesy of the artist and Hauser & Wirth, Zurich, Switzerland and New York.
The Savannah College of Art and Design (SCAD) has developed an enviable reputation for its expansive curriculum on their campuses around the world, from Hong Kong to Atlanta, and they are known for producing successful graduates who took full advantage of the variety of facilities and the distinguished faculty that inhabits the college's studios and classrooms. One of the great advantages of the Savannah campus to students is daily access to the SCAD Museum of Art, which is artfully housed in a former railroad station and surely is amongst the most beautiful and spacious museums in the country that are connected to a college of art. Paula Wallace, president and founder of Savannah College of Art and Design, said, "The SCAD Museum of Art, itself a masterpiece of architecture and design, beckons the world's greatest contemporary artists. The museum is a beacon, the world's preeminent university teaching museum, featuring major career retrospectives, national and world premieres, a long list of spectacular site-specific installations, and a schedule of influential artist talks and events. It is a glorious place, full of wonder and magic. And to think, it's only five years old! For years to come, the SCAD Museum of Art will provide sanctuary for visitors to contemplate, converse, and, most importantly, dream. In this exalted space, we educate the mind and lift the heart." To celebrate and document the fifth anniversary of the SCAD Museum of Art, their distinguished curatorial team has assembled a first-class show featuring five separate exhibits; each has its own identity, along with a common denominator of perceptive foresight and invention.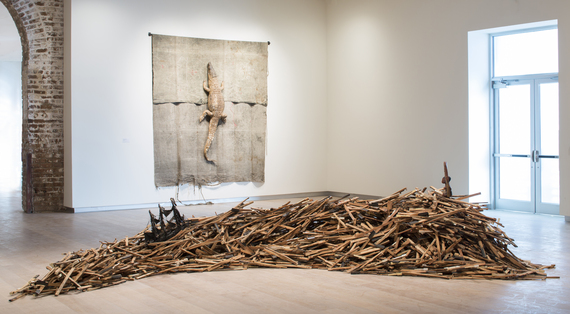 Installation of "Pensive," an exhibition by Radcliffe Bailey at SCAD Museum of Art, Savannah, Georgia. Curator: Alexandra Sachs. Courtesy of SCAD.
Upon entering the first gallery, it's appropriate to be met by Atlanta-based hotshot Radcliffe Bailey's bronze sculpture of a pensive figure seated on the steps of huge, stacked, rough-sawn fir logs. Portraying W.E.B. Du Bois, the figure has a remarkable spirited grandeur, not unlike Rodin's The Thinker, often used as an image to represent philosophy, or Rockefeller Center's cast bronze Charles Atlas, fearlessly holding up our planet, since appropriated as a symbol of the Objectivist movement. Like the contrapposto, dignified stance of a giant bronze depiction of President Lincoln gazing out on the country he helped change, Du Bois was a leader of the black freedom movement by example, and helped solidify civil liberties through his own courageous determination, strength and conviction. It sets the tone of mixing history, personal experiences and reflection for the remaining works in the gallery. One in particular that stands out is a painted and hand-stitched tarpaulin, with symbols, initials (including one of the artist's grandfathers, Alex Cole) and dashes of paint that provide a literal backdrop for a platform displaying a life-size stuffed alligator staking out its aesthetic territory smack dab in the center of the oversized assemblage. Bailey creates dramatic configurations on the floor as well as tabletops, with elongated remnants of piano keys that may be a clever, subtle reference to the Ivory Coast. The adaptive reuse of wooden fragments conjures up imaginary musical notes referring to the work's title, "Sweet Georgia Brown," where the artist pays homage to his love of baseball and his hometown memories of neighbor and baseball legend, Hank Aaron, accented with the permanent stains of Georgia's famed red clay.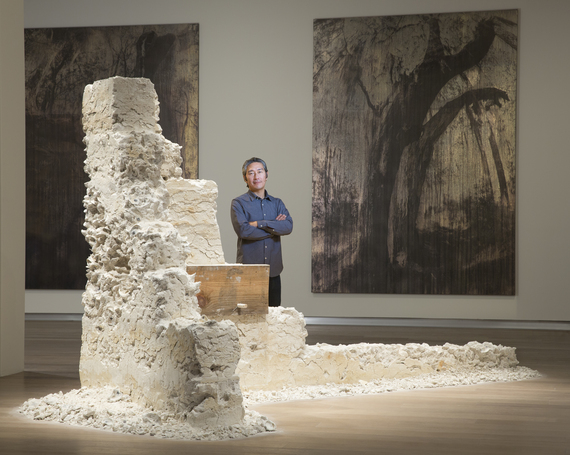 Michael Joo, Portrait, "Barrier Island," an exhibition at SCAD Museum of Art, Savannah, Georgia, Curator: Storm Janse van Rensburg.
Complementing Bailey's thinking man's art is Michael Joo's exhibit titled "Barrier Island," a reference to the nearby skinny landmass that is overwhelmed with history and tragedy. However, it is the jaw-dropping innate handsomeness of his six oversized impressive canvases in a row, printed with silver nitrate and sensitized epoxy in a challenging photographic process that accurately illustrates mature trees struck by the bolt of lightning that ended their long, shady life in a millisecond, that are among the most extraordinary images in his exhibit. The tension between recording the damaging lucky strike on burnt timber and the resulting stark beauty is nearly impossible to comprehend unless you are standing in front of each one.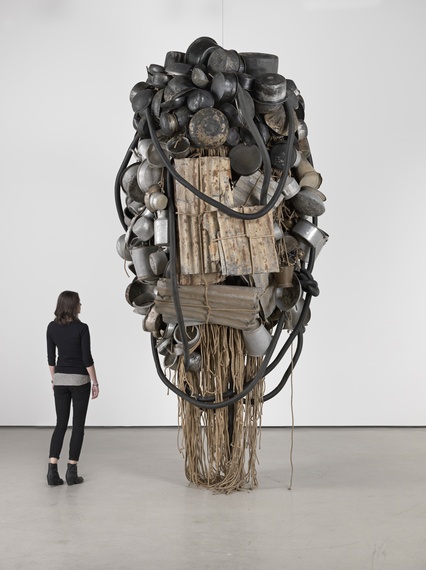 Subodh Gupta, Known Stranger, 2014, Mixed media, 151 x 65 x 71 in. From "Guests, Strangers and Interlopers," SCAD Museum of Art | POETTER, Curator: Storm Janse van Rensburg. Courtesy of the artist and Hauser & Wirth, Zurich, Switzerland and New York.
Subodh Gupta's lofty, golden-plated forest of shiny stacked round shapes is a perfect fit for a long hall space that originally was a freight train loading dock for mostly cotton and tobacco. These welded forms, which recall Brancusi's soaring carved wooden columns or perhaps Gaudí's Barcelona steeples, make for a fascinating, enchanted path, and might border a yellow brick road en route to the Wizard of Oz. Gupta also cooks up a handsome, hanging conglomeration of discarded and amply weathered Indian pots and pans, which are somewhat foreboding next to the large ancient ceramic jugs adorned with protruding, white plaster wraps that take on an alien futurist personality.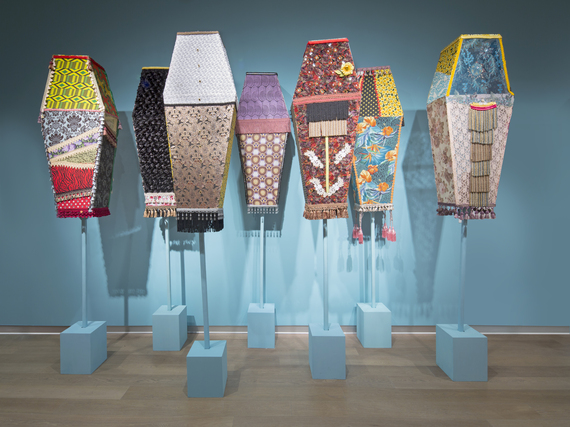 Installation of "If We Must Die...," an exhibition by Ebony G. Patterson at SCAD Museum of Art, Savannah, Georgia. Guest Curator: Melissa Messina. Courtesy of SCAD.
Ebony Patterson's drop dead line-up of decorative casket silhouettes offers a sardonic and contemplative view of life and death. These slightly creepy elongated profiles, whose connotations take on the unfortunate realities of our time, are paradoxically festive, as if they could be paraded in the streets as holiday banners held up by their supportive poles. On the opposite side, there is a collection of sewn handkerchiefs, each with a photo transfer that partially blocks the identity of the presumed deceased. This incredibly colorful checkerboard-like composition could serve as a missing person's poster or a commemoration of an unidentified victim of corruption and revolution.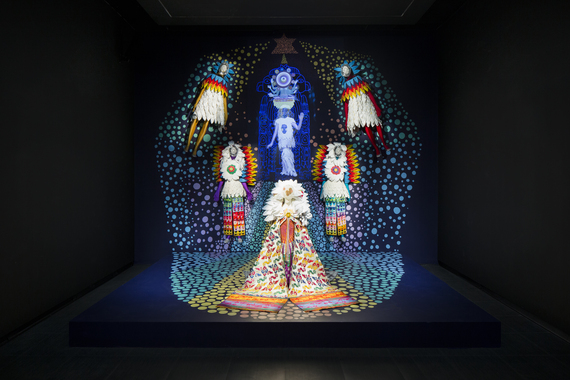 Saya Woolfalk, Chimera, 2013, Mixed media installation with single-channel video, 13 x 18 x 25 ft. From "To Dream the Electric Dream," SCAD Museum of Art, Curator: Aaron Levi Garvey. Courtesy of the artist and Leslie Tonkonow Gallery, New York.
Saya Woolfalk displayed her wares in a dark, mysterious room, where the works took on a curious and unforgettable state of animation. SCAD alumnus Jane Winfield displays handsome, color-based paintings that incorporate geometric forms on large expanses of harmonic, tinted flat backgrounds.
Jose Dávila, Portrait, "Practical Structures," an exhibition at SCAD Museum of Art, Savannah, Georgia, Guest curator: Aaron Levi Garvey.
Jose Dávila produced immense, flat slabs of quarried stone, which seem to balance precariously using rigging lines, and have a similar essence of Donald Judd's early works in their assimilation of an earthy, rusted spirit that also is strikingly elegant.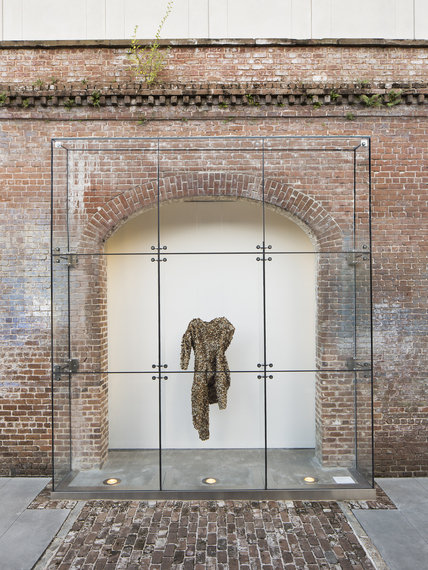 Installation of "El viaje," an exhibition by Andres Bedoya at SCAD Museum of Art, Savannah, Georgia. Curator: Amanda York. Courtesy of SCAD.
Andres Bedoya's hand-constructed figures, framed by the museum's contemporary, beautiful Savannah brick archway and sidewalk location, was a lovely hint on the outside of what one might expect to see in terms of overall quality on the inside, along with an aroma of ancient Rome. The late Bill Cunningham, legendary New York Times photographer, was honored with a delightful retrospective of his early works, which seemed to cover every aspect of stylish Manhattan nightlife. (Due to copyright restrictions, no images of Cunningham's photographs are available)
In recent years, there are only a handful of museums attached at the hip to a university that present this kind of overall quality and distinction. From one room to another, this outstanding fifth anniversary exhibition salutes exceptional vision and ingenuity, and with this level of stewardship and curatorial superiority, expect more of the same to come.
Calling all HuffPost superfans!
Sign up for membership to become a founding member and help shape HuffPost's next chapter