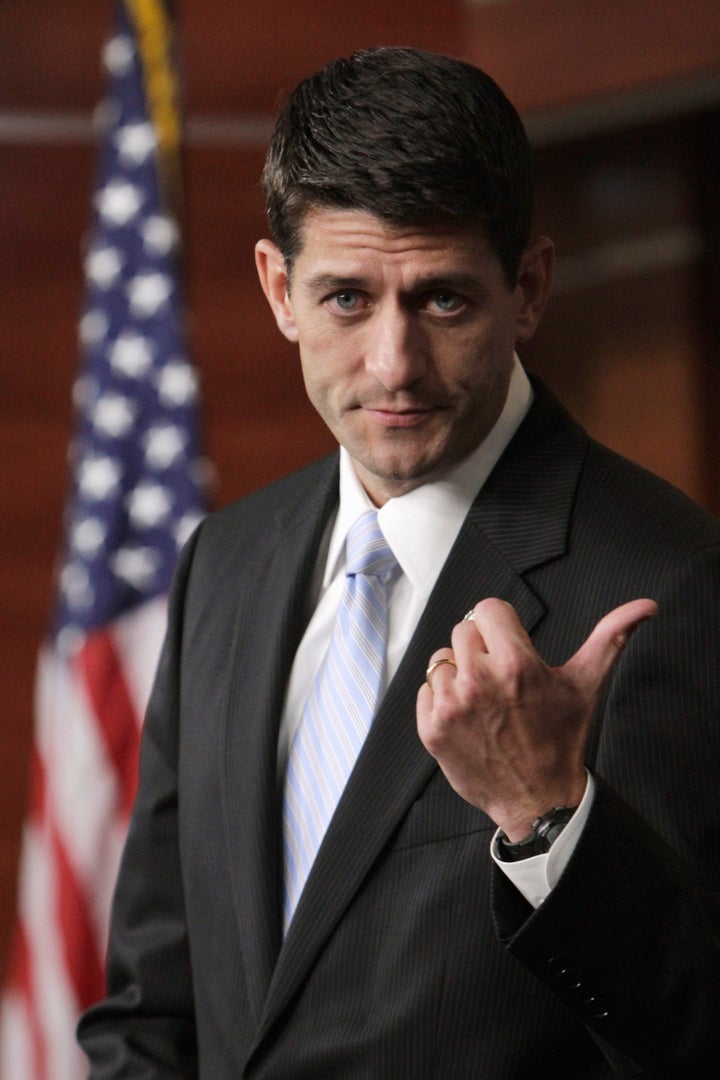 As Gallup showed this week, economic confidence in most states is either low, extraordinarily low, or lower than anyone thought humanly possible. What's an ordinary American to do, in these circumstances? Well, as it turns out, there's this whole tradition of "peaceable assembly" and the right to "petition the Government for a redress of grievances." And one way ordinary Americans can do these things is to go to a town hall meeting to meet with their elected representatives when they are in recess.
These town halls have seemingly gotten more and more popular as economic misery has taken root and grown across the country. It makes sense: they are one way in which average working class stiffs can penetrate the Beltway bubble and ask their lawmakers to respond to questions, listen to grievances, or otherwise attempt to hold them to account, because what are they going to do about it?
It will cost $15 to ask Rep. Paul Ryan (R-Wis.) a question in person during the August congressional recess.

The House Budget Committee chairman isn't holding any face-to-face open-to-the-public town hall meetings during the recess, but like several of his colleagues he will speak only for residents willing to open their wallets.

Ryan, who took substantial criticism from his southeast Wisconsin constituents in April after he introduced the Republicans' budget proposal, isn't the only member of congress whose August recess town hall-style meetings are strictly pay-per-view.

Rep. Ben Quayle (R-Ariz.) is scheduled to appear Aug. 23 at a luncheon gathering of the Arizona Republican Lawyers Association. For $35, attendees can question Quayle and enjoy a catered lunch at the Phoenix office of the Snell & Wilmer law firm.

And Rep. Chip Cravaack (R-Minn.) took heat in Duluth this weekend for holding private events in his district's population and media center -- including a $10-per-head meeting hosted next week by the local chapter of the National Federation of Independent Businesses, which on its invitation notes that the organization "supported Chip in his stunning upset over long time Congressman Jim Oberstar in the 2010 election."
Where is all this money going? In the case of that Paul Ryan meeting, Politico's Reid Epstein reports that it's going toward a "catered lunch of meat and potatoes" provided by the hosts -- the Whitnall Park Rotary Club. I suppose that in the latter examples, the money is collected by the organizations that are mentioned. A Ryan spokesperson says, of the catering, "It's not something our office can control." (A suggestion: They could just not serve food?)
What's the essential point of charging the citizenry for the privilege of meeting with their elected representatives? Epstein explains:
By outsourcing the events to third parties that charge an entry fee to raise money, members of Congress can eliminate most of the riffraff while still -- in some cases -- allowing reporters and TV cameras for a positive local news story.
I mean, someone has to pay for all those positive news stories, right?
Anyway, I suppose if you are fighting off a foreclosure or trying to stretch every dollar to ensure your kids get fed tonight, you'd better think very carefully about your household budget before you decide to ask Paul Ryan a question about the economy. [H/T: 1115.org]
Calling all HuffPost superfans!
Sign up for membership to become a founding member and help shape HuffPost's next chapter