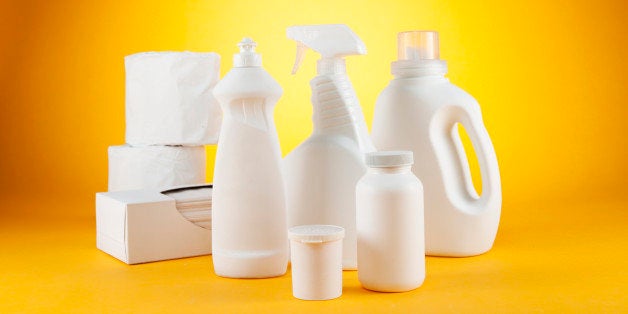 WASHINGTON –- A group of consumer product companies have formed a coalition to push for chemical safety reform legislation. The coalition includes Seventh Generation, Annie's, and Stonyfield Farm -- big suppliers of organic and "green" products.
Seventh Generation, a Vermont-based purveyor of soap, paper, and other personal care products, formed the coalition with the American Sustainable Business Council, a green industry advocacy group.
The coalition is advocating reforms to the Toxic Chemical Safety Act, the 1976 law regulating toxic chemicals. A bill reforming the 37-year-old law has been proposed in the Senate, but there has been little public activity on it in months. Critics say the law is outdated and was never tough enough in the first place, allowing tens of thousands of chemicals on the market without requiring companies to prove they're safe.
John Replogle, president and CEO of Seventh Generation, said the coalition aims to separate pro-reform businesses from trade groups and manufacturers that have traditionally fought changes to the law.
"The goal of the coalition is to finally be a voice -- to be a loud voice -- of business for change," Replogle told The Huffington Post. "I think voices for the status quo are loud and clear. They're well-funded, well-organized, and they've dominated the conversation. Hence, no reform for the last 37 years.
"We've been complacent," Replogle continued. "It's time for us to take responsibility and move the agenda forward. We plan to have a much louder voice and a more present advocacy in Washington."
David Levine, CEO of the American Sustainable Business Council, said trade groups like the American Chemistry Council that have fought reforms have been the biggest business voices in the conversation. (But even the American Chemistry Council says the law needs to be reformed -- it just disagrees on the changes.)
"Here are a set of companies that have been pioneering safer products, safer chemicals for decades," said Levine. "They prove that greater transparency, greater accountability are actually quite good for business."
As companies and business leaders we're asking Congress to pass comprehensive and effective chemical safety reform legislation now. Chemical policy reform must protect the most vulnerable among us, and require public access to information regarding the safety of chemicals. Reform must respect the rights of states to protect their residents when the federal government fails to do so, and require the Environmental Protection Agency to take fast action on the most harmful chemicals. Right now the Chemical Safety Improvement Act does NOT meet these criteria. Guided by good science, legislation can drive business innovation and success, and protect public health.
Levine said he thinks the public is largely on the side of reform. "Consumers are looking for safer, healthier products," said Levine. "Who in their right mind would walk in to a supermarket and say, 'I want the hazardous products. I want my children to play with toxic products?'"
Andy Igrejas, director of the environmental group Safer Chemicals, Healthy Families, welcomed the coalition. "Policymakers are getting a distorted view of what is actually the much more diverse, broad, interested, creative, and flexible thinking that is happening in industry generally," he said.
REAL LIFE. REAL NEWS. REAL VOICES.
Help us tell more of the stories that matter from voices that too often remain unheard.
BEFORE YOU GO
PHOTO GALLERY
EWG's List Of Cleaners Hall Of Shame