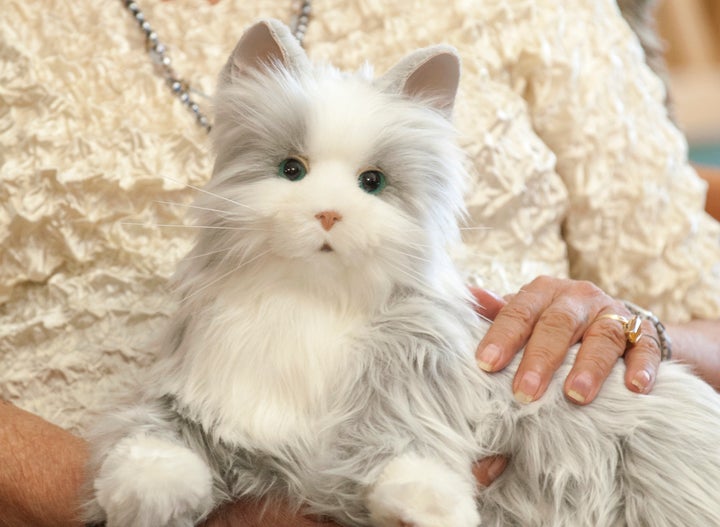 Toy manufacturer
Hasbro
is marketing a lifelike robotic cat for seniors who may be unable to care for real fur-babies. The
Joy For All Companion Pe
t cats look, feel and meow like real cats. They respond to petting, hugging and motion much like real kitties. "This two-way give-and-take helps create a personally rich experience that can bring fun, joy and friendship to you and your loved ones ages 5 to 105," says the Hasbro website.
The robotic cats have built-in sensors that respond to motion and touch. Their motions are cat-like and the "Vibrapurr" features sound and feel like real purring, which can be very soothing to humans. If you pet the robotic cat's left cheek, it nuzzles its head into your hand. And if you pet it long enough, it will roll over on its back for a tummy rub. Keep petting and it will curl up and go to sleep. Can we please have an "awwwwww?"
Cats come with batteries already installed and the care manual reminds older owners to not let the kitty sleep on the floor where it could be tripped over. And like most cats,
this robotic version
doesn't appreciate baths either. The Companion Pet retails for $99.
Hasbro's Joy For All product line supports Meals on Wheels America's efforts to reduce senior isolation and hunger.
Robot pets as an antidote for loneliness might just be an idea that's catching on.
Something similar debuted
in Aziz Ansari's
Master of None
in the form of
PARO the seal
, a robotic seal intended to provide companionship to seniors. In episode eight of the show, Rachel's grandmother complains about PARO and some of the other attempts made by her nursing home to keep residents company.
In real life, PARO's use has had immensely positive effects similar to the effects of a real therapy animal and, according to its website, was certified by Guinness World Records as the "World's Most Therapeutic Robot." We'll let the seal and the cat duke it out.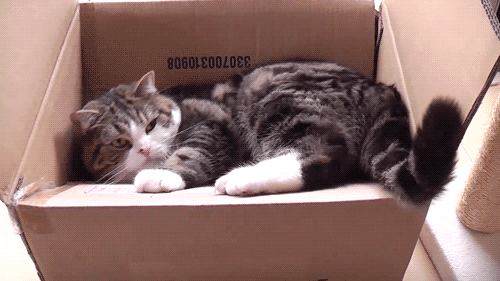 15 GIFs Of Cats In Boxes
Related
Popular in the Community