Creativity is essential to kids' development, and while we love when our refrigerators are covered in simple drawings and paintings, some craft kits allow kids to create something totally unique while also teaching them a thing or two about math, reading, problem solving and more.
At the 113th North American International Toy Fair in New York City, I got hands-on experience with some of the coolest new arts and craft sets that will keep kids busy for hours while teaching them some important basics. Here are some of my favorites:
Once Upon a Craft (pictured below) is a new line from Educational Insights that fuses classic stories with creative play. The line features eight different kits, each of which includes a storybook that parents and kids can read together, and two craft activities that bring the story to life. In the Frog Prince set, kids can create a royal crown with foam stickers and plastic jewels, or stained glass pieces that they can color in. Designed for kids ages 4 to 6, these sets not only help kids enhance their reading skills, but they also assist with fine motor skill development.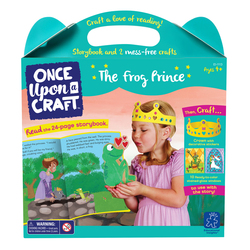 STEM skills aren't just learned in a lab--kids can learn the basics right at home with new Geek & Co. kits from Thames and Kosmos. Hot Ice Crystals (pictured below) is a new set that lets kids form amazing crystals out of a sodium acetate solution. They look like ice but they release heat upon formation. The base lets kids drip the solution to build up and out, or they can make a polar bear and a seal using the included molds. Plus, they'll learn all about chemical reactions without feeling like they are playing with a science kit-it just looks cool!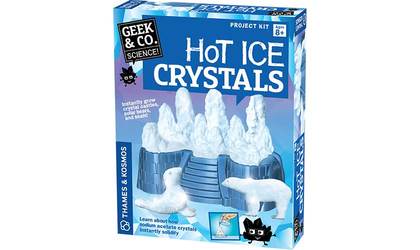 Gardening sets are great for teaching kids about biology, but it can take some time for flowers to bloom, and there's no fun in waiting. But with PlayMonster's new My Fairy Garden (pictured below), kids get to grow a garden AND play with an adorable play set complete with a fairy figure. Everything in the play set is designed to ensure kids grow some great looking plants, like ensuring the water is easily distributed throughout all of the soil. Kids can deck out their fairy's home and enjoy some role-play fun while they wait for their seeds to turn into beautiful fairy-tastic flowers.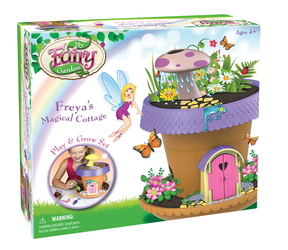 Kids can hold entire conversations in Emojis, and now Crayola is bringing kids' favorite new language to playtime with the Crayola Emoji Maker (pictured below). Kids ages 6 and up can experiment with Crayola colors to make 16 customized emoji stampers. Plus, they can use the included design labels to create custom color names and decorate the barrels however they like. Thanks to the color-mixing guide, kids will learn all about primary and secondary colors while they play with this totally on-trend new activity.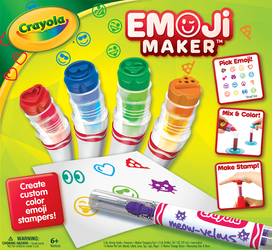 Spirograph has been around for more than 50 years, but this year kids can create never-before-seen designs with Spirograph Shapes (pictured below) from Kahootz Toys. Spirograph kits traditionally include circular wheels, but now kids can create with a tear-drop, a heart, a star and other fun wheels. Kids can create completely unique designs, while learning all about patterns, angles and developing dexterity.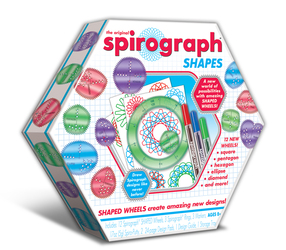 Creativity itself teaches kids how to think outside the box, but all of these new activity toys will help develop additional important skills and concepts outside of the classroom. Remember, no matter how kids play, they are always learning--even when they don't know it!
Laurie Schacht also known as The Toy Insider Mom, has been covering the toy industry for more than 20 years. The Toy Insider produces an annual holiday gift guide in Woman's Day magazine, and also serves as a trusted resource for parents all year round at TheToyInsider.com and through social media.