Second Amendment enthusiasts wielding water pistols and Pop-Tarts will march on Washington on Wednesday.
Their demonstration begins at the Arlington Memorial Bridge at 9 a.m., wends through the National Mall, then -- after delivering toys and money to a Toys for Tots representative, and refilling the water guns -- advances into what is described on the event Facebook page as a "braveheart style gun battle" at the Washington Monument. This battle is to be followed with face painting, kickball and other activities not usually associated with a Second Amendment rally.
Check out photos from the event -- story continues below...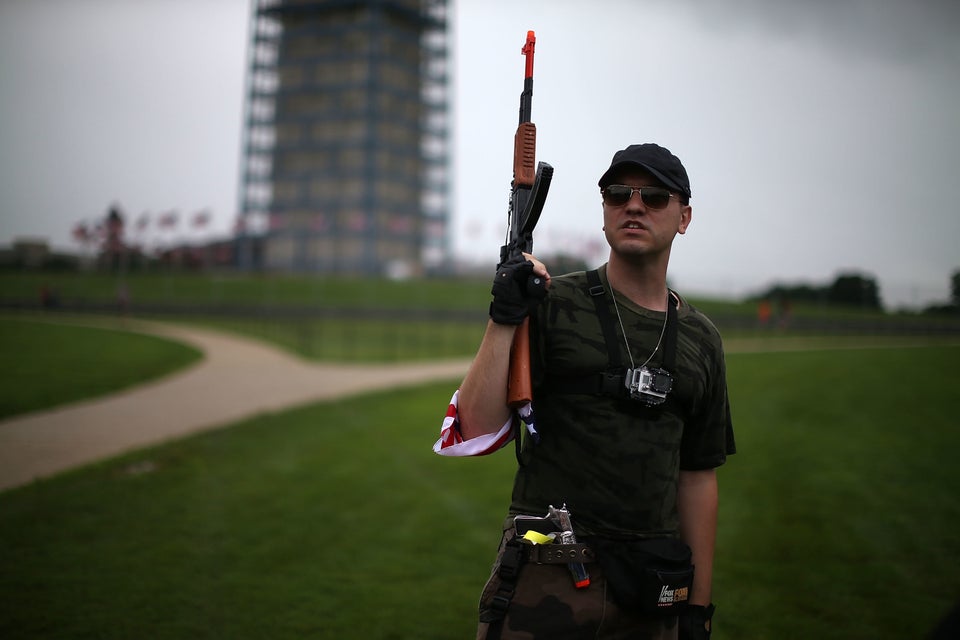 Toy Gun March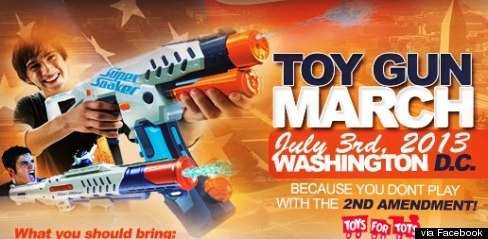 Here's how this unusual event -- the straightforwardly named Toy Gun March -- is explained on its Facebook page:
The Toy Gun March is a gathering of liberty loving people and their families to promote responsible gun ownership, private charity and to bring public perception of gun owners into a better light.

In order to best communicate the importance of 2nd Amendment rights to the citizens of the District of Columbia, Freedom Fighters around the globe will descend on Washington D.C. armed with toy guns on July 3rd, 2013.

Activists are encouraged to bring fake pistols with orange tips, water guns, nerf guns, anything peaceful to make a statement about our 2nd amendment rights. Due to the fact that it is currently illegal to carry a loaded firearm into the District of Columbia, we liberty lovers have decided to tweak the nose of big government and show Obama what a clown he is for trying to restrict our natural rights. Join us as we march on DC fully armed with toy guns!

We're locked and loaded for a great event on July 3rd at 9AM. Participants for the march will be expected to adhere to certain structural guidelines in order to provide for our safety and security during the event. If you have any questions about any of the items below, please feel free to ask. We want everyone involved to have a safe and fun event.
"We're trying to make the point that it's ridiculous for little kids to be getting in trouble for playing with toy guns and being suspended for things like biting a Pop-Tart into the shape of a gun," march organizer Austin Petersen told The Huffington Post, referring to the well-documented case of a Maryland 8-year-old's pastry misadventures. "We're also trying to send the message that gun owners are responsible and we believe in private charity."
As to that last point, Petersen said the event has raised more than $1,200 for Toys for Tots, in addition to "truckloads of toys" that supporters are donating to that group -- which, incidentally, does not accept donations of toy weapons.
"I hope events like this start to change public perception so maybe they will take them," said Petersen. He said part of his goal with the march is to show that "libertarians aren't all crazy gun nuts" who don't care about kids.
Petersen said he is "not worried" about things going awry between law enforcement and water gun demonstrators.
"If there is any overreaction to a bunch of kids with squirt guns and toy guns," he said, "it would be very bad for the authorities and further illustrate our point."
Petersen said he also hopes the event provides no fresh fodder for gun-control advocates.
"Participants are strongly urged NOT to point guns at officers or squirt them," he wrote on the event Facebook page. "It is possible that a lot of anti-gun social democrats are looking for any opportunity to paint us in a bad light. You can squirt me all you want, but please be respectful of the park police who are going out of their way to provide us with adequate security."
Here's more that was posted to Twitter:
Before You Go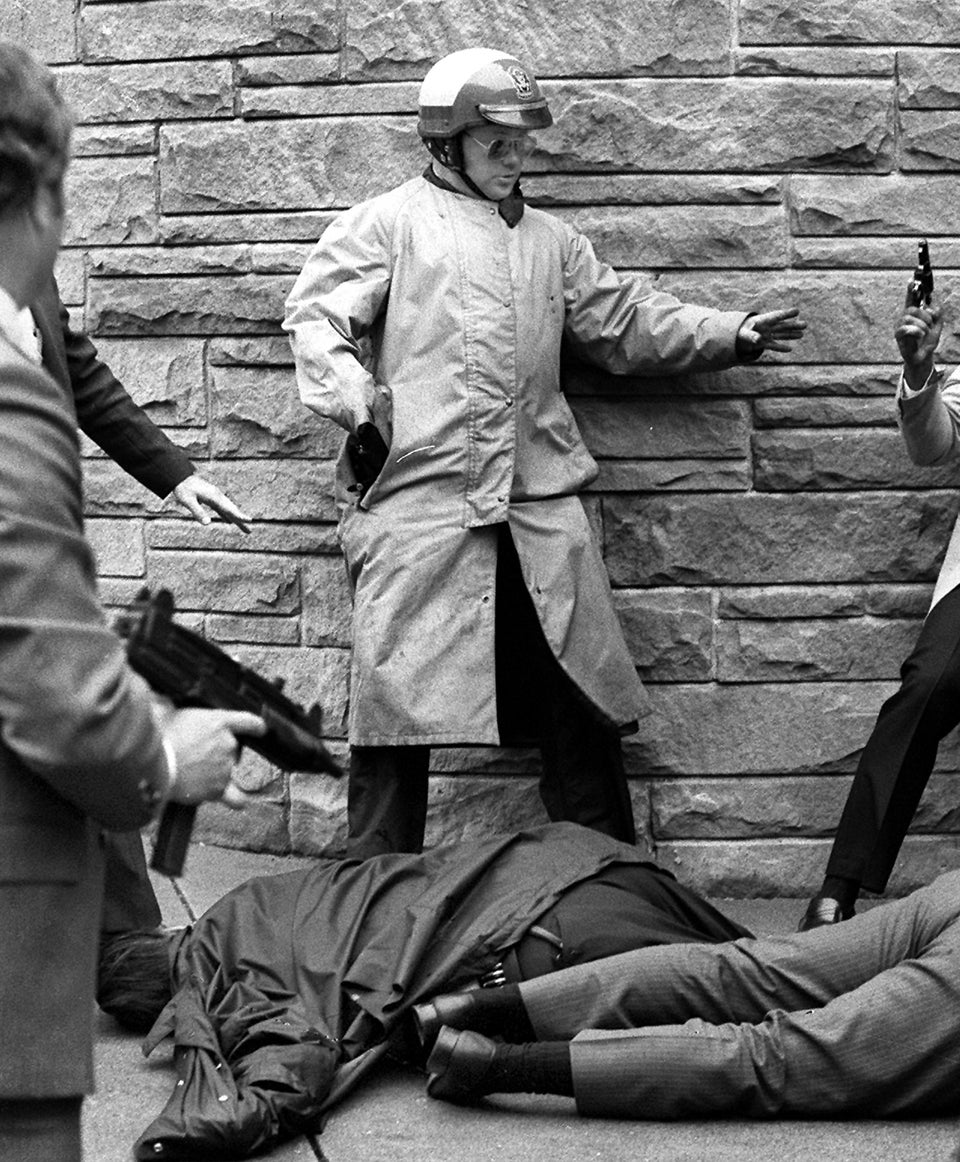 Pivotal Moments In The Federal Gun Control Debate
Popular in the Community