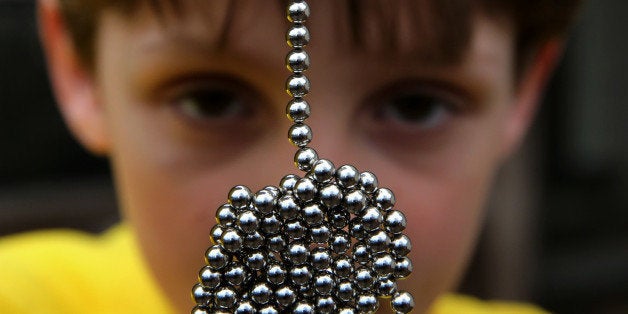 WASHINGTON -- The Consumer Product Safety Commission argues that small, powerfully magnetic balls contained in some toys pose "an unreasonable risk of injury" to children and teens and should be taken off the market in their current form. If ingested, the balls can cause serious internal trauma, doctors will testify before the commission in a public hearing Tuesday morning.
These so-called rare-earth magnets -- much stronger than regular magnets -- are included in a variety of desk toys designed for adults, but they attract children's attention. The Consumer Product Safety Commission staff estimates that between 2009 and 2011, at least 1,700 children were taken to the emergency room after ingesting the magnets, with many requiring surgery. If more than one magnet is swallowed, the balls can pull together inside the child's digestive system, resulting in intestinal wounds that the agency has described as like "a gun shot wound to the gut with no sign of entry or exit."
"They're relatively innocuous-looking products, but they can cause a lot of damage to kids' intestines if swallowed," said Dr. Bryan Rudolph, an assistant professor of pediatric gastroenterology at the Children's Hospital at Montefiore, part of the Albert Einstein College of Medicine in New York City.
Rudolph is one of five doctors set to testify at the Tuesday hearing. He said he has seen only one child in his practice who swallowed the balls -- a 19-month-old who ingested six -- but has found hundreds of other examples from colleagues across the country. A survey he worked on found that 201 pediatric gastroenterologists from 44 states reported 320 separate cases in just the last three years.
If swallowed, the balls can pull the intestines into loops, punch holes in the intestines, and cause abscesses and infections in internal organs, Rudolph said. Incidents reported to the Consumer Product Safety Commission include a 23-month-old who swallowed eight such magnets from a magnetic puzzle and ended up having a large part of his small intestine removed.
And it's not just toddlers, Rudolph said. Doctors are also seeing cases of older children, including teenagers, who have ingested the balls after putting them between their lips, on their tongues and in their noses to mimic facial piercings. That particular problem prompted the safety commission to post a "Magnet Talk" video specifically aimed at teens.
The commission received its first consumer incident report about the rare-earth magnets in February 2010 and posted a warning about the risks in November 2011. In August 2012, the commission's staff issued draft rules that would limit the strength of magnets sold in sets or require them to be too large for children to swallow.
The Consumer Product Safety Commission notes that 10 of the 13 companies that made magnets identified by the agency as dangerous have agreed to a voluntary recall, and a number of retailers have agreed to stop selling them. But three of the magnet-makers haven't, and last year the agency filed a lawsuit to try to force them to recall their products.
One of those companies is Maxfield and Oberton Holdings LLC, the maker of Buckyballs, which consists of dozens of the round magnets that can be twisted into different shapes. The company and its founder, Craig Zucker, have become somewhat of a cause célèbre among conservative bloggers and libertarians for standing up to the "government nannies" that want the magnets off the market.
Zucker argues that his products are already labeled for adults, not kids. He announced last November that Buckyballs would no longer be made, blaming "baseless and relentless legal badgering" on the part of the Consumer Product Safety Commission. But he said earlier this month that he is now selling a new magnet product he's named Liberty Balls in order to raise money for his legal defense fund. Ironically, the Liberty Balls would meet the commission's new proposed standards because they're too big for kids to swallow.
But even with warning labels that the products are intended for adults and advisories from the government, people are still reporting unsafe incidents. Parenting blogger Amy Wilson wrote last year about her 6-year-old getting a Buckyball stuck in his ear canal. Another student in his first-grade class had brought them to school. "I had never heard they were dangerous," Wilson told The Huffington Post. "I never heard of it until it was already in my kid's ear." Another mother tweeted last week that her 8-year-old had to have several magnetic balls surgically removed after swallowing them.
The Consumer Product Safety Commission is scheduled to hear from the five doctors, two consumer safety advocates and a maker of magnetic balls on Tuesday as the agency considers whether to finalize the proposed rules, but all signs point to the commission moving to restrict this type of small, powerful magnet.
"They are getting in the hands of children. That's the reality of the marketplace," commission spokesman Scott Wolfson told HuffPost. "CPSC staff is not acting in haste. We have evidence that parents have bought these types of products for children, and that children are attracted to these products and are getting their hands on them."

Before You Go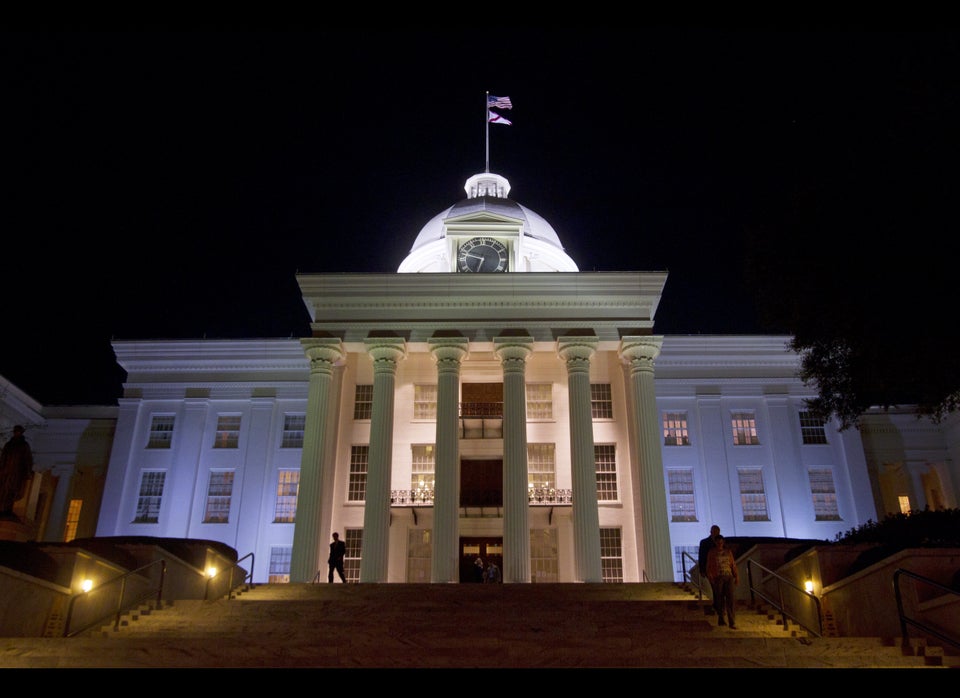 U.S. State Capitol Buildings
Popular in the Community