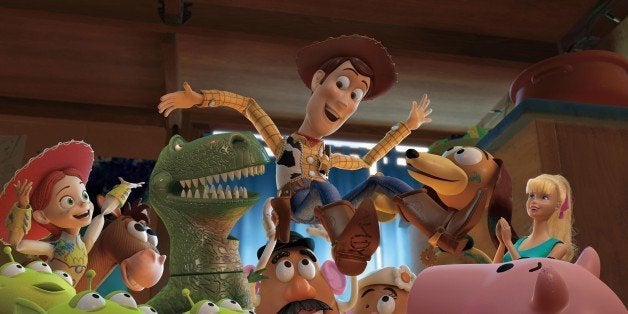 It's back to infinity and beyond for Woody and the gang, who will officially return to the big screen for "Toy Story 4."
Disney CEO Bob Iger announced plans for another sequel on Thursday. John Lasseter, who directed the first two "Toy Story" movies, will hold the reins for the newest entry in Pixar's franchise as well. The movie is set for release on June 16, 2017.
Lasseter, "Finding Nemo" director Andrew Stanton (himself working on a sequel to that film, "Finding Dory") "Up" director Pete Docter and "Toy Story 3" director Lee Unkrich came up with the idea for the new film. The Pixar brain trust also enlisted help from actress Rashida Jones and her writing partner, Will McCormack, following the success of their 2012 romantic comedy, "Celeste and Jesse Forever." (Lasseter told the Los Angeles Times he wanted the film to have a "strong female voice.")
"We love these characters so much; they are like family to us," Lasseter said in a statement. "We don't want to do anything with them unless it lives up to or surpasses what's gone before. 'Toy Story 3' ended Woody and Buzz's story with Andy so perfectly that for a long time, we never even talked about doing another 'Toy Story' movie. But when Andrew, Pete, Lee and I came up with this new idea, I just could not stop thinking about it. It was so exciting to me, I knew we had to make this movie -- and I wanted to direct it myself."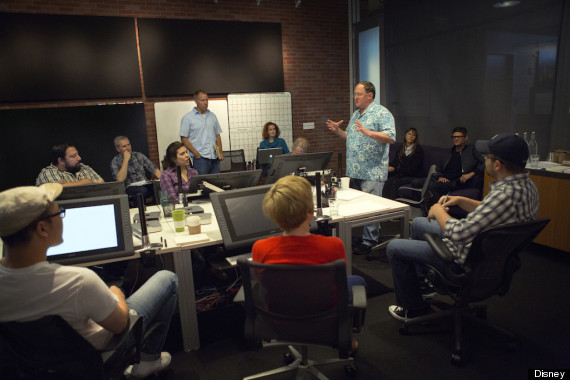 Director John Lasseter works with members of his story team on Disney/Pixar's "Toy Story 4." (Photo by Deborah Coleman / Pixar)
Though this makes "Toy Story 4" an official project, it's not the first time the film has been discussed since "Toy Story 3" raked in more than $1 billion at the global box office. TheWrap reported in 2010 that Tim Allen, who voices Buzz Lightyear, had committed to a fourth movie regardless of whether it actually came to fruition. Tom Hanks also expressed interest in reprising his role as Woody, and one year later he told the BBC that Disney was in the process of "work[ing] on" the movie. But Disney continued to curb the speculation, denying Hanks' claims and in 2013 refuting more rumors that the movie had entered development. At that time, BuzzFeed even published a piece headlined 4 Reasons Why The "Toy Story 4" Rumor Is Just Silly.
The franchise has earned nearly $2 billion at the worldwide box office since debuting in 1995. Along the way, Pixar has extended its shelf life by airing "Toy Story of Terror" Halloween specials on ABC. The first one, in 2013, beat "Survivor" and "Criminal Minds" in the overnight Nielsen ratings.
Arriving on the same afternoon that we learned "Star Wars: Episode VII" will be titled "The Force Awakens" (both Pixar and Lucasfilm are owned by Disney), it's been a big five hours for popular film franchises. Twitter took to the news in typical Twitter fashion.
Did we do the "Toy Story: The Force Awakens" joke yet? Feel like someone should have.

— Christopher Rosen (@chrisjrosen) November 6, 2014
A past-his-time idealist and a man in a suit of armor face off in Disney/Pixar/Marvel/Lucasfilm's TOY STORY STAR AVENGER WARS

— Dave Itzkoff (@ditzkoff) November 6, 2014
"Toy Story 4 to Raise Even Stupider Questions on Pixar Theory Reddit Threads"

— Matt Patches (@misterpatches) November 6, 2014
CORRECTION: A previous version of this piece listed 1997 as the original release year for "Toy Story."
Before You Go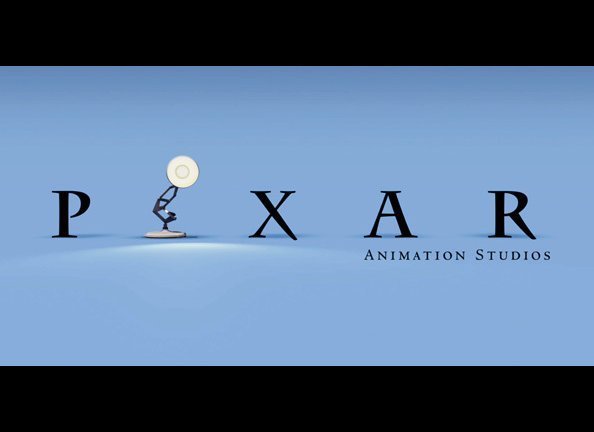 Ranking Pixar Characters
Popular in the Community