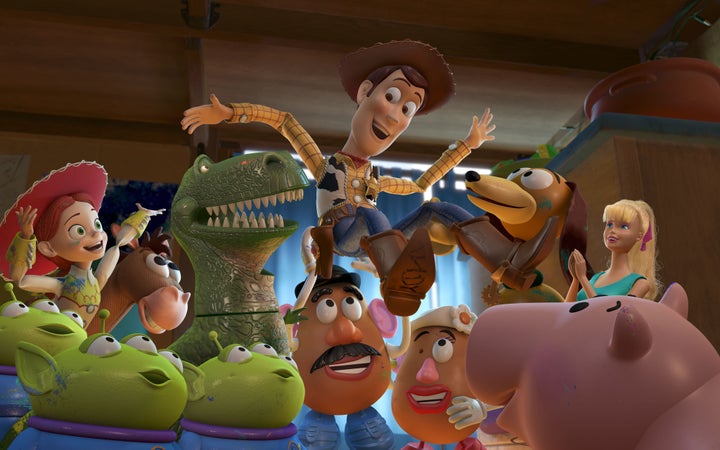 UPDATE: HuffPost has received a plot synopsis, provided by HuffPost blogger Jim Hill, who acted the moderator of the panel that announced the film.
In short, Bonnie, the girl to whom Andy gave his toys at the end of "Toy Story 3," leaves Buzz Lightyear at a fast food restaurant, taking instead a kids' meal toy version of Buzz. He must find his way back home; in the process, he stumbles upon a support group for lost kids' meal toys, led by a mermaid warrior who is voiced by Jane Lynch.
_____
PREVIOUS: Whether or not there's another full length "Toy Story" feature film in the works -- and at least some signs point to the affirmative -- fans of Woody, Buzz and the gang will at least get a taste of some outsized miniature action this Thanksgiving.
As Disney wows its superfans with the new products, theme park previews and film previews at their annual D23 event in California, the company's Pixar division announced that there will be a new "Toy Story Toon" -- or, cartoon short -- attached to the highly anticipated new Muppet film, due out November 23rd.
Titled "Small Fry," the mini-pic will be directed by Angus MacLane. It comes on the heels of the "Toy Story" short titled "Hawaiian Vacation," which featured Barbie and Ken and was attached to this summer's hit, "Cars 2."
The studio premiered a an inventive new short, "La Luna," back in June. "Brave," the Scottish princess warrior tale and first Pixar film featuring a female protagonist, will come out in June of 2012.
Related
Popular in the Community