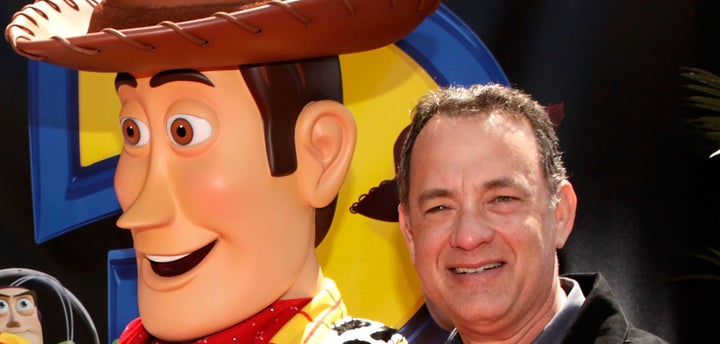 If you've ever had a Woody toy, video game or -- in a few cases -- seen a "Toy Story" movie, you've assumed the voice you heard coming from the cowboy in the yellow-plaid shirt was that of Tom Hanks.
Well, reach for the sky, because there's been a snake in your boot/ears this whole time. This town was big enough for two all along and the dual-sheriffs are actually Tom Hanks and his brother, Jim Hanks.
"No, it's my brother Jim," Tom responded smirking, and then continued on to explain, "There are so many computer games and video things and Jim just works on those all year long."
Clarifying how this initial idea came about, Tom said that it had to do with him being too busy to handle all the extra voice work. He recalled to Norton, being asked rhetorically, "You don't want to do this," to which he appears to still respond, "No, get my brother Jim, he'll do it."
As my co-worker put it, this means "your child's cute little Woody toys are a f**king lie." Another surprised and uncharacteristically outraged co-worker added, "everything is bulls**t."
Jim Hanks is an actor in his own right, with a long list of credits since 1992. One such recent role in 2015 was for a short titled, "The Other Brother," where he plays the sibling of a famous Hollywood producer. His character's job in the short is to give tram tours around Universal Studios, showing off the more well-known brother's success.
Over a dozen credits are from his work voicing Woody in "Toy Story" properties. Many of these are for video games, but you've most likely heard his work in the popular doll versions of Woody (which Norton showed) or if you're of a certain generation, perhaps in the 2000 movie, "Buzz Lightyear of Star Command: The Adventure Begins."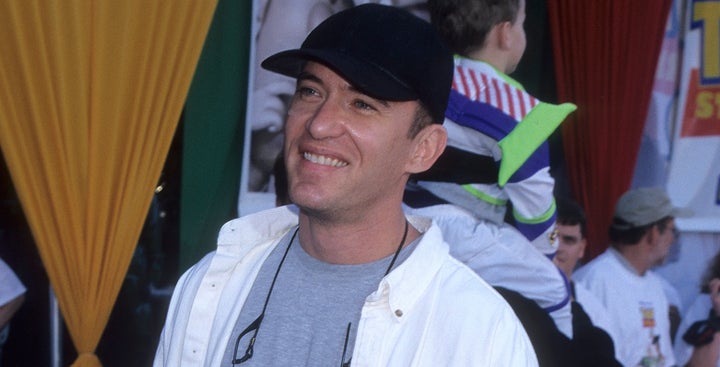 Jim can manipulate his voice to sound almost exactly like his brother's, which is part of the reason why you've never noticed the difference. The other part, of course, being that you didn't expect a beloved actor and Pixar's first franchise to betray you.
In the video below, Jim shows off his relative talent, while also admitting what scares him about the level of fame that follows his brother.
The Huffington Post reached out to Jim Hanks' representation, along with multiple producers from his early "Toy Story" roles, but nobody wished to comment on the story.
With no further answers to console your shaken memories, it's time to find your old Woody toy, pull its string and somehow accept that it has actually been pulling your string this whole time.
"You're my favorite deputy," Jim Hanks tells you in Tom Hanks' voice as Woody.
You should have always known you were second string.
PHOTO GALLERY
Disney Easter Eggs
For a constant stream of entertainment news and discussion, follow HuffPost Entertainment on Viber.
Calling all HuffPost superfans!
Sign up for membership to become a founding member and help shape HuffPost's next chapter