She knew her designs were correct. But the engineers kept sending them back with scribbles all over them. They didn't see the genius in those designs. They didn't see the innovation that could change the lives of hundreds of thousands of Americans for the better.
Maria was fed up. But she didn't give up.
Maria's daughter, Erin, has Down syndrome. Like nearly 87 percent of children with Down syndrome, Erin needed glasses by the time she was in preschool. But there was a problem: Erin's glasses kept slipping off of her nose. People with Down syndrome have lower nasal bridges than the rest of the population, so traditional eyeglasses usually don't fit right. This can have a negative effect on children's learning and motor development. Furthermore, those glasses that could accommodate a lower-bridge nose were usually unattractive, Coke-bottle type specs with a thick elastic strap that wrapped around the back of the head. Not exactly something you'd feel cute wearing.
This problem frustrated Maria. But lucky for Erin, Maria was uniquely qualified to find a solution. Because Maria is an optician.
So Maria sketched out a pair of glasses that she knew would fit snugly on Erin's nose. She sent the sketch to engineers who could create her a prototype. But they sent the sketches back with changes that would make them work for other people's nasal bridges, but not for Erin's. Maria tried to explain to them why this design was different, but they didn't get it.
So she sent the original sketch to other engineers. They sent it back, "corrected."
During this time, Maria and Erin were experiencing a rough patch. Erin had chronic health problems that caused her to miss school and even be hospitalized. During one hospitalization, Maria stayed by Erin's bed for days. Although Erin recovered, Maria's boss fired her for missing work.
Soon after that, Maria landed an interview for another job. Erin's school called in the middle of the interview saying that Maria, a single mother of four, needed to pick Erin up immediately. This happened again at another interview. Needless to say, Maria didn't get the job.
By this time, however, a manufacturer had made a prototype from Maria's sketch. Maria took a handful of these prototypes to a conference for people with Down syndrome. When she left the conference, she had a four-page list of the names of people who wanted to buy the miraculous glasses, and Specs4Us was born.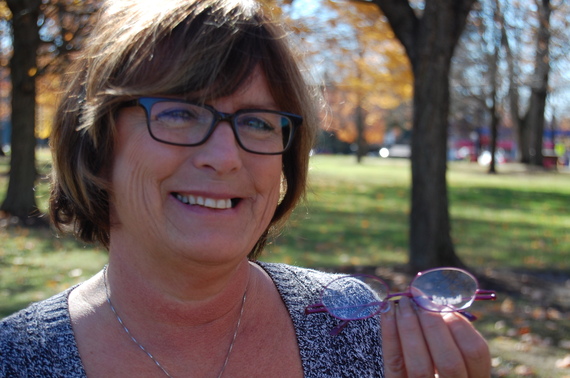 Erin's World is the line of glasses that are made for children and adults with Down syndrome and for other people with unique facial features. They can be twisted this way and that way without breaking. They are lightweight and trendy. Many people with Down syndrome already have to struggle with the stigma associated with their appearance. Thanks to Specs4Us, their glasses don't have to add to that stigma any more.
Maria doesn't yet have research showing the impact a well-fitting, attractive pair of glasses has on her target audience. But it's easy to guess what that research would show if it did exist: improved performance in school, more engagement with peers, increased confidence. And these aren't only wins for the Down syndrome community. We will all benefit when our children, siblings, friends, neighbors, and coworkers see more clearly. They will help us see things more clearly, too.
This post is part of an ongoing series of the many women that Toyota has honored. From Mothers of Invention to Everyday Heroes, these are women who have demonstrated entrepreneurial spirit, and innovative and inspiring concepts to positively impact the lives of others, whether in their own communities or on a global scale.

Calling all HuffPost superfans!
Sign up for membership to become a founding member and help shape HuffPost's next chapter