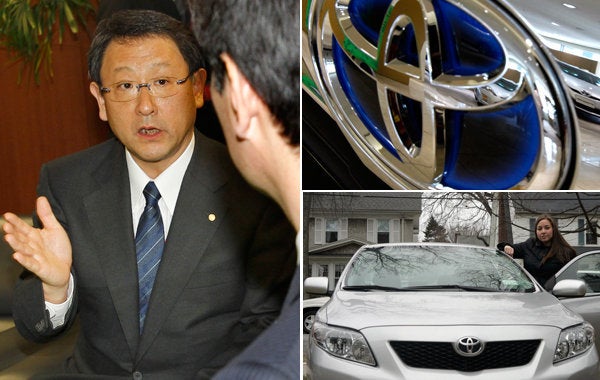 The recall of nearly 8 million Toyota vehicles was years in the making and was complicated by excuses offered to regulators and by delay tactics employed by Toyota, according to several news reports this morning.
Toyota's relationship with industry regulators, as The New York Times puts it, was a "kabuki dance" that even involved an unprecedented trip to Japan by National Highway Traffic Safety Administration Secretary Ray LaHood. Toyota execs were reportedly "dragging things out" and "offering excuses that didn't make any sense."
Worse, the problems with the accelerators in Toyota vehicles were first spotted in 2003. Here's the NYT:
"...internal agency documents and interviews with auto safety experts demonstrate that the safety agency and the auto giant it regulated engaged in a Kabuki dance of sorts in the months and years before tensions coalesced. Drivers would file complaints by the dozens about mysterious accelerations and other hazards, federal regulators would open official reviews, Toyota would promise answers, the regulators would complain about not receiving the information they needed, and in the end, almost nothing would come of any of it.

Six times since 2003 in fact, the safety agency opened inquiries into possible Toyota safety problems, and six times it closed them without any significant action."
At the same time, the Wall Street Journal points out that Toyota's vaunted "culture of secrecy" helped keep regulators in the dark about gas pedal problems. And, it seems that the NHTSA largely relies on automakers to police themselves. Here's the WSJ:
Car makers "are almost self-regulated," said an auto-industry chief executive who has worked with NHTSA. Without makers' help, there's "no way for NHTSA to look into all these issues." To spur cooperation, the agency has the power to force recalls and fine companies for providing misleading information or not providing safety information in a timely fashion.

Toyota for years has been one of the most difficult auto makers for regulators to deal with because it is resistant to being told what to do, said Joan Claybrook, a former NHTSA administrator who later became president of consumer-advocacy group Public Citizen until stepping down last year. But she also blamed the agency's collaborative approach for undermining its role
In 2007, notes the WSJ, the NTHSA wanted to issue a recall of Lexus and Camry vehicles because of concerns over a faulty gas pedal, but Toyota assured the agency that the problems were confined to the floor mats.
Related
Popular in the Community