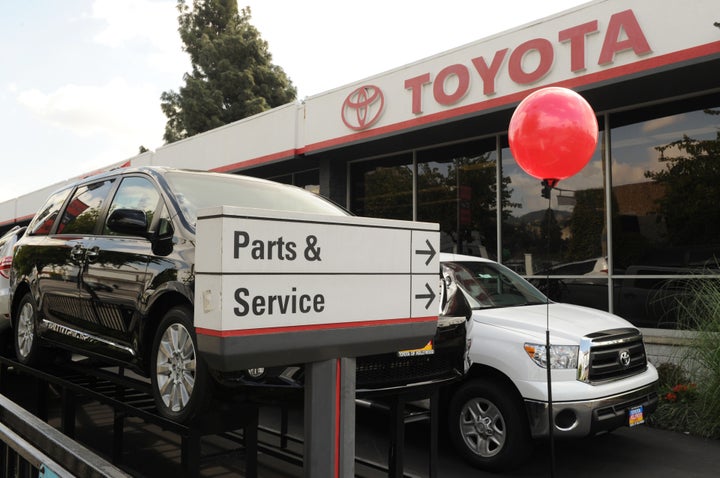 A small recall Toyota is conducting in several U.S. Gulf states might help advance arguments by safety critics who argue Toyota has problems with its electronics systems that could affect driver safety.
The automaker is recalling 363 Toyota 4Runners and Sienna minivans in Texas, Arkansas, Louisiana, Oklahoma and Texas, according to files released on Tuesday by the National Highway Traffic Safety Administration. The company discovered a problem on March 6, after an employee tested a 4Runner. The dashboard showed warning lights, and the speedometer and odometer did not work correctly.
Toyota found that a remote starter, which allows drivers to start a car from several feet away, was interfering with the vehicle's main controller area network. Remote starter interference could cause problems with the antilock brakes, vehicle-stability control, airbags and power steering, according to the carmaker. It could also mess with the keyless entry sytem, temperature display, fuel efficiency gauge and compass, Toyota said.
The automaker will replace the remote starters with ones approved by Toyota.
Although the small five-state recall is not related to the sudden acceleration problems that plagued the company in 2009 and 2010, Toyota has battled allegations that its electronics systems can cause problems like sudden acceleration.
Toyota is facing nearly 200 lawsuits claiming that unintended acceleration caused accidents and deaths in 2009 and 2010. The National Highway Traffic Safety Administration last year cleared Toyota of having vehicles with malfunctioning electronics, but the issue is still being raised in court where Toyota is being sued by crash victims and their families. A report by NASA, which studies electronics interference issues in jets, satellites and space shuttles, showed Toyota cars had several places where sudden acceleration problems could occur. But the National Highway Traffic Safety Administration decided in February 2011 that none of the problems rose to a level of concern and determined Toyota's electronics to be safe.
The problem with the remote starters does not prove Toyota vehicles have an electronics issue because the parts were installed after the vehicles left Toyota's hands. The vehicles are distributed by Gulf States Toyota, a separate company that installed the remote starter before selling the vehicles to customers. Audiovox made the remote starters.
Audiovox spokesman Glenn Wiener told The Huffington Post that the remote starters were only offered on a couple hundred Toyota vehicles and were not installed on any other brand or car. The remote starters are hardwired into the vehicle's computer system.
Sean Kane, president of safety consulting firm Safety Research & Strategies, has been a vocal critic of Toyota's electronics systems. Still, he said the issue related to the aftermarket remote starter can't be entirely blamed on Toyota since this part was installed after the car left Toyota's hands.
"They're going to say, well, they're altering the vehicle in ways we couldn't anticipate," Kane said. "What's interesting is how these guys are doing modifications that alter vehicles in ways that are potentially hazardous. The reality is [Toyota] should be advising against this."
Toyota dealt with a similar issue in the past. In July 2010, a Toyota Yaris driver near Quebec complained that his engine would start revving unexpectedly. After investigating, the company discovered that an aftermarket cruise control system and a walkie-talkie were to blame.
The driver would take a walkie-talkie and put it in a pocket near the left side of the steering wheel, near the controls to the cruise control. Interference triggered by the walkie-talkie caused a surge in the gas pedal, resulting in the engine's revving. Toyota told dealers to stop selling that cruise control system, manufactured by Rostra Precision Controls.
Last month Toyota told The Huffington Post that the walkie-talkie and cruise control issue is not its fault because the part was installed by dealers, not by the carmaker. Toyota tests its products to make sure its electronic parts don't interfere with one another, a spokesman said at the time.
Toyota said it did not have a comment on the remote starter recall.
REAL LIFE. REAL NEWS. REAL VOICES.
Help us tell more of the stories that matter from voices that too often remain unheard.