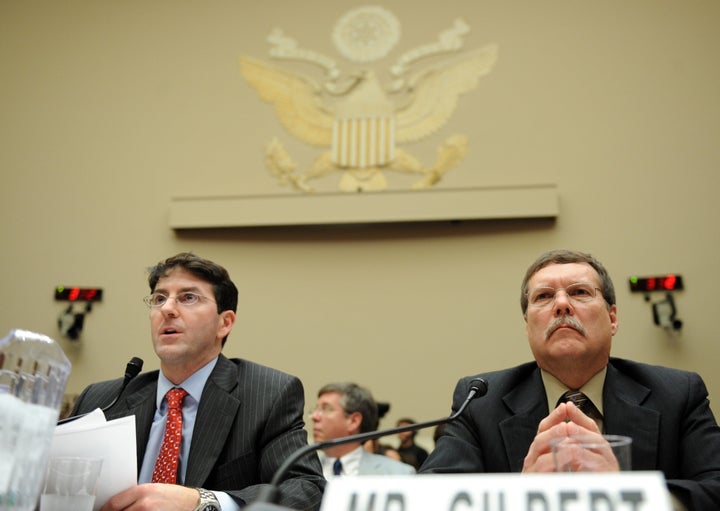 Toyota Motor Corp. has subpoenaed emails and other communication between one of its most vocal critics and three news outlets, including The Huffington Post, looking for anything related to sudden acceleration lawsuits filed against the company.
The automaker filed three broad subpoenas against Sean Kane and his two companies: Vehicle Safety Information Resource Center (VSIRC) and Safety Research and Strategies. The automaker wants Kane to hand over communications with his clients about Toyota's sudden acceleration. Many of these clients are attorneys suing Toyota, and the subpoenas also cover communication with Congress, NASA, the National Highway Traffic Safety Administration, The Huffington Post, ABC and CNN. The company is additionally requesting all communications from Toyota drivers who contacted Kane, and college professors who have safety expertise.
Kane is one of two Toyota critics the automaker apparently sought to discredit in 2010, when it was facing public scrutiny over its sudden unintended acceleration recalls. According to the Washington Post, Toyota hired a polling firm to figure out how to repair its image with the public, and found that debunking Kane would help convince "opinion elites" that the automaker did not have electronic problems with its accelerator pedals.
Kane declined to comment for this article.
Toyota spokesman Brian Lyons said the subpoena is a routine part of the litigation process. "Mr. Kane's allegations about unintended acceleration in Toyota vehicles have never had any credible scientific basis, and have been thoroughly debunked by exhaustive NHTSA and NASA studies," Lyons said. "The subpoena seeks documents related to the investigation of these allegations."
In the 62-page subpoena, Toyota asks for communication dating back to 2001, eight years before its sudden acceleration recalls occurred. Kane began blogging about Toyota's sudden acceleration problems in 2009, when it resulted in a widespread recall.
The subpoenas are "clearly an effort to chill Sean Kane's work and Safety Research's work on sudden acceleration," said Clarence Ditlow, executive director of the Center For Automotive Safety in Washington, who has been subpoenaed himself several times by dealers or automakers for various safety issues he's worked on. It's a move corporations use "in order to chill free speech rights and prevent (safety groups) from advocating for safety. It's just a flat-out heavy-handed approach."
Toyota is facing nearly 200 lawsuits, which go to trial starting in early 2013, over claims that its vehicles accelerated out of control, killing or injuring drivers or passengers. The pretrial work on the cases has been consolidated into one court, the U.S. District Court, Central District of California. Judge James Selna has granted Toyota's request for confidentiality during the pretrial work, so related documents are not public.
Lyons said CNN, ABC and The Huffington Post were named in the subpoena "based on the volume of stories by these news agencies in which Sean Kane was relied on as a source of supposedly reliable information."
Kane has advocated for transparency in the way NHTSA has dealt with Toyota, Lyons said, so "we would expect that Mr. Kane and the plaintiff's lawyers supporting him would welcome this subpoena as an opportunity to share the full scope of Mr. Kane's research and communications surrounding this matter."
The Huffington Post and CNN this year relied on anonymous sources who have provided internal Toyota documents for stories. A Toyota spokesman said in a Huffington Post column that he believes the stories are being planted by plaintiff's attorneys.
ABC ran afoul of the automaker when it aired a controversial segment which sought to demonstrate an electrical flaw that could cause sudden acceleration. It showed Dave Gilbert, of Southern Illinois University's auto technology department, manipulating the wiring in a Toyota to demonstrate the conditions that could cause sudden acceleration. Toyota shot back, saying Gilbert cut wires to make his point. Kane's communications with Gilbert are also requested in the subpoena.
In 1995, Philip Morris used subpoenas in an attempt to unearth sources from ABC News by targeting companies and sources ABC dealt with. At ABC's request, a judge ruled against Philip Morris, quashing the subpoena.
Toyota's sudden acceleration troubles became public in late 2009, when the automaker recalled Camry and Prius models, citing evidence that floor mats were getting stuck under the gas pedal, causing acceleration. In early 2010, Toyota issued a second recall, saying some gas pedals could stick, continuing to add gas to the engine even after a driver took their foot off the pedal.
Both recalls resulted in a firestorm of media coverage and a $16 million fine from NHTSA, and prompted Congress to call Toyota's top executives to Washington to explain what went wrong. The automaker recalled about 8 million cars for both problems.
In January, The Huffington Post wrote about an internal Toyota email written just before the Congressional hearings from a top executive, who encouraged other executives to be truthful. He said the company had colored the truth during the public furor over its sudden acceleration recalls.
The Huffington Post also took a look at underlying electronic issues that could have caused Toyota's sudden acceleration problems, an issue called tin whiskers. The automaker has argued there is nothing wrong with its electronics, a claim backed by a federal investigation from the NHTSA and NASA that purportedly cleared Toyota's electronics.
CNN followed up in March, claiming the automaker withheld documents from the government during its investigation of the company. Those documents could show the automaker knows it has problems with its electronics, CNN said. The company denies there is anything wrong with its electronic systems.
Related
Popular in the Community