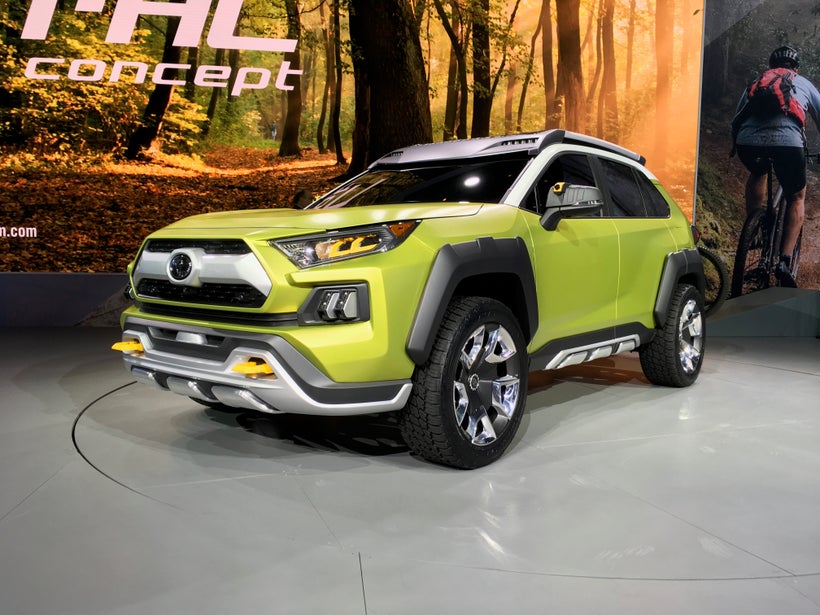 At the 2017 Los Angeles Auto Show, Toyota showed a concept car called the Toyota FT-AC, which stands for Future Toyota Adventure Concept. Frankly, I think it's a little more serious than the average concept.
Everyone knows concept cars are just for fun, right? Years ago, automotive brands like Chevrolet, Ford, Nissan and Toyota would show elaborate and outlandish concept cars that had about as much to do with reality as a typical Star Wars movie. At one point, Ford proposes a nuclear powered car called the Ford Nucleon - totally not kidding. Like a movie featuring walking, talking and self-aware robots, concept cars were just for fun. Sometimes, they'd hint at a design language and forward-looking features that weren't ready for prime time. In the past, a concept car was just about as likely to be built as Han Solo eating a big plate of Nachos Bell Grande in the next Star Wars movie. Spoiler alert: It's not going to happen.
Today, it's a different story. Concept cars are more like three-dimensional barometers to gauge the interest of automotive insiders as well as the general public. You don't have to be any kind of automotive insider to see what a runaway success a real-life version of the FT-AC would be.
Take a close look at the FT-AC and there are obvious Toyota 4Runner hints. Small SUVs are the fastest-growing vehicle segment today, and a small utility vehicle like the FT-AC would only stoke an already hot fire. Granted, some features like removable cameras (that you can attach to your mountain bike) might not make it to production, but Toyota isn't afraid to experiment. Plus, less than a decade ago, Toyota had the Urban Runner with a detachable in-car nav system, so maybe the removable LED lights could be a reality.
Here are some features Toyota says the concept (theoretically) has:
"…versatile torque-vectoring all-wheel-drive system with variable terrain-response settings, as well as 4-wheel lock functionality, and you've got the perfect recipe to tackle everything from the everyday to getting away. For even more utility, FT-AC features a safari-style cargo roof rack and an integrated, stowable bike rack. Remove one of the portable infrared cameras to continue capturing your adventures, and always find your way back to FT-AC with geolocation."
This is just one reason I think the FT-AC will happen -- another is that there's a website where consumers can sign up for "updates." In fairness, Toyota has other pages dedicated to concept cars, specifically the FT-1, a car many think will eventually surface as new version of the high-performance Supra from years ago.
I'm so confident the FT-AC will become some kind of real-world truck/SUV that I'm going to throw out my suggestions for a name: Toyota 4Runner Sport, Toyota Mountain Runner, Toyota Adventurer and Toyota Scout. Then again, maybe it's some kind of FJ Cruiser successor. Either way, I think Toyota should have some kind of baby 4Runner available by the year 2020.
REAL LIFE. REAL NEWS. REAL VOICES.
Help us tell more of the stories that matter from voices that too often remain unheard.
This post was published on the now-closed HuffPost Contributor platform. Contributors control their own work and posted freely to our site. If you need to flag this entry as abusive,
send us an email
.