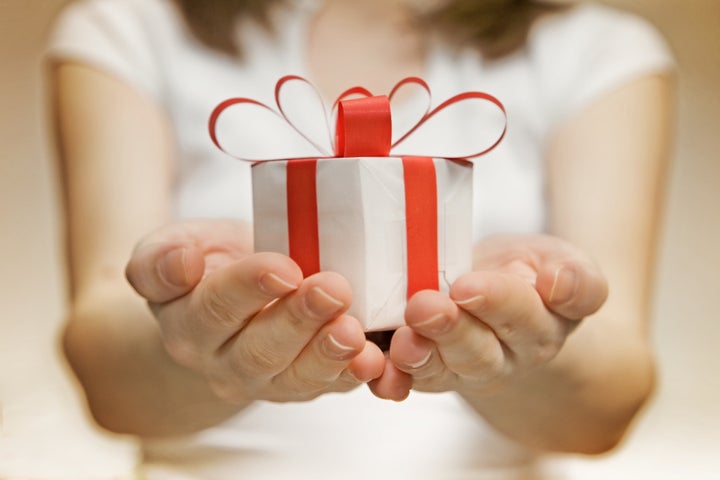 Jesse is ten years old. He's a bright and friendly kid. When he first saw me, I must have seemed confused, because he walked right up, asked what I was looking for, and led me right to it. Now we're chatting near a window with a view of cement, traffic, train tracks and downtown Los Angeles.
I ask Jesse what he wants to be when he grows up. No hesitation, he knows for sure: "a policeman or a fireman," he says. I ask why, and he stammers a bit before owning a bit of idealism: because he'll be able to help people.
It's not hard to see why idealism may be difficult for Jesse to admit. He's from a part of Los Angeles where gangs, drugs and other dangers mean that a lot of lives don't go quite as planned.
But there's also reason for hope: Jesse is telling me about himself in an upstairs meeting room at Homeboy Industries, a charity that helps former gang members to become productive members of their families and communities.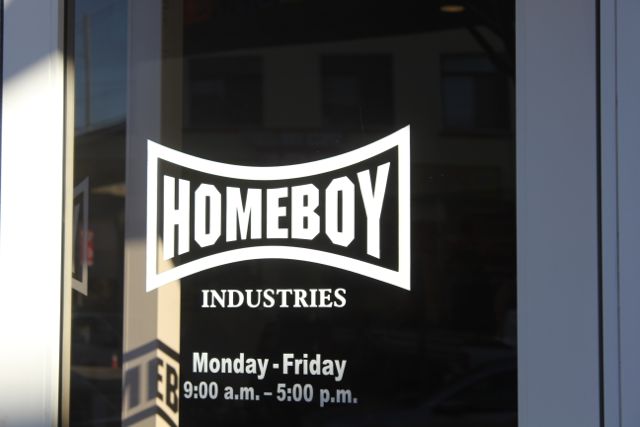 Founded 25 years ago by Father Greg Boyle, it's the largest and most successful gang-intervention program in the country. Father Boyle's example of offering training, job skills and a positive alternative to gang life has won the support of local law enforcement and become a model for similar programs nationwide, breaking a cycle of gang rivalry and despair with inclusiveness and hope.
"Nothing stops a bullet like a job" is Homeboy's motto; it's also a philosophy they practice daily.
Both of Jesse's parents work at Homeboy now. His mom handles and distributes donated clothes and other goods, and his dad is a security guard. Thanks to Homeboy, they're able to give Jesse a better shot at life.
And thanks to this year's Toys for Tots distribution at Homeboy -- the event I was looking for, when Jesse first spotted me and became my guide -- Jesse's parents can give him and his sisters some new toys for Christmas this year. So can the parents of nearly 500 other kids from some of the most at-risk communities in Los Angeles.
"I was a bit nervous about requesting toys for so many kids," says Chase Masterson, an actress who has volunteered with Homeboy for nearly five years. "But Toys for Tots were whole-hearted and generous and completely supportive of Homeboy's mission." And while the gift of a new toy might not seem like much to people from wealthier neighborhoods, "consider their backgrounds," Masterson adds. "For some of the Homeboys, these are the first presents they've ever been able to give their kids. In addition to just helping everybody feel happy and normal, it can really help the family bond."
I can see this with my own eyes.
Alexia is six years old. She tells me that she wants to be a singer when she grows up, swaying playfully while she talks. Then she lists the singers she likes. I'm forty-nine, so I don't recognize any of the names, but I have no trouble seeing how happy the dream makes her.
Jessica is Alexia's mom, and she has been coming to Homeboy since 2007. She's here today for three reasons: to get a toy for her tot, to take one of Homeboy's free classes on parenting skills, and simply to enjoy the sense of community. I ask what Homeboy has meant to Jessica's life. "It's a lot different," she says. "I wouldn't have so many people to actually think of me... you don't come for a week, and when you come, you feel like a brand-new person, because everyone's like 'where you been?' You're being thought of." This sounds like something in short supply in her world. It might be what Homeboy provides best.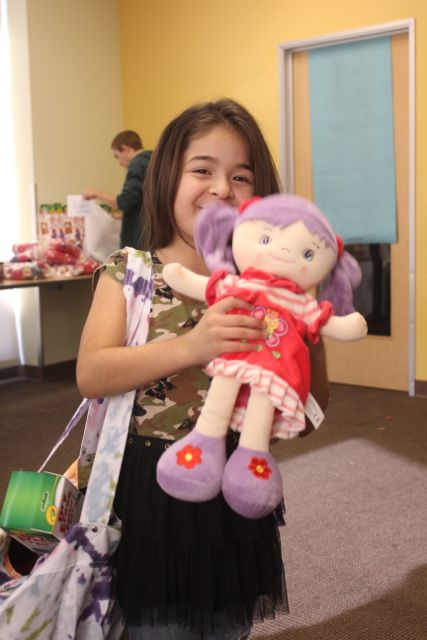 Jacki Weber has been with the charity for just a few months, but already: "I hear stories every day of young men and women who have children who lost custody because they went to jail, or because of their problems with substance abuse -- and through Homeboy, they now have their kids back." Since she's still fairly new here, Jacki's tone is more admiration of Homeboy than pride. "One of our guys downstairs was talking today about how after being in jail, then coming through Homeboy and not giving up on himself and doing the hard work, last night he was with his camera at his daughter's winter holiday recital, and just cried, because he'd never been able to do that before."
A few minutes after speaking with Jacki, I meet Jessica again in the room where the Toys for Tots are being given out. She's carrying a toy bag and absent-mindedly stroking Alexia's hair.
Alexia has her arms wrapped around a doll. When she and Jessica walk out together, Alexia sticks close to her mom. I pray that a toy really will help this family, and that Homeboy will be community enough.