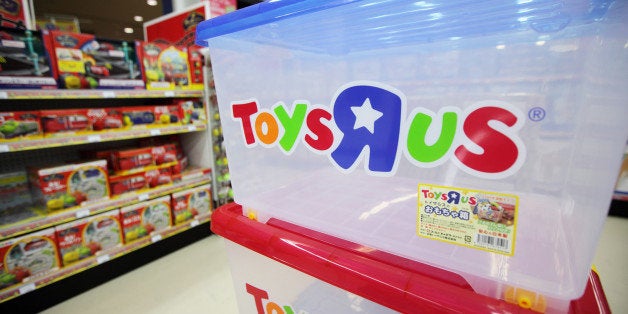 Toys "R" Us announced Friday that its U.K. stores will stop labeling toys "boys" and "girls." New standards will be set for in-store signage and images will show children of both genders playing with the same toys.
The change comes in response to a campaign from the group "Let Toys Be Toys" asking retailers "to stop limiting children's imaginations and interests by promoting some toys as only suitable for girls, and others only for boys."
"We're delighted to be working so closely with a major toy retailer and believe that there is much common ground here," Megan Perryman, a Let Toys Be Toys campaigner, said in a press release. "Even in 2013, boys and girls are still growing up being told that certain toys are 'for' them, while others are not. This is not only confusing but extremely limiting, as it strongly shapes their ideas about who they are and who they can go on to become. We look forward to seeing Toys 'R' Us lead the way to a more inclusive future for boys and girls."
According to the Let Toys Be Toys release, other U.K. retailers including Tesco, Sainsbury's, Boots, The Entertainer and TJ Maxx have agreed to remove "boy" and "girl" signs from their stores in response to the campaign.
These stores join others in the U.K. that have already made efforts to end gender separation in toy departments. Last summer, Harrods unveiled a massive new toy department organized by theme instead of gender. Before that, Hamleys replaced its pink and blue signage with red and white.
On this side of the pond, A Mighty Girl, a site that collects books, toys, movies, and music that empowers young girls, has started a Change.org petition to get Toys "R" Us stores here to jump on the bandwagon. "By following their examples, Toys "R" Us in the USA can send an important message to children, parents, and others that children's interests should not be limited by their gender," the petition reads.
"The odds are against us," Sterling wrote on YouTube." We've been told that GoldieBlox can't survive in mass stores next to Barbie. Convention says that engineering toys for girls are a 'niche' for the affluent, and for the Internet. Together, we must prove convention wrong."
Related